Juan Luis Guerra's concert has presented several technical failures in the sound, according to several reports from users who attended the singer-songwriter's show at the Stadium of the Universidad Nacional Mayor de San Marcos.
During the event, the sound system used for this concert has been turned off up to three times during the presentation of the Dominican singer, who had to calm down and apologize to the spectators for the bad time and inconvenience caused due to these sound failures. .
There were two occasions where the sound went away while the singer was playing the bachata mix, in the middle of "Visa para un sueño" and during "El costo de la vida". "The technician says that it is a fiber optic cable that has been damaged twice. But… we have the most beautiful audience, applause!" Juan Luis Guerra told the audience about him.
Meanwhile, on social networks, Internet users filed their complaints about the poor organization of the production in charge of the concert, they also highlighted the attitude of Juan Luis Guerra before the mishap. "All professional and calm and thanking the public," he read himself in a tweet.
Complaints about the sound system at the JLG concert. Photo: Twitter
On the other hand, some attendees directly criticized the producers, who assured that the same equipment that presented incidents a few days before would have been used. "They used the same sound equipment knowing that they had problems recently," says a frustrated user.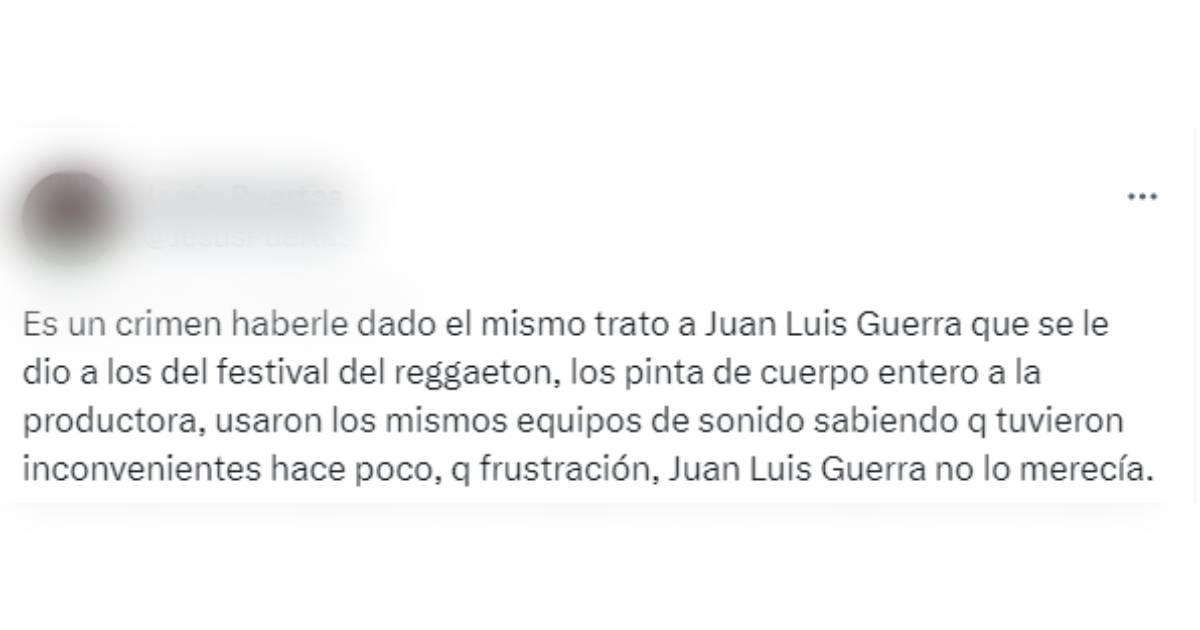 Complaints about the sound system at the JLG concert. Photo: Twitter
What happened at the previous Juan Luis Guerra concert?
At the end of 2022, Juan Luis Guerra was unable to finish his presentations due to an incident at the Arena Perú de Surco. On that occasion, several attendees complained that the capacity of the premises exceeded its capacity and generated a crowd, which could end in tragedy.
Given this situation, the other scheduled presentations of the Dominican singer had to be postponed, the establishment was even closed by the municipality and Indecopi opened an administrative process against the producer in charge of the 'Lifemusic Entertainment' event, which could receive a fine of up to 450 UIT (S/ 2,227,500), in accordance with the provisions of the Consumer Protection and Defense Code.
Problems at Reggaeton Lima Festival 2023
In the same way, the recent Reggaetón Lima Festival urban music event presented several failures and inconveniences that ignited the discomfort of the attendees and singers. For example, the Puerto Rican artist 'Lunay' ended up withdrawing from the event due to difficulties with the sound system.
In addition, it was commented on social networks that after the inconvenience there was no communication from the organization of the event about the causes of the failures.
#Juan #Luis #Guerra #users #report #sound #problems #concert