The actress Erika Villalobos she attended the premiere of the film "Reinas sin corona" accompanied by her son Mikael Miyashiro and did not hesitate to present it to the cameras of "América spectacles". The son of Aldo Miyashiro He recently finished school and showed his desire to make his way through the artistic world like his parents, but with his own name. The former member of Torbellino was very proud of the plans that her heir has for the future.
Erika full of praise for her son Mikael Miyashiro
Erika Villalobos she can't stop smiling when she sees her son Mikael answering the press's questions. The remembered interpreter reveals that her successor works not only as an actor, but also highlighted his talent as a pianist and that he sometimes creates some songs.
"He comes every three days and tells me: 'Mom, I have composed a song.' He is also a composer, he is a pianist. He has his own path, which is not exactly ours, he will create his own"said the artist.
Mikael Miyashiro is the son of Érika Villalobos and Aldo Miyashiro. Photo: Capture of America TV
Mikael talks about working with his father Aldo Miyashiro
mikael miyashiro He is beginning his acting career little by little and at the hands of his father, the conductor Aldo Miyashiro, who directed him in the play "A Damn Secret" in 2022. He also hopes to continue playing more characters in the world of boards.
"Working with my dad was a totally beautiful experience for me. Not only working with my dad, but also with people and actors I knew behind the scenes. It was a very nice experience that helped me grow as an actor," he explained.
Is Érika Villalobos a 'jealous' mother?
Erika Villalobos was asked if she considers herself a 'jealous' mom. The actress responded about the possibility that her son has a partner: "No, not yet. I'm not jealous, I think I'm a cool mother-in-law. I like being a friend (…) I have been told that she has a strong look (laughs) ".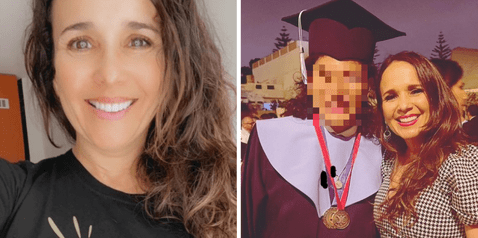 Érika Villalobos happy for her son's graduation. Photo: composition LR/ Instagram
Mikael Miyashiro graduated from college
In December 2023, mikael miyashiro he finished his secondary studies and his parents attended his graduation Erika Villalobos and Aldo Miyashiro. Some network users shared this moment in Instarándula.
#Érika #Villalobos #proudly #presents #son #Mikael #Miyashiro #create #path