After the show by Montecarlo the WRC 2022 made a stop in Sweden with the new ones Hybrid Rally1 they were confronted with ice and snow. The winner of the second stage of the season was Kalle Rovanpera behind the wheel of the Toyota Yaris Rally1in front of Hyundai by Thierry Neuvile and teammate Esapekka Lappi. Rovanpera, with his third success in his career in the WRC, with this victory he also took the first position in Drivers Championship.
WRC Rally of Sweden 2022, results
Kalle Rovanpera won the Rally of Sweden, second round of the World WRC 2022. The Finn from Toyota took the first position in the first special stages on Saturday and never gave up.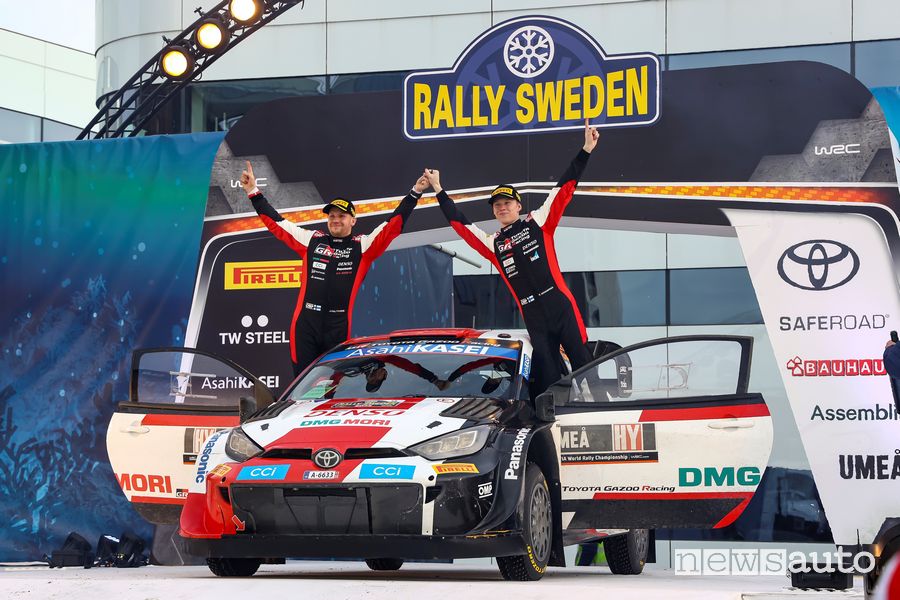 The cold and the snow Swedish have put the new ones in difficulty hybrid enginescausing both technical and mechanical problems for the Ford M-Sport Pumaboth for Hyundai i20 N. The winner also accused technical problems at theHybrid Boost and for this in the Power Stage final was limited to managing the previously accumulated advantage.
The Powe Stage was therefore won by Ott Tanak on Hyundai but who did not participate in the games for the final victory for the malfunction of the electrical unitwhich caused his retirement on Friday.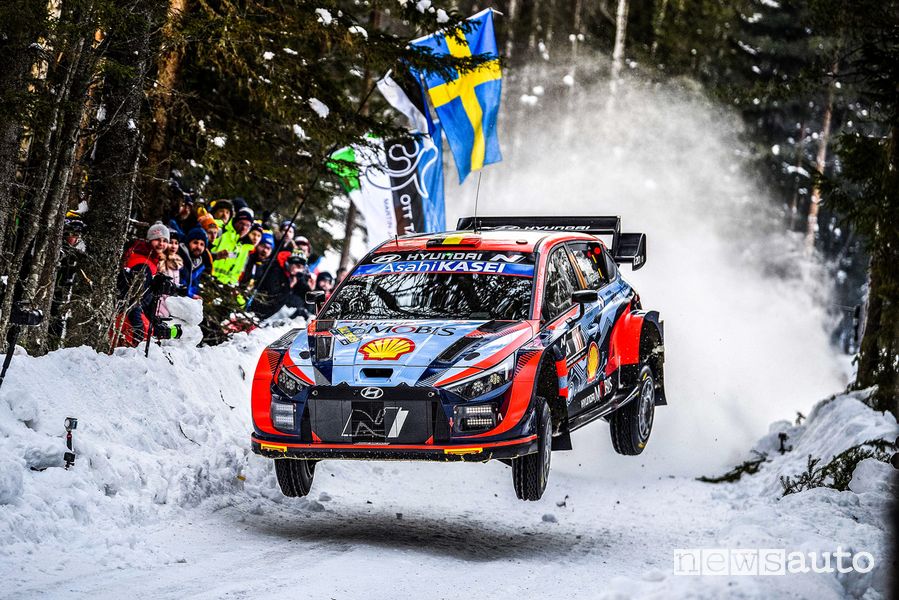 Hyundai was consoled with the second place of Thierry Neuvilleahead of the other Toyota's Esapekka Lappi.
WRC podium Rally Sweden 2022
1. Rovanperä / Halttunen (Toyota GR Yaris Rally1)
2. Neuville / Wydaeghe (Hyundai i20 N Rally1)
3. Lappi / Ferm (Toyota GR Yaris Rally1)
WRC 2022 classification RALLY SWEDEN, ORDER OF ARRIVAL
POS
#
CREW
CAR
TIME
WITHDRAW

1

69

Kalle Rovanperä
Jonne Halttunen

Toyota GR Yaris Rally1
2: 10'44.900

2

11

Thierry Neuville
Martijn Wydaeghe

Hyundai i20 N Rally1

22,000

3

4

Esapekka Lappi
Janne Ferm

Toyota GR Yaris Rally1

30,600

4

18

Takamoto Katsuta
Aaron Johnston

Toyota GR Yaris Rally1

2'19.400

5

44

Gus Greensmith
Jonas Andersson

Ford Puma Rally1

3'20.400

6

2

Oliver Solberg
Elliott Edmondson

Hyundai i20 N Rally1

5'39.400

7

20

Andreas Mikkelsen
Torstein Eriksen

Škoda Fabia Rally2 evo

7'11.100

8

24

Ole-Christian Veiby
Stig Rune

Volkswagen Polo GTI R5

7'34.300

9

23

Jari Huttunen
Mikko Lukka

Ford Fiesta Rally2

8'14.200

10

28

Egon Kaur
Silver Simm

Volkswagen Polo GTI R5

8'24.800

11

31

Georg Linnamäe
James Morgan

Volkswagen Polo GTI R5

8'36.000

12

27

Eerik Pietarinen
Antti Linnaketo

Volkswagen Polo GTI R5

8'53.800

13

30

Jörgen Jonasson
Nicklas Jonasson

Škoda Fabia Rally2 evo

13'14.800

14

50

Jon Armstrong
Brian Hoy

Ford Fiesta Rally3

13'46.200

15

49

Lauri Joona
Mikael Korhonen

Ford Fiesta Rally3

13'48.900

16

38

Michal Solowow
Maciej Baran

Volkswagen Polo GTI R5

14'39.400

17

52

William Creighton
Liam Regan

Ford Fiesta Rally3

16'08.700

18

56

Tuomas Skantz
Kari Kallio

Škoda Fabia R5

16'26.000

19

40

Bruno Bulacia
Marc Marti

Škoda Fabia Rally2 evo

19'48.300

20

8

Ott Tanak
Martin Jarveoja

Hyundai i20 N Rally1

21'58.400

21

58

Luca Hoelbling
Federico Fiorini

Hyundai i20 R5

23'33.600

22

62

Isak Reiersen
Johan Johansson

Ford Fiesta Rally4

24'32.400

23

35

Mauro Miele
Luca Beltrame

Škoda Fabia Rally2 evo

25'32.800

24

61

Daniel Alonso
Adrián Pérez

Citroën C3 Rally2

25'43.300

25

43

Joakim Roman
Jörgen Fornander

Škoda Fabia Rally2 evo

27'55.200

26

45

Enrico Oldrati
Elia De

Škoda Fabia Rally2 evo

29'20.700

27

59

Glenn Egon
Pierre Ellison

Hyundai i20 R5

30'06.100

28

60

Bertrand Pierrat
Alice Genet

Hyundai i20 R5

36'46.000

29

32

Josh McErlean
James Fulton

Hyundai i20 N Rally2

41,19,200

30

54

McRae Kimathi
Mwangi Kioni

Ford Fiesta Rally3

1: 01'10.400

31

48

Sami Pajari
Enni Mälkönen

Ford Fiesta Rally3

1: 03'14.600

32

22

Emil Lindholm
Reeta Hämäläinen

Škoda Fabia Rally2 evo

1: 07'17.500

33

25

Marco Bulacia
Marcelo Der Ohannesian

Škoda Fabia Rally2 evo

1: 11'02.600

34

51

Robert Virves
Aleks Lesk

Ford Fiesta Rally3

1: 14'20.500

35

47

Eamonn Boland
Michael Joseph

Ford Fiesta Rally2

1: 15'30.500

36

42

Craig Breen
Paul Nagle

Ford Puma Rally1

1: 21'56.300

39

Alexander Villanueva
Rodrigo Sanjuan

Citroën C3 Rally2

SS19: Mechanical

21

Nikolay Gryazin
Konstantin Aleksandrov

Škoda Fabia Rally2 evo

SS18: Mechanical

34

Rakan Al-Rashed
Hugo Magalhaes

Volkswagen Polo GTI R5

SS18: Mechanical

26

Mattias Adielsson
David Arhusiander

Ford Fiesta Rally2

SS17: Mechanical

33

Elfyn Evans
Scott Martin

Toyota GR Yaris Rally1

SS17: Mechanical

46

Frédéric Rosati
Stéphane Prévot

Hyundai i20 N Rally2

SS17: Mechanical

16

Adrien Fourmaux
Alexandre Coria

Ford Puma Rally1

SS16: Mechanical

29

Per-Gunnar Andersson
Anders Fredriksson

Ford Fiesta Rally2

SS15: Accident

57

Stig Andervang
Robin Eriksson

Škoda Fabia Rally2 evo
Video Power Stage Rally of Sweden 2022
You might be interested in (indeed I recommend it):
👉 WRC 2022 World Ranking
👉 WRC 2022 World Calendar
👉 All about the WRC
👉 What do you think? Take a leap on the FORUM
COMMENT WITH FACEBOOK

#WRC #Rally #Sweden #results #standings