Political Thermometer poll reserves a truly shocking response: for almost one in two Italians voting is useless
How can the high administrative abstention be explained? It is a natural consequence of the citizens' perception that voting is useless, because decisions are taken regardless of the voters' vote.
This is the explanation given by 47.1% of Italians for the low turnout at the polls, in a survey conducted by Termometro Politico between 12 and 14 October. For 21.5%, high abstention is nothing more than a cultural change, as there is no longer a sense of civic duty, belonging and interest for the common good. Among the other causes of the low turnout, Italians indicate: the low quality of candidates (21.5%), the not very clear positions of the parties (8.1%) and the lack of real opposition to the system (7.7 %).
The attack on the CGIL headquarters by some far-right militants, which took place during the no green pass march in Rome a week ago, alerted the institutions. So much so that some parties have spoken of the danger of neo-fascist extremism in Italy. 55.3%, however, do not see this danger. 59.2% of those interviewed say they are anyway in agreement with the dissolution of Forza Nuova, a political movement which includes some of those responsible for the assault on the union headquarters. Gesture, the latter, which is condemned by over eight out of ten Italians.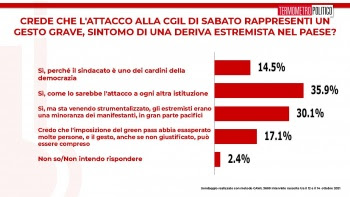 The green pass obligation for workers, which came into force last Friday, is welcomed by the majority of Italians. Contrary 40.5%.
The controversy over the green pass cripples the consensus of Prime Minister Draghi, which after a long time falls below 50%.
The voting intentions recorded by the Political Thermometer give Fratelli d'Italia still in the lead at 21.2%, with an increase of two tenths of consensus compared to the previous survey. The novelty concerns the second place, no longer in the League but in the Democratic Party. The dem rise to 19.9% ​​while the Carroccio is one tenth away (19.8%). Slight decline for the 5 Star Movement which drops to 15.8%, Forza Italia grows to 6.8% while Action earns half a point reaching 3.5%. Below the 3% threshold we find Sinistra at 2.8%, Italia Viva at 2.5%, Verdi at 1.5%, + Europe at 1.4% and the Communist Party at 1%.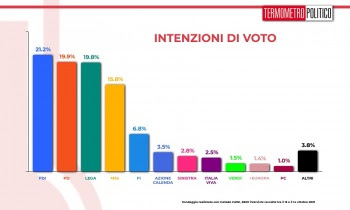 Methodological note
Survey carried out using the CAWI method, 3600 interviews collected between 12 and 14 October 2021