The new Cavallino model identified with the project code F167 will take up the legacy of the 812 Superfast and its GTS and Competizione versions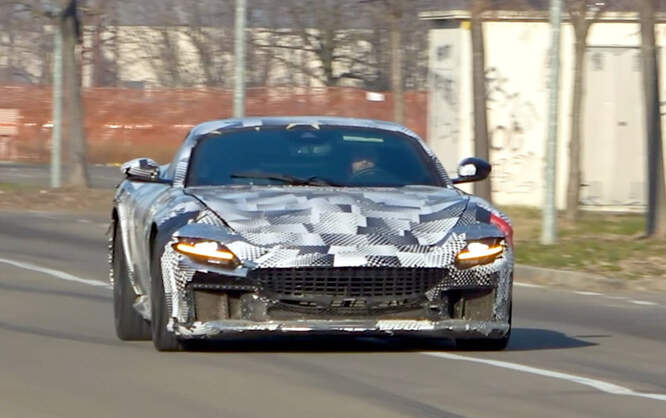 New sighting on the roads of Scandinavia for the future Ferrari with the V12 that will take the place of the 812 in the range of the Maranello automaker. The new Cavallino supercar has been undergoing the development phase on the road for several months, with also some shakedowns on the Fiorano track. The forklift of the new model has the appearance of a Rome in all respects, but it is clear that the heir to the very high performance car of the Modenese brand is hidden under the camouflage covers. At the moment, not many details are known about the next Ferrari with the V12 engine which, however, could debut as early as 2023 to hit the road in 2024.
Rome as the basis for the new Ferrari with the V12
As long as the Ferrari Roma is used as a base, it will also be difficult to have elements to talk about what the design features of the model that will take the place of the 812 Superfast will be. The forklift of the coupé 2+ has undergone some specific modifications, such as the larger wheel arches and the wider front mask to facilitate the cooling of the unit located in the front position. What seems certain is instead that this new V12 will have a more powerful engine than the 812 Competizione which is equipped with a twelve-cylinder with 830 hp and 692 Nm of maximum torque. Further squeezing this unit could lead the Maranello company to evaluate its use also in the hypercar that will take over from the LaFerrari.
Hybrid hypothesis
In the past it was also speculated that the F167 could also bring a hybrid V12 to its debut, with electrification light 48 Volts. Mild-hybrid technology would introduce the system destined to considerably lengthen the life of this power unit so central to the Maranello house. The forklifts spotted on the road did not carry any stickers indicating electrified technologies at the time of the sightings and this would therefore rule out more massive electrification, such as that applied to the V6 of the 296 GTB with the plug-in hybrid, for example. The shapes of the new Ferrari closely resemble those of the Roma, with a well-marked family feeling that can be glimpsed under the typical camouflage livery. Unlike the V8, however, it can be seen how the bonnet has been lengthened, the track widened and a more pronounced front splitter has been inserted. However, we will have to wait a few more months before we have any more news on the next Ferrari equipped with the V12.
#Ferrari #supercar #V12 #engaged #tests