Someone in the group, says Herman Schouten (77), does not dare to visit his parents' grave. And in the first week of May, when the Netherlands commemorates its war dead and celebrates freedom, there are others who deliberately go on holiday, he says. Children of 'wrong' parents, parents who sided with the occupying forces during the Second World War. Grandchildren who only now discover that grandpa or grandma was a member of the NSB, an uncle was an SS member or another uncle was part of the Hitler Youth. And not knowing if, and then how, they should talk about it.
They are ashamed. Are – 76 years after the end of the war – still afraid of rejection by neighbours, colleagues or friends. Some of them do not want to be in the newspaper, or not with their full name. They feel guilty about the choice their parents made.
That this Saturday Princess Beatrix in The Hague to listen to their stories is emotional. They feel it as recognition. As queen, Beatrix already said in her Christmas speech in 1994, and for the first time on behalf of the government, that the occupation time should no longer be viewed from the perspective of 'good' and 'bad', that human relations are more complex than that.
This is also apparent from the stories of the descendants, united in the Workgroup Recognition Foundation who sustains them, this morning. Sometimes father or grandfather sided with the occupying forces by becoming an active NSB member. The fascist party, which cooperated with the German occupier, had more than 100,000 members at its peak in 1941. Others, such as the grandfather of one of those present, collaborated by enlisting in German service. Or got into a relationship with a German soldier, the 'Muffin girls'.
Read about the Central Archive for Special Jurisdiction: Everyone a war victim

145 death row inmates
The Central Archive for Special Jurisdiction in the National Archives contains information about about 400,000 Dutch people who collaborated during the war or were suspected of doing so after the war. More and more descendants request access. More than 14,000 cases resulted in a lawsuit, 145 people were sentenced to death.
Their children sometimes ended up in an internment camp, where they had to be transformed into 'good' Dutch people. Rosanne Buis of the Recognition Working Group tells how her mother, 13 when the war started, was severely mistreated and traumatized there. "She was a taciturn woman and did not share any emotions. I took that over."
She says: "I've learned to talk about it. The moment you hide history, you cannot process it."
Also read: Integration of NSB families left a lot to be desired

Hidden stories
Greg Nottrot (38) made the show To dig which is shown in the presence of Princess Beatrix. His grandmother, now 99, was engaged as a 25-year-old to a German lieutenant who died, and – like her father – was a member of the NSB. "If the dementia hadn't opened the doors," the secret may never have been revealed, Nottrot says.
But "she inadvertently mumbled a name she hadn't mentioned for 70 years: Heinrich" and "while clearing out the family home, my aunt found a box of love letters." He reads some of them, accompanied by piano music. "How could this story be hidden in a house full of people?" The audience nods: the past still weighs so heavily in some families that it was not and is not talked about.
Some have known their family history all their lives. Marijke was five when her father was imprisoned in April 1945; he was "a Jew hunter," she later learned. She never knew whether he regretted it. Just before his death, "he said yes, but whether it was real or to come to terms with me…"
Her childhood was terrible, she says. Everyone in the street knew what he had done. She was addressed. She was called a war criminal by the teacher in the class.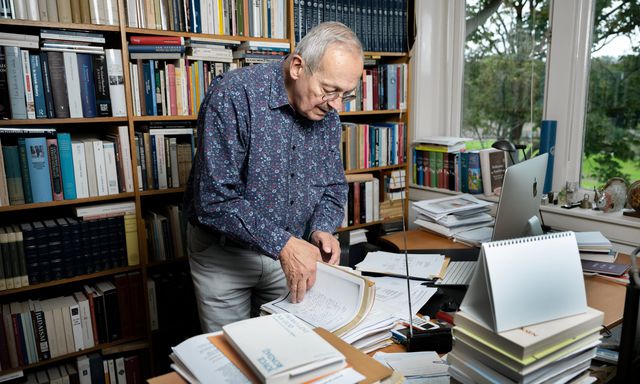 All Marcel Kemp knew about his father was that he was a German soldier. Read about his quest here: An unknown soldier fathered him in 1943. A lifelong search ensued

Herman Schouten was ten, he says. He, too, says: "We were hated by the whole neighborhood." He asked his father if he was going to vote. But his right to vote was taken away from him by his membership of the NSB. His mother was stateless until 1956.
"When I started dating, people said to her: 'Is that that Schouten?'" His wife is standing next to him. Has she ever been called to account about her in-laws' past? She says belligerently: "They should have tried that."
Recognition
At the Recognition Working Group "we don't have to explain anything to each other," says Alex Dekker (50), a secondary school teacher. His grandfather, a German soldier, left his grandmother pregnant in 1944. "Until he was nineteen, she told my father that he would return one day."
Dekker says: "The war is not over yet." He noticed it the last time the Netherlands played against Germany. "Then they say to me: if you don't cheer for Germany, then you're 'wrong'."
He also notices it in class. Students "associate Germany with Nazism and adopt the rhetoric," he says. He tells in the group how a stand-in force saw how students gave the Hitler salute when they saw the German flag in a room. He is a German teacher, says almost apologetically: "Because it is a fun subject".
Read the story of an NSB member: All those years I was an outsider

#years #war #taboo #wrong #parents