Efraín Aguilar, former producer of "Al fondo hay sitio", revealed what Adolfo Chuiman told him when he offered to be Peter in the series. His response surprised thousands.
Efraín Aguilar walked away from "At the bottom there is room" in 2022. Even so, the image of the producer is still linked to the América Televisión program, for which he was recently interviewed by Infobae regarding the plot of the Gonzales and Maldini. In this context, the director decided to open up about various issues, but what many did not expect was the revelation that he made about Adolfo Chuiman and what the actor told him when he offered to play Peter.
Efraín Aguilar gave the role of Peter to Adolfo Chuiman, but he did not want it at first. Photo: LR composition/América TV capture
"AFHS": why didn't Adolfo Chuiman want to be Peter?
Unlike other characters, such as Joel Gonzales, Peter of "Al fondo hay sitio" continues to be one of the most loved by fans. However, Chuiman, the artist who brings him to life, was about to refuse to accept the role, according to Aguilar.
"When we gave Adolfo Chuiman the role of Peter, he went up to my office. He told me: 'Efraín, 30 years of actor, to be a butler?'. And I replied: 'Adolfito, do you think I'm so stupid to waste your quality as an actor in any role?'", the producer began in dialogue with Infoabe.
"'Remember me, you'll be proud of Peter.' And now? Peter's death has a record, he scored 41 points, an incredible thing, "he added.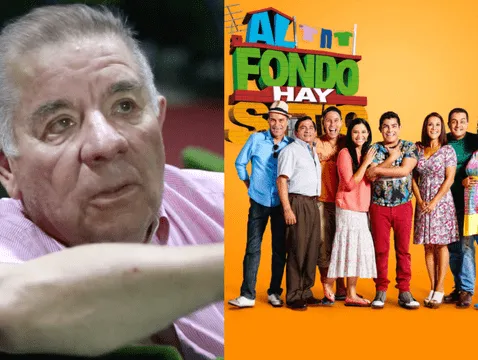 Efraín Aguilar revealed why Adolfo Chuiman did not want to be Peter. Photo: composition LR/dissemination/Infobae
Why is Efraín Aguilar no longer in "Al fondo hay sitio"?
Efrain Aguilar He was one of the architects of "AFHS" and the production was in his hands for several years. With the arrival of the new installment, fans were confused when it was announced that he was no longer going to be behind the new chapters. Why didn't he resume his functions?
"Gigio Aranda presented a project in which I was not. They did the second part in which, tangentially, they told me if I could be there. I said no, I didn't want to. Not because I felt uncomfortable or anything. What's more, if they had asked me in another way, I would have accepted it, but not in the way they did, as a 'drop'. There it was," the executive announced.
Where to see "In the background there is room" LIVE?
You may SEE "In the background there is room" 10 LIVE through América TV by television signal. In the same way, you can enjoy its chapters ONLINE through America TVGO.
#room #Peter #reason #Adolfo #Chuiman #butler