By the end of October theNVIDIA DLSS upscaling will be among the features of 120 games and this month we are talking about big titles, as well as a couple of unexpected surprises. In fact, the October list includes well-known and already available names such as FIST: Forged In Shadow Torch, Alan Wake Remastered and Black 4 Blood, released today, but also Bladur's Gate, Chivalry 2 and Shadow of the Tomb Raider that comes out to equip itself with the DLSS 2.0 and brings with it Rise of the Tomb Raider, the second chapter of the trilogy.
In the case of Rise of the Tomb Raider there was no need for an improved version to have the latest generation DLSS. On October 18, the third title of the trilogy dedicated to Lara Croft will pass to the new version of the DLSS, abandoned the first and decidedly less effective incarnation of upscaling based on deep learning. We are therefore talking about higher detail and a promised performance increase of up to 75%, sufficient according to the NVIDIA benchmarks, here all the details, to play in performance mode to beyond 70 fps in 4K on a GeForce RTX 2060.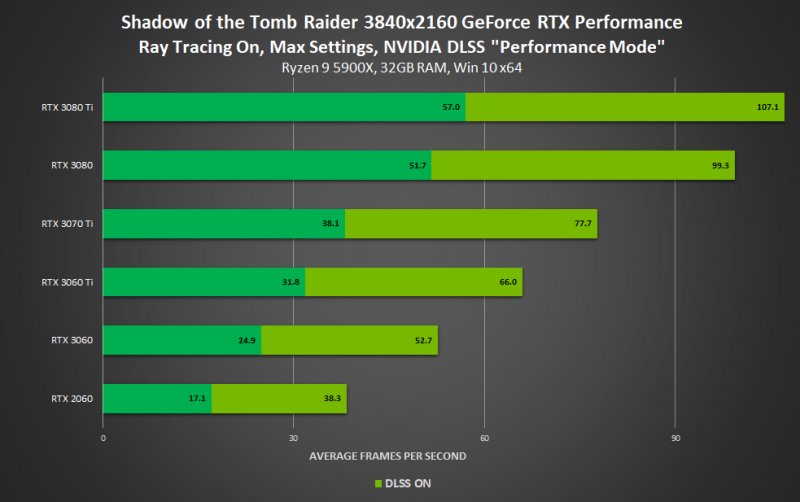 As regards the performance of the other upcoming titles there is talk of an increase up to 46% Back 4 Blood, 88% in 4K for Baldur's Gate thanks to an update coming this week, 46% for Chivalry 2, 60% for Swords of Legends Online and doubling of performance for Alan Wake Remastered and Sword and Fairy Sword and Fairy 7, coming October 21 with NVIDIA DLSS and Ray Tracing. But to hold the crown remains FIST: Forged In Shadow Torch, already available with a lot of ray tracing, which reaches triple the framerate.