Arie den Ouden, chairman of the SGP in Staphorst, attended this week On 1 to explain why he and some of his fellow believers, he estimated at "fifty thousand," are not vaccinated for religious reasons. A small group, said presenter Tijs van de Brink, "but the hospitals around Staphorst are full. [En] you are responsible not only for yourself but also for other people around you." Den Ouden agreed with that. "No one lives for himself alone," he said.
Den Ouden spoke on behalf of part of a larger group of Dutch people, estimated at two million, who do not allow themselves to be vaccinated. The arguments range from autonomy over one's own body to an unreliable government and the will of God (from Staphorst to Amsterdam Nieuw-West).
And then of course there are the people who believe that the vaccine inserts a disguised chip or affects your DNA.
Also often heard, as a backstop for the possible disputability of these views: "It doesn't matter to the rest that I don't do it, if they all do it?" That idea is at odds with the idea of ​​charity, that is, it is using charity but not giving it back. Imagine what would happen if everyone thought that way.
fuck neighbors
Anyone who is not vaccinated now knows what he is doing: consciously increasing the (preventable) burden on healthcare and contributing to further disruption of regular, planable care for, just to take a few, heart and cancer patients. So fuck his loved ones.
I say this from the harsh reality of the number of intensive care beds in the Netherlands and the needs of important, regular, planable care and the impossibility of being vaccinated for, for example, a heart defect or cancer. Four out of five corona patients in the ICUs are currently not vaccinated. Such an unvaccinated corona patient spends an average of seventeen days in the ICU; someone from regular, planable care for two days. Every unvaccinated corona patient in the ICU therefore stops seven or eight regular operations. The non-'acute' patients suffer from this. (Nothing has been said for a while about the chronic overload of all healthcare staff and the structural failure of our representatives to do something about this.)
Also read: The Despair of a Doctor in the Bible Belt

Since I was nineteen I have suffered from a congenital heart defect, an arrhythmia caused by troubled areas in my heart. I've been treated on an outpatient basis a number of times in the past, and when that didn't work, I had surgery—so-called surgical isolation of this troubled heart tissue. This is nothing special, there are almost half a million people in the Netherlands who suffer from a heart rhythm disorder. Many of them need to be treated in hospital.
Such a heart rhythm disorder can greatly reduce the quality of your life. Here's the reality of mine: Every night I sit up in bed for an hour or two, my heart rate fluctuating between regular and abnormal. My body is startled every time it goes wrong, feeling like I'm tripping, and with a high, offbeat rhythm it's impossible to fall asleep. During the day I often have a pressing feeling in the chest. It is not entirely clear whether this is a result of my exhaustion or the stress I feel because I cannot be helped.
Every now and then I have to go to the hospital for an electric shock. The last time I got three before my heart rate was regular again. It feels like you haven't slept for two nights. I am often thankful that I don't have children or a regular job (as a doctor in the emergency room at a hospital near Staphorst, for example).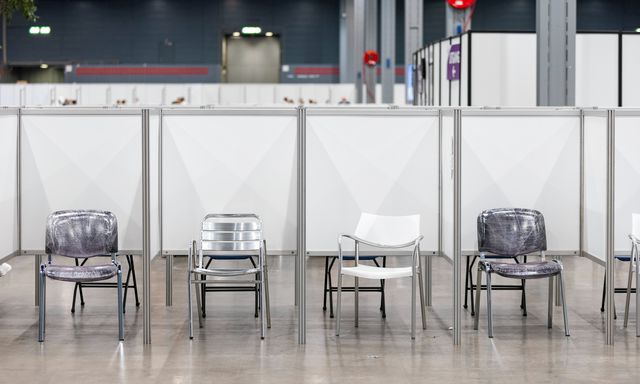 Also read: This is the unvaccinated Dutchman

The pills I get have a lot of side effects, the most annoying of which is a sensitivity to light, and are therefore only moderately effective. I am now on the waiting list for another surgical isolation. That is an operation of five to seven hours, after which you lie on the IC for one or two days, then another day or three in the hospital (all generously sized) and then you can go home. Your roommate, treated for the same disorder or equipped with a pacemaker or ICD box, hopefully too.
Such interventions often work quite well. In my case, there is good hope for another five to ten years of symptom-free life.
However, according to my treating doctor, it can take several months before it is my turn. This is, at least partly, due to the expected occupation of the IC: the corona patient is there for more than two weeks, a heart patient like me for a day or two. They can now move me 'planned', not someone who has to be intubated later.
Freedom and autonomy
I'm sure almost all of my fellow patients would recommend a vaccine to future potential peers—that is, if such a thing existed. Because they grant them more health and thus freedom and autonomy than they currently have.
It's simple: if you don't get vaccinated, you mainly think about yourself and not about your loved ones. I am not saying this because I believe in the possibility of the silver bullet of 100 percent vaccination coverage, or from a complete overview of all corona risks, or because of a preference for the QR code, or because I think that all social tensions are compatible with a vaccination policy. I say this because I calculate back from the number of minor side effects of the vaccine, compared to the increasing number of infections and the associated intensive care bed occupancy, which can only be reduced quickly, safely and relatively quietly through a higher vaccination rate.
We need those ICU beds to help others with diseases and conditions for which no vaccine exists or cannot exist. So it is even simpler: if you remain unvaccinated as a 'healthy' person, you are not concerned with anyone else but yourself.
A version of this article also appeared in NRC Handelsblad of 23 October 2021
A version of this article also appeared in NRC in the morning of October 23, 2021
#Youre #egoist #dont #vaccinated