Leonard León studied Business Administration, but leaned towards singing. He has played in cumbia orchestras such as Hermanos Yaipén, Grupo 5 or Grupo América. Now, the interpreter of "Another night without you", "The lack that you make" or "Llorarás" is dedicated to promoting his career as a soloist and has even just released "Una mujer como tú".
In conversation with La República, the former Kumbia Stars He revealed details of his entry into music, his time in some of the main cumbia orchestras in Peru, in which he shared the stage with Dantes Cardosa and Marco Antonio Guerrero, and what projects he has for the future as a singer.
YOU CAN SEE: Claudia Portocarrero reveals upcoming return to TV: "It's different from what I did for many years"
—You perform as a soloist, how has the public received you?
-In the best way. I'm working on my social networks, doing music production. I always upload the video clips I make to YouTube and on my digital platforms. I always thank the public for the reception. They as the public deserve a good product and respect from me.
—What projects do you have for the future with your orchestra?
—Now I am simply focused on music. I seek to produce and continue producing, which is what the public wants. Currently, we mainly have private events, but I am going to release a new song and its video clip.
As announced, Leonardo León released his song "Una mujer como tú" on September 15, as part of the musical production he has been making with his group that bears the same name.
Leonard León currently works as a soloist with his orchestra. Photo: LR composition/Facebook/Leonard León
YOU CAN SEE: Corazón Serrano presents modern bus: "We have had to break the 'pig'"
Leonard León: his time with the Yaipén Brothers and Group 5
The interpreter of "La fan" was born in Trujillo, in La Libertad, but spent much of his early years in the city of Chiclayo. He trained as an administrator, but did not pursue that career. Instead, he auditioned for a local group and ended up selected. That was his first experience before joining the Yaipén Brothers.
—At what age did you debut as a singer in the Sextet Internacional de Chiclayo and how was your jump into music?
—I started in the International Sextet when I was 21 or 22 years old. It was the first group I joined. I was still studying at university and I was given the opportunity to enter through a casting. That's how I started. I was there approximately six months. Then I went to the Yaipén Brothers. I worked with them for about a year, when they were not well known. They worked more for Trujillo, Chimbote, Chiclayo itself.
YOU CAN SEE: Victoria Puchuri: what does the former member of CORAZÓN SERRANO do now?
—After singing with the Yaipén Brothers you worked with Group 5 and gained greater notoriety at the national level. What did your time in this group mean to you?
—Ever since they heard me sing in Hermanos Yaipén, they were interested in me. This is how they propose to me to join the group. It was an immense joy that they thought about my work. It was news that piqued my interest and the only thing I thought about was working with them. (Group 5) was the springboard I needed to have a name. I feel that I contributed a lot with my talent, because not only is the song enough, the singer's interpretation is important for the song to be successful, apart from the musical arrangements and everything that entails.
Joining Group 5 was something very important in my musical career. Furthermore, I have very good relationships with them. I left the orchestra very well. What's more, the last time we talked was the moment I was leaving to come to Lima and we were on good terms with them. There will always be respect and admiration on my part towards the well-known orchestra like the one they have.
Leonardo León's departure from the Group and his time at Grupo América with Marco Antonio Guerrero
—Why did you leave Group 5?
—It was just for a matter of artistic improvements. It was proposed to me to create Grupo América. My name was going to be heard a little more. We dedicate ourselves (with Marco Antonio Guerrero) to working, to making musical production. And we record the songs that everyone already knows (…). It's not that I had a fight or maybe it went wrong. That is ruled out.
YOU CAN SEE: Briela Cirilo proud of entering Corazón Serrano: "You have to be lucky, but it was because of my work"
—How do you perceive the success of Group 5 today?
—They are at a good stage in their musical career and good for them. Everything they have sown at the time, they are reaping. And part of that has also been us who have contributed a lot with our talent.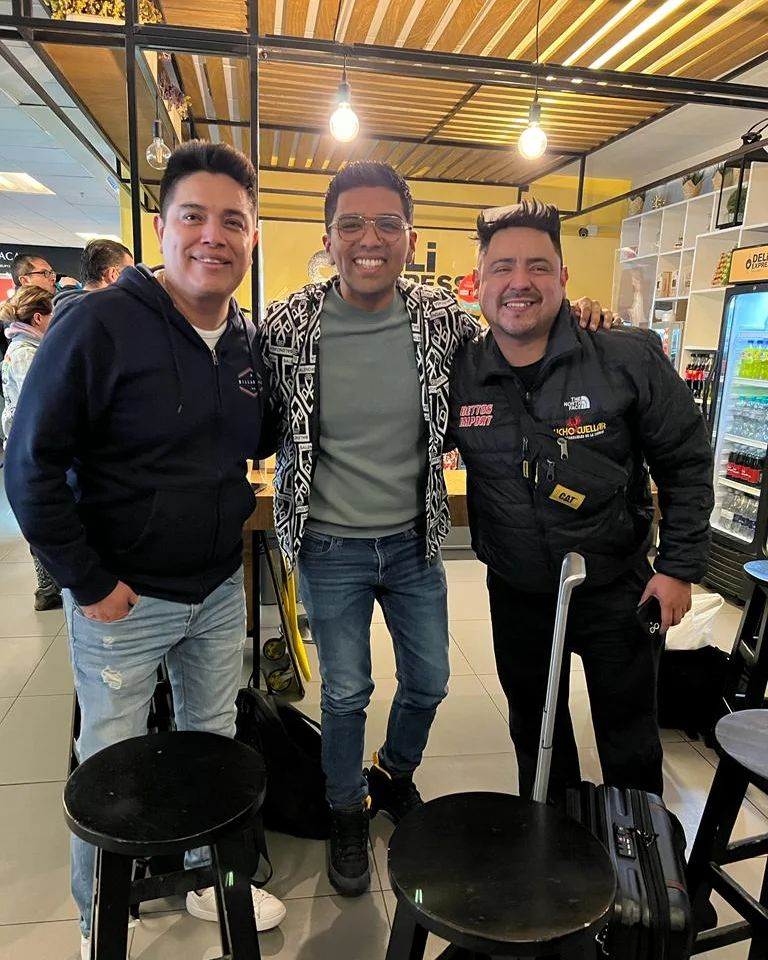 Leonard León stated that he came out of Group 5 well and that he has a good bond with its members. Photo: Facebook/Leonard León
Would Leonard León return to Group 5?
—Would you like to return to Group 5 at some point?
—One can never say never, but right now I am focused on my musical career. I'm ready to release a song and (I hope) it will be heard nationwide.
#Leonard #León #return #Group #Singer #reveals #left #orchestra #releases #song