With the return to routine, many have also been encouraged to resume physical activity, little by little. Those who prefer to exercise outdoors have options for all tastes: running, cycling, hiking or skating, a discipline that has been gaining followers and that is very complete and fun.
What do you exercise when you rollerblade?
The benefits of skating are several. "In addition to improving general physical condition, skating greatly helps coordination, improves proprioception or posture, strengthens the lower body, abdomen, burns fat … It is a very complete activity," explains Juan M. Ángel to EL PAÍS Escaparate. , director of the Roller skating school. "It is a sport, at the same time, aerobic and anaerobic," he adds. "And it is estimated that it allows you to burn about 300 calories every 30 minutes."
At their headquarters in Madrid, where they currently serve about 350 students, those responsible for this skating school have noticed an increase in enrollment after the pandemic and the search for sports that can be practiced outdoors. Another advantage of skating, recalls Ángel, "is that, compared to other sports such as running, you reduce the impact a lot", which can help prevent joint injuries. And it encourages people of any age to lose their fear and start: "If it is done with protections and someone teaches you to do it, it is a fairly safe sport," he says.
What are the best skates for exercising?
When choosing skates, the expert recommends looking first at the use that we are going to give them: "If you want to make figures with them, it is easier with those with parallel wheels, but if you are going to practice it as a sport, I recommend the line ones better. because you have more stability and offer greater agility ". Another thing to keep in mind is that with classic skates "you need a surface in very good condition to skate, while with inline skates any surface is accepted".
Regarding the materials, Ángel advises to pay attention to the following aspects: "That the guide where the wheels go is made of aluminum and the wheels of rubber". In addition, they must offer good support to the ankle. In this sense, he adds, it is possible to distinguish between two types of skates: fitness, that are correct to start, but in the long run they can fall a little short, and those of freeskate, of hard boot and that help to conserve better the balance ".
In the case of protections, the expert points out that "it is necessary to improve the safety culture in adults because they tend to be very reluctant to use a helmet and, in fact, it is the most important protection". In addition to the helmet, as basic equipment it recommends knee pads, elbow pads and wrist pads. In the case of the latter "they must be hard on one side and soft on the other so that the hand does not block if you fall". And check "that they fit well and that they do not move up and down". With all this in mind, in EL PAÍS Escaparate we have selected eight items that can be purchased on-line and that will serve as a reference for those who want to put on some skates this season and start in this discipline.
SKATES
Inline skates, Hudora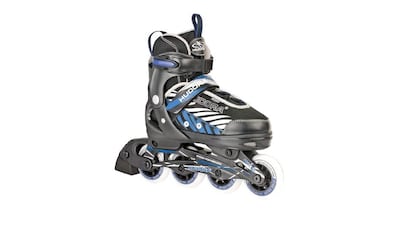 Available in three sizes (S, M and L), these skates are adjustable from approximately 29 to 40 foot. They are suitable to support a user weight of up to 100 kilos, they are closed with a ratchet system presslock and power strap and have a ventilation system air vent. The chassis is made of polypropylene and the bearings are made of ABEC 5 carbon. It is a product with a very positive global rating on Amazon, where users have given it a rating of 4.5 stars out of 5.
Inline skates for beginners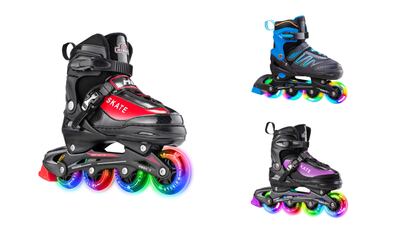 A model that adapts to both adults and children, available in four color combinations and four adjustable sizes. Along with the pair of inline skates is attached a brake and an extra wheel, two screws and two Allen keys. They are equipped with ABEC 7 high speed bearings, 82A polyurethane wheels and a reinforced aluminum frame. In addition, the wheels are designed as a self-generated drive system and automatically light up when rolling. It is a product that has more than 800 reviews and a rating of 4.4 stars out of 5.
Classic parallel roller skates
Those who prefer to resort to the four parallel roller skates can opt for this retro and colorful design, on sale in seven different combinations. They are suitable for both adults and children and are made of soft synthetic leather to make wearing them more comfortable. They also include a robust and resistant chassis, ABEC-7 ball bearings and a brake plug. It is a product to which 68% of the people who have valued it on Amazon have given it the highest score.
HELMET AND PROTECTIONS
Unisex adjustable helmet for children and adults, various colors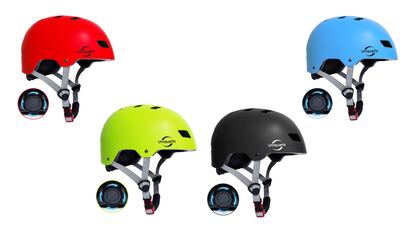 Black, blue, green, red and purple are the five colors in which this helmet is presented, suitable to go on skates, scooters or on the bike. It has an adjustable size (from 50 centimeters in diameter to 61 centimeters) and has the CPSC, CE and ASTM safety certifications. The outer shell is made of ABS and the inner one of high-density EPS material. In addition, it has a thickened soft sponge and multiple vents to reduce sweating and keep your head cool during sports.
Set of knee pads, elbow pads and wrist pads
East pack fall protection includes a pair of elbow pads, a pair of knee pads and a pair of wrist pads plus a bag for easy storage and transport. They are suitable for practicing different sports, including skating, and are made of materials resistant to impacts and friction. They include elastic straps to be able to fix them correctly to the knees, elbows and wrists and in Amazon they can be purchased in two color combinations and in three sizes: S, M and L.
Skating protections for adults and children
With more than 1,200 ratings and an average rating of 4.3 out of 5 stars, this kit is a best-selling product on Amazon that offers complete protection for children and adults. Set includes two knee pads, two elbow pads, two wrist pads, and a storage bag. All protections include a double stitching system at the joints to ensure greater resistance. You can choose between three colors and sizes from XS to L.
Leggings with protections for hips and coccyx
Breathable and comfortable, these leggings They offer extra protection under clothing when practicing sports such as skating or skiing in which you can suffer falls that affect the hips, thighs or buttocks. For this, they include EVA rubber pads with high impact resistance. They are made of fiber materials and spandex to provide the necessary elasticity and malleability and are adjusted with a velcro at the waist.
Bag to store and transport skates
A perfect complement to be able to store and transport skates and protections, comfortably, from one side to the other. It is made of high-quality, tear-resistant Oxford fabric. In addition to the main, large and spacious compartments, it includes multiple pockets to carry water, mobile or keys. The shoulder strap is removable and adjustable and has a breathable design so that shoes or skates release the smell of sweat or moisture.
* All purchase prices included in this article are current as of October 12, 2021.