Pompinchu He is one of the most prominent and remembered comedians of the 90s. His popularity became so great in the past that his followers, knowing that he would be joining a comedy show again, waited to see him with great expectation. Precisely, last March 25, Alonso González reappeared in front of the screens in the premiere of the show "Los ambulantes de la risa" on Panamericana TV, a segment of the program "Sábados con Andrés" by Andrés Hurtado.
The humorous sketches passed normally and the comedians received the applause of the public on more than one occasion. However, only days later, the comedian Pompinchú suddenly announced his withdrawal from the Panamericana TV project. He knows the comedian's reason for stepping aside.
Why did Pompinchú resign from "Los ambulantes de la risa"?
In a dialogue with El Popular, Pompinchú opened up about the reasons that led him to make a radical decision about his stay on channel 5. These would have had to do with the profits that the television house offered them for their work as comedians.
"They have told us that we will only be on the Andrés Hurtado program for a month And that doesn't suit me because I practically thought it was a program that they were going to offer us, but I see that we will only be with Andrés Hurtado for a month. So, I told the boys that I'm not going anymore," said the experienced comedian.
Pompinchú in the program "Los ambulantes de la risa". Photo: Panamericana TV
But that would not be all. Alonso González said he was quite disappointed to learn that he and his colleagues would not have their own program. "I thought they were going to give us our own program for traveling comedians and not work for others. In other words, we are only going to work for Andrés Hurtado in a space that is for him, for a month. It is what he said, "she maintained.
What was Pompinchú offered as remuneration?
In addition, Pompinchú explained that he had strong disagreements with his teammates after deciding to distance himself from Andrés Hurtado's program. In addition to his previous disagreements, what finally disappointed him was the remuneration he was going to receive.
"Well, I'd better dedicate myself to selling my chocolates and nothing else. In other words, there will not be a salary. there will be a tip And, practically, what do I do with a tip", he expressed for El Popular.
What is the segment "Los ambulantes de la risa" about?
The comedy show "Los ambulantes de la risa" included in the schedule of the "Sábados con Andrés" program, is made up of Edwin Aurora, Kike Suero, Mondonguito, Alonso Gonzales, Alvarito and Cholo Peter. This platform will be the direct competition of "El jirón del humor", Latina's traveling comedian program.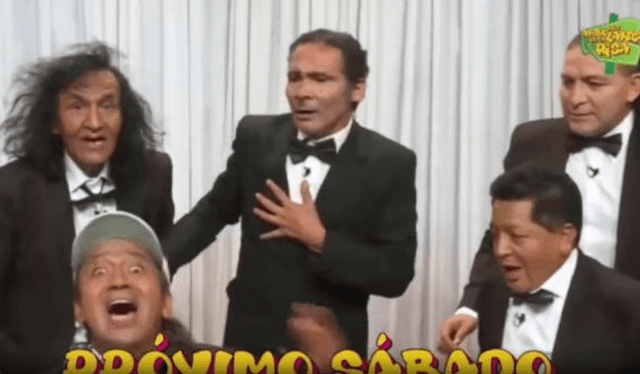 Pompinchú is no longer in "Los ambulantes de la risa" due to disagreement with Panamericana Televisión. Photo: Panamericana TV
#Pompinchú #resigned #Los #ambulantes #risa #refused #continue #Panamericana