new Delhi
In Jammu and Kashmir's Nagrota on Thursday morning, security forces wiped out 4 Jaish-e-Mohammed militants. Later in the evening, PTI issued a news report that the Indian Army carried out a pin point surgical strike in PoK. After which #airstrike, Big Breaking and Indian Army started trending in social media.
People confused

The news flashed everywhere as soon as PTI released the news that the Indian Army had penetrated the PoK and demolished the terrorist hideouts. Actually, it was old news in which everyone got confused. On social media, people started congratulating the Indian Army and started teaching Pakistan a lesson. But shortly afterwards it was denied by the army.
Trending in twitter
Twitter had 13.2 thousand tweets with #airstrike. Then there were 8,937 tweets from #Big Breaking. 11.5K tweets from Indian Army. Social media flooded in a few minutes. People started celebrating happiness. Along with this, users also posted pictures of old surgical strikes and air strikes.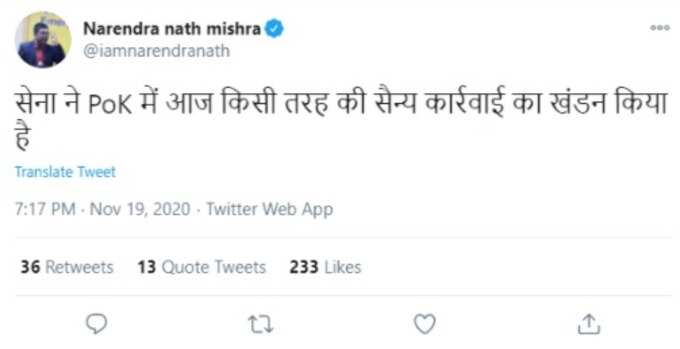 Army denied
In this case, the Indian Army has said that there has been no attack on terrorist bases on our behalf in Pakistan Occupied Kashmir (PoK). The Air Force also said that it too has not done any surgical strike in PoK. The army said that no such action has been taken by the security forces in Jammu and Kashmir.
Report held incorrect
Earlier there were reports that India has taken action in PoK. After this, cleaning was given by the army. The statement said that such reports are not accurate. There were reports in some media that India has taken this step to stop the infiltration of terrorists from Pakistan.
.