Suddenly you could hear the term buzzing again, at least in some media circles: a cordon sanitaire. This concept expresses the idea that the political debate should be free from extreme right-wing expressions. Ever since the rise of social media, the idea has prevailed that such an endeavor is hopelessly obsolete. Everything you try to ignore as an established media or as an established politician will come to the surface through social media. Political scientist Léonie de Jonge of the University of Groningen oinvestigated cordons sanitaires in Wallonia and Luxembourg, where news media agree not to pay attention to the radical right: "It is far too late for that here," she says. "That only works if a party is just emerging."
But what about a party that deliberately uses the creation of social turmoil through the media as a strategy? A party, moreover, which loudly praises supporters who send intimidating emails to other MPs. Of which a member of parliament (Van Houwelingen, FVD) warns another member of parliament (Sjoerdsma, D66) threateningly in a plenary debate: "Your time will come, there will be tribunals". The radicalization of Forum for Democracy poses new questions and dilemmas to the media. NRC made a tour of journalists and scientists and spoke about the headaches that the movement of Thierry Baudet sometimes causes editors.
Léonie de Jonge sees a shift. "Since the murder of Pim Fortuyn, the line has been: everything and everyone must be heard. And now you see for the first time that the media say: hey, but this is going too far. Apparently there is still a line that you are not allowed to cross, as a populist. Apparently that is: threats."
Dilemma 1: Do you ignore FVD or put it under a magnifying glass?
For a moment on Wednesday it seemed as if a cordon sanitaire had already been decided. At eight o'clock in the evening the NOS news paid no attention to the threat from MP Van Houwelingen. That was fodder for speculation: had the NOS decided to ignore the issue? Not at all, says editor-in-chief Marcel Gelauff. "We had afternoon a substantial piece online, it was on teletext and the late Journaal contained a reaction from the President of the House. For the eight o'clock news we tried to make a broader story. We also wanted to explain why it was said and what its meaning is. But we just couldn't do that before eight o'clock. We couldn't find people willing to talk to us about it at that time." A day later, the issue was still extensively discussed in the eight o'clock news – with comments from Prime Minister Rutte, among others.
Also read: Op1 said no to FvD, in a studio that must have been slippery from the butter that dripped off their heads

The Telegraph only posted a two-column message on the matter the day after the incident. "Everything is premeditated, it's all tactics. That way you have to constantly look at it," says commentator Wouter de Winther. The Monday before the latest incident, his newspaper did write about the growing discomfort among parties about Forum. "We are charting our own course."
Editor-in-chief Cees van der Laan van Fidelity refers to the editorial statute, in which Trouw sets itself the task of defending parliamentary democracy. Isn't that in question now? "Baudet undermines it, you see that happening and he radicalizes in it. Forum calls on people to oppose parliamentary decisions."
In any case, ignoring it completely is not an option. "I also think that other groups should continue to respond when Baudet and others from Forum take the floor. Keep contradicting. Just as we continue to write about Forum. Critically, in reporting and in comments."
Journalist Chris Aalberts closely followed Baudet in halls and squares for several years, twitter, for the website TPO and in his book The party that I am about Forum. He accuses the media of not putting the party under a magnifying glass much anymore. "You could already see two years ago that Baudet is an extremist who does not shy away from intimidating all people. I think you had to spend more time in those rooms and less in the Binnenhof to realize that. Because at the Binnenhof they behaved a bit more politely until last Wednesday."
Should NRC not take a closer look at this party? "We have a rule of thumb that we don't just walk from incident to incident," says NRC editor-in-chief René Moerland. "The event has to stand for something. We had a news item online fairly quickly on Wednesday, which appeared in the newspaper the next day. There was a discussion about that in the editorial that morning: couldn't we have outlined more perspective then?" That happened in two pieces on Friday.
"FvD is a special party in the Netherlands and its radicalization is definitely a theme that we must follow and expose with investigative journalism."
Also read: Defeating extremism involves more than moral outrage

Last week it was also pointed out the role that the media would have played in 'magnifying' Baudet's movement. Does Moerland, who only became editor-in-chief in 2019, look back with regret on the fact that Baudet was a columnist for NRC in 2011 and 2012? "You cannot say on the basis of later developments that a different choice should have been made earlier. No one could have predicted that the columnist Baudet would later go so far in his extreme right-wing contacts."
Dilemma 2: Do you invite FVD members to talk shows or debates?
On 1presenter Charles Groenhuijsen made a striking statement on Wednesday, after Thierry Baudet was indignant on Twitter that his colleague Van Houwelingen was not allowed to explain his threats: "People who threaten others or call for it are not welcome at the table of Op1."
WNL chairman Bert Huisjes, who coordinates the talk show, nuanced that a day later: "That is not a broadcasting-wide policy." RTL also indicated that it did not want to exclude politicians in advance from programs such as Jinek. "In our view, you should be able to critically question everyone."
Media scientist Vincent Crone, who studies the history of television at Utrecht University, agrees. "But then a completely different format is needed. All talk shows now seem like a hotel lobby in which a number of guests enjoy the news of the day. A politician who sits down there can also show himself empathetic about a victim or have a say in, for example, Karin Bloemen's new album. In other times that may be possible, but politicians in these times should be questioned more seriously."
Pauw & Witteman and Barend & Van Dorp sometimes set aside an entire evening for one guest, he recalls. "As news hour it did during the previous elections. You then enter such a program to justify yourself, not to have a nice chat. And if you don't come, that also says something."
Claes de Vreese, professor of political communication at the University of Amsterdam, thinks it is sensible that On 1 put in a "time-out". "But it is not so wise to say: you will never get in again. Then you get the question that also played a role when President Trump was banned from Twitter: is it fair to exclude someone without an end date?"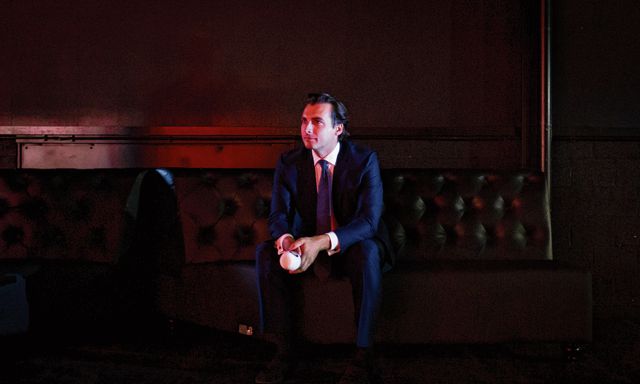 Also read: Baudet is what he cursed himself: homeless

The Winther of The Telegraph is a regular guest at RTL talk show Jinek. He just didn't like it that much On 1 not to invite Van Houwelingen to the table. "Not to be silly about the presenters, but I think that Jeroen Pauw, for example, could have a very strong conversation with someone who has such delusions."
Dilemma 3: Do you call FVD the extreme right, the radical right or fascist?
As a journalist, you can call VVD members quite liberal, and CDA supporters will not fly if you call them Christian, but calling Forum leader Baudet fascistoid is something else. Because terms like 'Nazi', 'racist' and 'fascist' are also swear words – and historically charged.
Although Forum is still described as a far-right party in many media, the party is far-right in both behavior and vocabulary, according to Cas Mudde, a political scientist at the University of Georgia. Forum politicians such as Baudet and Pepijn van Houwelingen have attacked parliamentary democracy so often that the official party texts are no longer convincing, explains Mudde. In addition, the party exhibits other traits associated with the extreme right, such as anti-Semitism, historical revisionism and racism. According to Mudde, it is important to distinguish FVD from radical right-wing parties such as PVV, JA21 and Groep van Haga on the basis of qualitative differences. Mudde: "If the term extreme right is too strong, then to the far right an option, the Dutch translation of 'far right', which embraces both the radical right and the extreme right."
NRC wrote on Saturday in the commentary about FVD as "the extreme right-wing movement that it has become more and more". In April, the Ombudsman of NRC already thought it was 'justified if the newspaper would at least call that party the extreme right'.
Media scientist Crone argues in favor of calling the party fascist. "From a political perspective there is no discussion about it. They have illiberal views and are constantly questioning the established institutions." Fascists feel that they are living in an overwhelming crisis. From a period of destruction or decay must come a radical new beginning, a national rebirth. The authoritarian leader has to get this done. Whoever contradicts his party is a traitor.
Baudet said about the violent action group Police for Freedom: "I admire the people who are there and I support them where I can." And about democracy, for that matter already in October 2017: "The very best would be if we were absolute rulers. You cannot make major policy changes in parliamentarism."
With the cooperation of our editors Juurd Eijsvoogel, Bart Hinke, Süeda Isik, Karel Smouter and Wilfred Takken.
Correction (November 21, 2021): In an earlier version of this article, two names were incorrectly spelled. That has been corrected above.
A version of this article also appeared in NRC in the morning of November 22, 2021

#media #Forum #Democracy #Ignore #Invite #exclude