Thursday, May 25, 2023, 20:27

Vox has denounced the current mayor and PP candidate for mayor, Eduardo Dolón, for an alleged electoral crime, another for prevarication and a last one for embezzlement of public funds. The leader of the far-right formation has presented this Thursday morning a document to which LA VERDAD has had access and which has been registered by the Investigating Court Number 3 of the city of salt.
The mayor of those from Abascal considers in his complaint that the electoral contracts signed by the current Torrevejense councilor and a WhatsApp from the Councilor for Fiestas, Concha Sala, addressed to the Carnival comparsas would supposedly be aimed at buying or coercing different groups of the city ​​to vote for the PP this 28-M.
Specifically, in his complaint, Salvador Ruso considers that these facts violate article 146 of the Organic Law of the General Electoral Regime (LOREG) and articles 143 and 404 of the Penal Code.
As proof of these facts, the Vox candidate has presented a pen drive with a recording of one of the debates held by the six candidates for mayor of Torrevieja held on May 18. In this, the letter says, the mayor, Eduardo Dolón, assured the following: "I am also signing electoral contracts with representatives of associations, collectives, in short, with Torrevejenses, because ultimately it commits me much more than an electoral program."
The Vox candidate refers to the documents that the Torrevieja PP has been publicizing in recent weeks. In this sense, Salvador Ruso attaches links to different digital newspapers that include, among others, the electoral contract signed by Dolón with the local hoteliers association, with the homes for the elderly, with the NGOs of the municipality, with the businessmen of the polygon Casagrande industrial and sports clubs. The last electoral contract, without going any further, was released yesterday Wednesday by the PP and was signed with the association of the LGTB collective, 'Torrevieja Diversa'.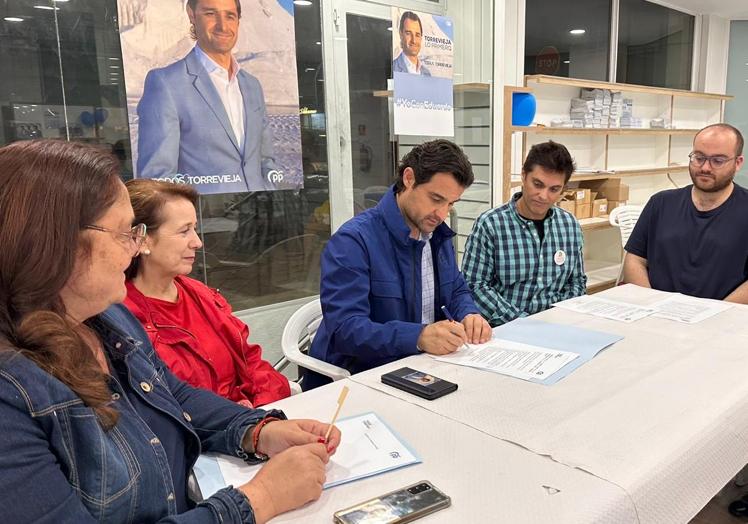 Ruso also denounces an alleged Whatsapp from Councilor Concha Sala addressed to the Carnival comparsas. In it, they were invited to attend the meeting held by the PP candidate for the Generalitat, Carlos Mazón, last Sunday in the Plaza de Toros in Valencia, reminding them of the subsidies approved in this second term of Eduardo Dolón as head of the Torrevieja City Council. .
It is for all this that, the complaint filed by the Vox candidate makes explicit, "I beg the court to agree to initiate preliminary proceedings with the urgency legally required and indicate the statements of the accused and witnesses legally required and indicate the statements of the accused and of the witnesses."
Salvador Ruso had already been warning in the last debates of candidates held that he would take Dolón's electoral contracts to Justice. "This very morning, in a debate on Radio Orihuela, I have read the infringed articles and he has neither looked at me nor answered," says the Vox candidate to this newspaper, who defends that his complaint has been studied by his party's lawyers in Alicante, Valencia and Madrid "and they see that it has a sufficient basis."
#Vox #denounces #mayor #Torrevieja #alleged #electoral #crime