Monday, August 21, 2023, 3:32 p.m.

The general secretary of Vox, Ignacio Garriga, has asked the Popular Party for explanations "if they excluded Vox from the Congress Table because they had a commitment to the PNV." Garriga has given the deadline for the meeting of its leader, Santiago Abascal, with the King during the round of contacts to clarify his vote in an investiture.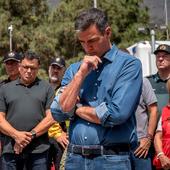 During a press conference, Ignacio Garriga recalled that his formation offered its votes for a government with the candidate, Alberto Núñez Feijóo, at the helm and as an alternative to Pedro Sánchez "with the sole condition of recovering the neutrality of the institutions." For Vox, the formation of the Congress Table, from which it was left out last week, raises doubts about whether the popular are willing to seek that neutrality.
Vox asks the PP to clarify if there was an agreement with the PNV by which it would seem that they have joined the sanitary cordon against its formation and has asked if they are going to follow the path of Valencia, where they have reached an agreement, or that of Murcia "with a blockade and that, if it continues like this, leads us to an electoral repetition." Garriga has added that they should know before Abascal goes to the appointment with the King.
He has specified that it would not be correct to say that Vox withdraws its support for the PP. But neither would it be to say that he maintains it.
#Vox #demands #explanations #Feijóo #transferring #vote #King