The parliamentary elections of March this year were, if you look purely at the results, actually remarkably even. The largest party, the VVD, remained the largest. The (outgoing) coalition of VVD, D66, CDA and ChristenUnie retained its majority in the House of Representatives and is now negotiating the continuation of the cooperation. There were no big winners or losers. Corona crisis? Allowance affair? It hardly seemed to matter. These were, numerically, the most boring elections since 1989.
But underneath the skin, all sorts of things happened to voters. What, exactly, has been investigated by a group of scientists in the National Electoral Survey, which comes out Friday. For this project, which has been in existence since 1971, more than 4,500 Dutch people were questioned about their view on politics and their voting behaviour. It is the most complete survey of voter sentiment.
This research shows that voters are becoming more polarized, especially when it comes to climate policy. The aversion to politics is back at the level of early 2020, after a short period of great confidence at the start of the corona crisis.
Parliament has changed beyond recognition in recent decades. The Netherlands has become electorally fragmented. That process has continued. There are only four parties in the House of Representatives that have more than ten seats (VVD, D66, PVV and CDA), and no fewer than seventeen parties were elected to the House. But the political landscape has also been drastically redesigned on an invisible level.
Four insights from the voter survey:
There are now three ideological blocs
Traditionally, the House of Representatives roughly consists of a center-left and a right-wing bloc, with a few parties that do not immediately fit in. The right bloc has now been torn into a center-right (VVD and CDA, together 49 seats) and a radical-right bloc (PVV and FVD, 25 seats). The researchers asked voters which other party they considered voting for, what their 'set of choice' was. This showed that there is virtually no overlap between the two blocks: VVD voters are hardly interested in switching to, for example, the PVV, or vice versa. It is therefore questionable whether it makes sense for the VVD to adopt a more radical right-wing voice, for example on migration. Voters usually only hesitate between parties within the block where they feel at home. It is striking that the left bloc of SP, PvdA, GroenLinks and Party for the Animals, now good for 32 seats, has weakened over the years, while the voters have not necessarily started to think more right ideologically, according to the researchers. Small parties and parties with an unclear left-right profile have been left out.
This blocking has two consequences. Firstly, it is no longer possible to form a coalition that largely consists of one bloc. Blocks therefore have to look further. This increases the strategic position of the parties that stand between the blocs, says lead researcher and professor of political science Tom van der Meer (University of Amsterdam). In this way, D66, between the left and the center-right, and JA21, between the center-right and the radical right, can be given a key position in all coalition negotiations in the coming years. But they are also vulnerable, because they can lose voters on both sides.
Also striking: there is some overlap between parties on the left and right flanks. For example, FVD and Denk voters, two parties that fiercely fight each other in the House of Representatives, are more than average interested in the other party. This could have to do with two things: the horseshoe model, the idea that parties on the radical flanks touch each other in rejection of the political middle. But it may also be due to FVD's deviating corona position, which can be attractive to Denk voters.
The aversion to politics is growing
The onset of the corona crisis led to unprecedented support for government policy and historic confidence in politics. But that sentiment has slowly faded. Confidence in politics is declining, and is approximately back to pre-coronavirus levels. The difficult formation and the discussion about the administrative culture, prompted by the Allowances affair and the 'Omtzigt memorandum', have contributed to this, write researchers Paul Dekker (Tilburg University) and Josje den Ridder (Social and Cultural Planning Office). More than two thirds of the population is still satisfied with the functioning of democracy. But confidence in the government (47 percent), the House of Representatives (50 percent) and political parties (34 percent) is lower as usual. Distrust appears to be very high among the less educated and people with a non-Western migration background. This is strongly related to two things: people with little to no faith in politics are very negative about globalization, and very pessimistic about their own lives. "Aversion to politics is associated with aversion to the world," the researchers write. Around the elections, support for the government's corona policy (almost 39 percent) was higher than the percentage of voters who were dissatisfied (more than 32 percent). The researchers have also noticed that Dutch people with a migration background, who are vaccinated less often, are actually a lot more afraid than average of becoming infected. This is a direct result, they say, of the low level of trust in government among these groups.
The Netherlands is polarizing, especially about climate
Voters disagree more and more, and more and more fiercely. The researchers Eelco Harteveld and Roderik Dekker (University of Amsterdam) write that there is "reason for concern" about the increased contradictions in society. Polarization, they write, comes and goes. In the 1990s, the Purple Years, the political and social differences were relatively small. The Fortuyn era led to great tensions, which subsequently eased. There has been a clear increase in the past ten years. That process continued this year. That is, they write, because polarization now happens on three levels. People don't just disagree on points of view. They have become much more negative about their political opponents. This rejection of the opponent, which is called affective polarization, occurs mainly among voters of GroenLinks, BIJ1 and FVD. VVD and CDA voters have the highest 'feeling thermometer', they think the most positively about people with whom they disagree. There is also a third form of deletion. The perception of reality has diverged. This is partly because citizens have started to use more and more diverse sources of information. This is again because, for example, FVD and PVV voters have little faith in science and the media.
This is strikingly visible when it comes to climate policy, the most polarizing topic according to the research. The researchers write: "Climate policy proponents see an existential threat in climate change. Opponents see an attack on their way of life." This also means that they strongly disagree about climate change. Only a third of FVD voters believe in the role of humans in climate change, compared to 90 percent of GroenLinks voters.
Middle parts flatten
Although the electorate is drifting apart, this was hardly noticeable in the campaign. The middle parties (from GroenLinks to the VVD) did not or hardly emphasize their substantive differences, says Tom van der Meer. For example, the major issues that concern voters – corona, climate, housing, benefits – hardly played a role. "Many of those topics have been discussed in debates, but there was no conflict about them. It is precisely political contradictions that give the voter direction." For example, it could happen that the Allowances affair and the reliability of the government were very much alive among a relatively limited group of voters, but never became the theme of the elections.
Also read: Why the Benefits Drama was not a theme in the campaign

Outgoing Prime Minister and VVD party leader Mark Rutte only received questions about it from a victim during a TV debate on RTL. Van der Meer: "Many parties were also on their own in this affair, such as the PvdA. They didn't feel like giving this subject much attention."
Mark Rutte neutralized the campaign by making leadership the theme, Van der Meer notes. "That gave him, prime minister since 2010, a head start. He could say to all substantive criticism: 'I agree with you, but I'm getting things done'." Other parties went along with Rutte indiscriminately. Sigrid Kaag (D66) campaigned with the slogan 'Time for new leadership.' Other party leaders, such as Wopke Hoekstra (CDA), presented themselves as a candidate prime minister. That's how all contradictions became calm down, says Van der Meer.
A consequence of this is that voters had to look elsewhere for differing ideas, and that in this way the parties on the flanks became more attractive. The researchers Joop van Holsteyn and Galen Irwin (Leiden University) write in the Voter Survey that the campaign has insufficiently achieved an important democratic goal, informing voters about the differences. The vast majority of voters did their best: they filled in the Voting Guide, watched the TV debates and followed the polls. Even so, only slightly more than half of voters (57 percent) were able to detect significant differences in positions between the parties. Four years ago it was 70 percent. The researchers therefore call the campaign time "somewhat ineffective." Voters are finding it increasingly difficult to classify parties as 'left' or 'right'.
This touches on the great paradox of the 2021 elections, which runs like a thread through the Electoral Survey. At the same time, voters are also polarizing and thinking more and more negatively about dissenters. In short, they are more out for conflict. This while the middle parties are flattening out, at least during campaign time, and brushing away differences. Because voters see little difference, they are more likely to defect to new or flank parties, or prefer to vote for individuals. Tom van der Meer: "The middle parties have failed to tell a bigger story, while the voter did need it."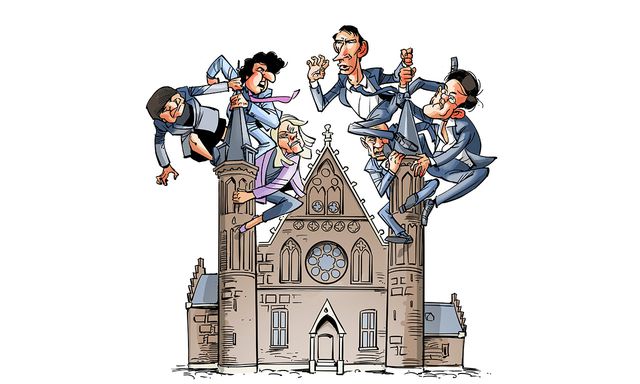 Also read: The crisis of the political center

#Voters #conflict #middle #parties #flatten