UpdateVolt permanently removes MP Nilüfer Gündogan from the group. The party has received thirteen reports, including pawing, intimidation and 'unwanted sexual advances'. The party is also in the process of expelling her. The MP denies and files a complaint against the party, party member Laurens Dassen and the reporters.
Gundogan was suspended two weeks ago after reports of 'transgressive behaviour' were received. At the time, the party refused to provide more information, and Gündogan himself did not hear the complaints. Now it is clear that it involves pawing, unwanted sexual advances, intimidation and abuse of her position.
"The integrity office we engaged has received thirteen reports of transgressive behavior by Nilüfer Gündogan and has spoken with a total of sixteen people," said party leader Laurens Dassen. tweeted† "The reports come from all layers of the party. They range from pawing and unwelcome sexual advances to intimidation and abuse of position."
'Hard choice'
Gundogan refused to cooperate with the investigation, even after the faction and the party board repeatedly called on her to do so – in conversations, by email and by telephone. "She really didn't want that," said a spokesperson.
The party states that it is 'shocked' by these reports 'and the fact that Nilüfer has indicated that it does not want to cooperate'. "Within our party, we hold integrity and a safe environment at heart," the statement said. "After a final conversation with Nilüfer, her position turned out to be untenable and we made the difficult choice to end her party membership."
That last conversation was a personal conversation between Gündogan, party leader Dassen and Volt co-chairman Peter-Paul de Leeuw, a spokesperson said. "She knew we would have to take these steps."
Member of Parliament Gündogan tweets a few hours after the statement that there would be 'libel and slander'† According to her, the research agency would "not be independent". This would be the reason why she didn't want to cooperate. "I have not exhibited any improper behaviour," said the Member of Parliament, who was removed from the group. "If there would have been sexually transgressive behaviour, then the route to the Public Prosecution Service would have to be taken," the MP parries. She states that Volt 'has played itself in court'.
Lawyer in the arm
After her suspension, Gündogan sought legal assistance from lawyer Geert-Jan Knoops and instituted summary proceedings against her suspension from the faction, which would be filed at the court in Amsterdam on Tuesday at 2 p.m. and will continue according to the MP.
After Volt's statement, her lawyer said that he had been surprised by the reports of sexually transgressive behavior. ,,We are only now aware of this," said Knoops. Within the party it was already suggested this week that it would be 'not in Nilüfer's interest' to let the summary proceedings go ahead. Gündogan stated earlier that it would concern one complaint and that there was a labor dispute. Volt said at the time that it was 'multiple reports from several people'.
Earlier, Gündogan indicated that he would remain in the House of Representatives in any case. If she continues independently, the number of parliamentary parties will be twenty; another historic record.
'Terrible'
The party says it is "terrible" that "cross-border behavior could have taken place within Volt" and "that the people involved did not feel safe to speak out on this scale earlier". "We realize that we have fallen short and apologize to those involved and everyone affected by this," Volt said. Within the party, attention to integrity is being tightened, also when screening candidates.




We realize that we have fallen short and offer our apologies to those involved and everyone affected by this

Declaration Volt
"This is really not easy," says a party spokesperson. "We have tried to be careful in this unpleasant situation." The investigation by an independent agency into the reports has now ended. "It must be possible to hear the other side." The party leadership has seen interim reports, the spokesperson says, on the basis of which the decision was made. "They are now also taking steps to remove Nilüfer from party membership, as we call it." That means Gundogan will be disbarred.
Two hundred cancellations
Since Volt suspended Gundogan on Feb. 13, about 200 members have canceled their membership, according to a survey on this site. The party board says that in the same period eighty members also joined. Volt has built up a membership base of 13,000 members since its inception in 2018.
Do you know more about these or other Metoo affairs or do you want to tip an abuse? Then you can send us a message via WhatsApp or Signal at: +31615377185† You can also email [email protected] or tip via public† You can tip us anonymously through all these channels. We treat your data in confidence, according to us privacy statement†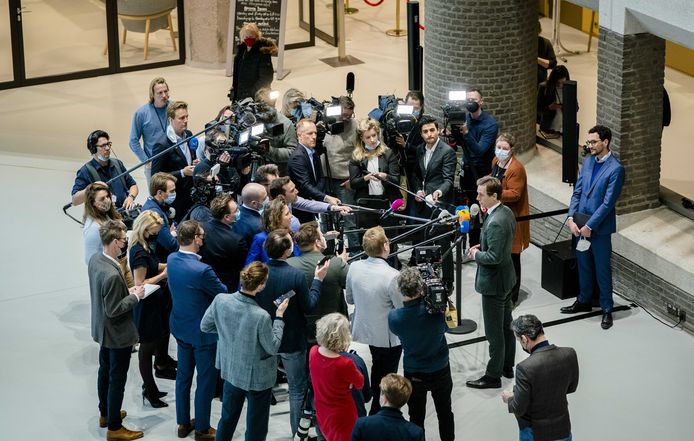 Free unlimited access to Showbytes? Which can!
Log in or create an account and never miss a thing from the stars.

Yes, I want free unlimited access

#Volt #expels #Gündogan #faction #complaints #undesirable #behaviour #denies #reports