While South Limburg has experienced the worst flooding, residents of Venlo more to the north are still under great tension: are emergency flood defenses high and strong enough? The water is still rising and the water level will remain exceptionally high until Monday. The first terraces on the banks of the Maas are already well under water.
Six meters high black umbrellas just stick out with their tips above the water. Until Thursday, this was the terrace of restaurant de Werf. On a sunny day like today it would be packed with day trippers. Now the residents of Venlo are taking pictures of the absurd situation in disbelief when they come to take a look over the Maasboulevard.
The marina and park, where the restaurant is located, has been completely flooded. Only the tip of a huge statue can be seen, a bridge where yachts can normally pass generously has now been almost completely absorbed into the water. There are still eleven pleasure yachts floating at a jetty. They are therefore a sight in themselves. The skippers are surrounded by water and are 'trapped' on this island.
Martin de Lange is one of the pleasure boaters who left Edam a week ago with his boat 'Brave' and is now stranded here. Still, he's not in the beep bag. "We are fairly sheltered and the weather is nice. The jetty rises with the water. We can hold out for a few more days." With a dinghy of one of the holidaymakers they can still sail to the center to get groceries and fresh drinking water.
More serious are the concerns on the quay, where residents have seen the water rise incredibly fast in recent days. Gé and Miep Gijsen live in an apartment right on the Maas. On Thursday, Gé still counted 23 steps from the public staircase that leads to the wharf and the jetties. Now there are four more. In one day the water has risen more than three meters. Another one and a half meters and then the water threatens to come over the quay wall. The parking garage and the basement boxes threaten to fill up. And so Gijsen has now put as much valuables as possible in the living room.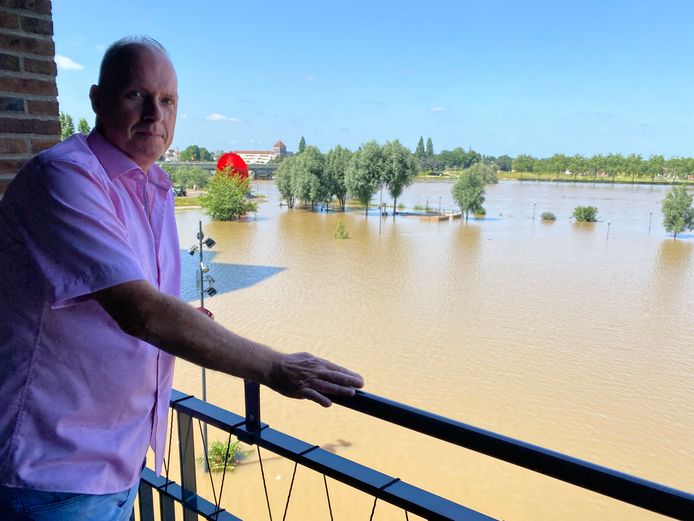 Although the Limburger's apartment is tens of meters above the current water level, he is not sitting quietly on his balcony. He is afraid that the emergency flood barrier that has been placed on the quay wall in recent days is not strong enough. At one point, water is already seeping through. ,,If that part gives way, the whole of Venlo will be flooded. But even if we do keep our feet dry, we'll still be dealing with the mess here in the marina for weeks," he says.
While residents worry about keeping their feet dry, many day trippers seem oblivious to the impending danger. German tourists continue to come in large numbers for shopping, which is not appreciated by every resident. A female cyclist smashes the hood of a German tourist when he wants to park his car. "It's high water. What are you doing here?" she bites the man.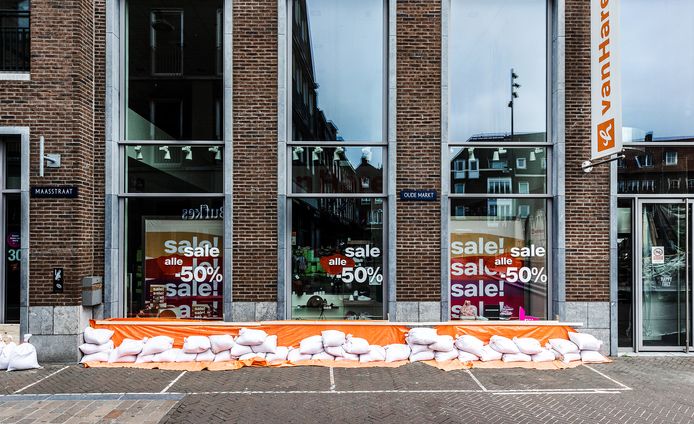 Many stores close during the afternoon, but some choose to stay open as long as the council allows, such as the shoe store where saleswoman Shirley works. She stands there with a very mixed feeling. ,,When I look outside on the balcony in our warehouse, all I see is water. That makes me a little nervous. Just to be safe, I put the shoes on the higher shelves and disconnected electrical equipment."
Yet there are still people who come to shop, such as Monique Vredeveld from Almelo in Twente. She and her husband had already booked this weekend in Venlo two months ago and decided to come despite the high water. "We haven't been on vacation for a year and a half. We really had to get away for a while."
Vredeveld is not afraid of the water. ,,We might get a few wet feet, but I hope that's about it,' she says as she pays for a pair of new black stiletto heels.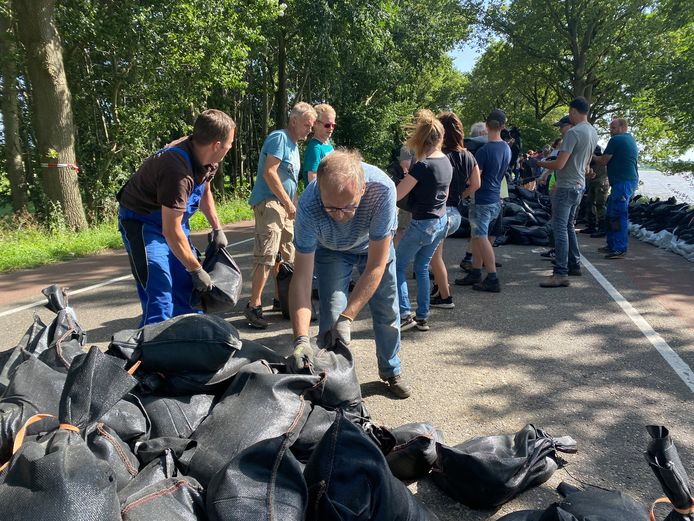 They are certainly not so optimistic in the village of Arcen 10 kilometers away. Hundreds of residents there try to save what can be saved and have hundreds of thousands of sandbags pushed in. A temporary flood defense system is being built on a road over a length of two kilometers and everyone from the village is helping. Even tourists who are in the area roll up their sleeves. "It is better to work for one day than to mop for two days," says resident of Arcen, Tim Hermkes, who did not have to hesitate for a moment to participate.
The dike may not be high enough to hold back all the water from the Meuse. A ribbon of sandbags of half a meter should offer enough protection. Although Hermkes personally thinks that it is not necessary. But that doesn't matter. "This is very fraternal. Look at all these people. Even the catering is taken care of. The local brewery just handed out a beer without alcohol. How beautiful is that?"
Watch our videos about the severe weather in Limburg in the playlist below:
Free unlimited access to Showbytes? Which can!
Log in or create an account and don't miss out on any of the stars.

Yes, I want free unlimited access