VIDEORescue workers in Belgium and Germany are searching with all their might for a total of more than a thousand missing as the water begins to recede. The falling water level is the signal for governments and aid organizations to help victims with reconstruction.

Hans van Zon

17 Jul. 2021

Latest update:
17-07-21, 17:41


As the disaster area dries up little by little, a horrifying picture unfolds. Valleys and villages in Belgium and Germany have turned into one big garbage dump. Everywhere, churning bodies of water have piled mountains against obstacles downstream. Near bridges and houses, wholly or partially swept away, there are layers of meters high with the remains of houses, household effects, cars and caravans, traffic and advertising signs. The sight cries out for action. First of all, the search for the missing is stepped up: at least twenty in Belgium and possibly a thousand in Germany. Relatives and friends fervently hope that they will not be added to the number of deaths already recorded. At the southern neighbors 24 have already been recovered, in Germany the death toll – 130 – is rising alarmingly fast.
The massive support for relief efforts is evidenced by the massive support for aid actions in the basin of the Meuse and its tributaries. An account number for emergency aid has been opened in Belgium. Spontaneous crowdfunding campaigns also generate a lot of money. "This solidarity between people is worth gold at the moment," said Minister of the Interior, Annelies Verlinden. As in the Netherlands, the Belgian government has also announced crisis management. The federal government is responsible for all relief efforts in the affected area.






I don't want to live here anymore. The trauma is too great. At one point I thought I was going to die

Karinne Rensonnet, Victim in Pepinster
Citizens can report to the Red Cross as 'crisis volunteers' to help with clean-up operations in the disaster area, of which the town of Pepinster is the largest pool of misery. The devastation and trauma suffered there is so great among citizens that, even after reconstruction, they no longer want to live there or have lost all courage to return. "It's disastrous. We have lost our house, our cars and even our village," Jean Marechal told the newspaper The morning. Karinne Rensonnet never wants to live there again. "The trauma is too great," said the 62-year-old woman. "It took a lot of effort to get out. At one point I thought I was going to die."
In Germany, President Frank-Walter Steinmeier takes a look at the disaster area today. Among other things, he visits Erftstadt, where houses and cars have been washed away and disappeared in huge holes due to landslides. "Your fate cuts through my heart," the head of state said before his visit. The natural disaster has already killed at least 133 people in Germany and it is feared that this death toll will rise considerably, because possibly a thousand people are still missing. In the Landkreis Ahrweiler alone, in the state of Rhineland-Palatinate, more than 90 people have been killed. The worst affected municipality in this area is Schuld, where numerous homes have been swept away.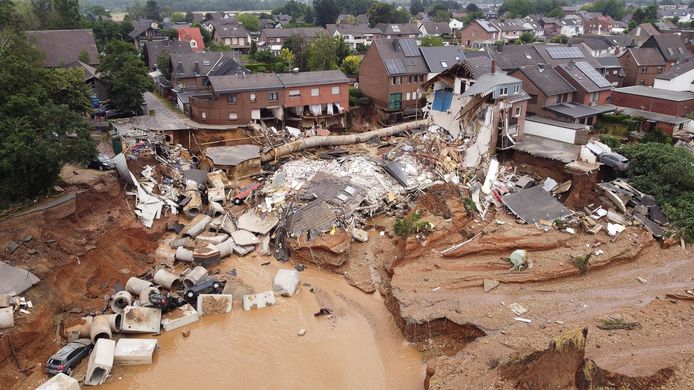 "Watch out," a woman tells her husband as he steps barefoot through a window into a flooded room of his home in Erfstadt-Blessem (southwest of Cologne). When he returns after taking the first damage, he closes all the windows. "I don't want to give looters ideas," he told a reporter for the newspaper Frankfurter Allgemeine. Helicopters flap over the town. They bring civilians who have been liberated from their homes to a safe area and return with first aid supplies. There is a pungent smell of petrol everywhere in Erfstadt. To prevent new danger, rescuers first try to plug burst gas pipes. At Renate Richardt's, her garden is flooded. Fuel oil has mixed with rainwater. "Mostly older people have died here. Young people were still able to save themselves in time. I have no words for that," said 80-year-old Richardt.
Meanwhile, people everywhere are rolling up their sleeves. At a supermarket, employees throw water-damaged products into a garbage truck in a parking lot that is still flooded. In addition, neighbors put things washed away from the cemetery on a wall. Memorial stones, crosses and statuettes pile up. Bernd Bönisch desperately wonders when he can visit his wife's grave again.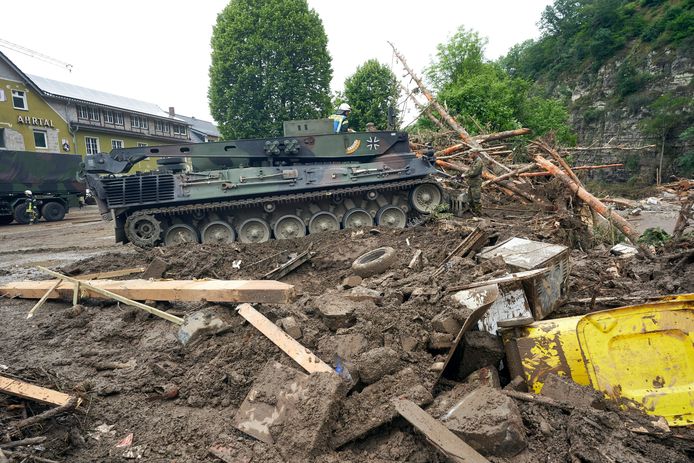 The images of the disaster in the Netherlands, Belgium and Germany also make a big impression in other countries. After seeing all the misery, Apple CEO Tim Cook decided to support the relief effort financially. "Our condolences go out to those affected by the devastating floods. Apple will support the relief efforts with a donation."
Germany takes into account that reconstruction will take many years and will cost many billions of euros. Many houses, bridges and roads have been washed away. The electricity grid has been destroyed in a large area. The network for mobile telephone traffic is also down. The reconstruction plan will be one of Chancellor Angela Merkel's last big jobs to leave politics this fall.
Watch our videos about the severe weather in Limburg in the playlist below:
Free unlimited access to Showbytes? Which can!
Log in or create an account and don't miss out on any of the stars.

Yes, I want free unlimited access