United Kingdom bans flights from six African countries over new variant
The British government has imposed travel restrictions on travelers from six countries in southern Africa, amid concerns about a new strain of the coronavirus spreading in South Africa. Reuters reports that.
According to the UK Health Security Agency UKHSA, the variant, called B.1.1.529, is significantly different from the original coronavirus, which vaccines are based on. As a result, existing vaccines may be less effective. The UKHSA calls the variant "the most important variant we have encountered so far". According to the organization, "urgent research" is needed to study the infectivity and severity of the variant, as well as the effectiveness of existing vaccines.
The United Kingdom will ban flights from South Africa, Namibia, Botswana, Zimbabwe, Lesotho and Eswatini from Friday. The country is taking that step much faster than previously happened with the Delta variant of the virus. British travelers returning from one of those countries are required to be quarantined. Israel also put a number of African countries on a red list of entry restrictions on Thursday.
Stock markets in Asia have fallen on concerns about the variant. In Tokyo, the Nikkei index lost 3 percent, and prices also fell in Shanghai, Hong Kong and Sydney.
Nearly 900 deaths more than expected in week 46
In the week from 15 to 21 November (week 46), almost 3,850 people died. That is almost 900 more than expected, according to a report published Friday preliminary figures that the Central Bureau of Statistics (CBS) received from municipalities.
Mortality among people over eighty in particular increased last week: an estimated 2,250 people in that age group died, about 600 more than expected for this period. According to Statistics Netherlands, there has been an excess of mortality in this age category since mid-October, which means that the observed number of deaths is higher than the expected number of deaths in a certain period. Since the beginning of August, there has been an excess of mortality in the Netherlands. There are, however, clear differences in age categories. For example, last week there was no excess mortality among people aged 65 and younger, in contrast to a week earlier, as well as in weeks 34 to 36 (August 22 to September 11).
Although the reports of deaths to RIVM have been increasing since last month, CBS cannot yet establish a direct link with the coronavirus because information about causes of death comes in a few months later. Last year there was also an excess of mortality, with two thousand more deaths than expected per week at the lowest point, with the CBS subsequently giving the corona virus as the cause.
Welcome to this blog
In this blog, the editors of NRC the news about the corona crisis at home and abroad. On Thursday, the cabinet discussed the corona measures to be taken in the Catshuis. Although, according to insiders, the relevant ministers have not yet taken final decisions on this, it seems that many sectors will have to close at 5 p.m. from next weekend. The cabinet will hold a press conference on Friday evening in which the measures will be announced.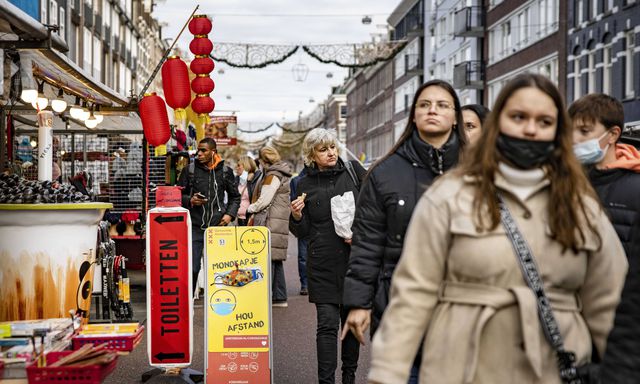 Read also the blog of Thursday 25 November

#United #Kingdom #bans #flights #African #countries #variant