In Colombia, a gay person is at risk of being threatened or shot three times in the head. Jeison Vásquez Borja, 29, was shot to death last Tuesday in Medellín. This year more than ten gay men have been murdered in that city. Over the weekend, two women, one armed with sticks, threatened a gay couple kissing in a Bogotá park. The video in which the fight was recorded, and which went viral, filled the citizens with reasons to call a protest to reject the aggression.
The Constitutional Court has taken enormous steps to protect the LGTBI community in terms of rights, but in everyday life being gay in Colombia is still a risk. The fact of discrimination that became known this weekend is just a sample of the violence they suffer. According to Legal Medicine, from January to June of this year, there were 354 victims of personal aggression due to their sexual orientation, 324 suffered some kind of abuse and 229 experienced it within their family. Being part of the LGBTI community is a vulnerability factor that, according to the institution's records, is comparable to that of demobilized groups or human rights defenders. In 2021, the NGO Colombia Diversa registered attacks against 405 LGBTI people in the country: 205 homicides, 97 victims of threats and 103 victims of police violence.
Mauricio Albarracín, deputy director of the LGBT program of Human Rights Watch (HRW), says that the violence of which they are victims prevents them from enjoying their already recognized rights. "If this violence, which is daily, is not addressed, the formal profits [las sentencias y leyes] they will remain only on paper". Albarracín points to the events that occurred last week as the reflection of a profound problem that Colombia is indebted to resolve. "An everyday act like giving each other a kiss ends up becoming an act of social intolerance, which can lead to the expulsion of two people from a public space or irreversible acts like a murder," he says. "Colombia lives a paradox: while it advances in the legislation towards a more egalitarian country, the reality continues to be violent", he continues.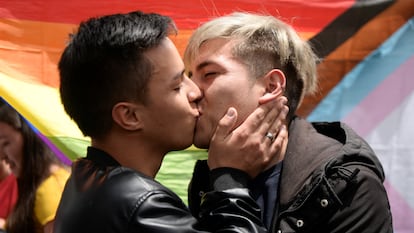 Colombia has laws and public policy that have not been efficient because there has been a lack of political will, says Albarracín, and affirms that the last four years, under the Government of Iván Duque, the country experienced a setback. "It was a lost period. There was inaction on the part of the Executive to implement what was already underway and it was hostile in some cases, as it was with the appointments to positions of power of people who have been openly anti-rights, such as Alejandro Ordóñez, ambassador to the OAS."
Stopping violence against LGBTI people adds to the list of challenges that the government that is about to start will have to face, says Albarracín. "We are not starting from scratch, we are not where we were 20 years ago, but now is the time when this violence should be taken seriously. All State institutions must work for the same purpose, specialized intervention and coordinated action are required", he points out.
Marcela Sánchez, executive director of the NGO Colombia Diversa, warns of an increase in crimes against the LGBTI population since 2019 and questions the lack of reliable figures. "The government has not shown its commitment to documenting these crimes and that makes it difficult to find solutions. Homicides and threats have grown and there has been no public policy to deal with it, there are no serious data from the State".
The report of the Truth Commission, mentioned by Sánchez, confirms the violation of human rights of which people of diverse sexuality in Colombia have historically been victims. "One of the revelations is that there was silence on the part of the communities, which even witnessing this violence remained silent or encouraged it," says Sánchez. The scene that took place this weekend in Bogotá shows that things have not changed yet. "Faced with the attack on a couple of men who were kissing in a park, if those neighbors had an armed group in their neighborhood, they would have asked him to remove the couple and would have threatened and displaced them," cites a tweet he wrote over the weekend to exemplify the level of hate LGBTI people continue to receive.
María Mercedes Acosta, co-founder and general editor of the NGO Meaning, agrees that although the country has advanced in legal, social and cultural issues, there is still much to be done. This weekend's episode in Bogotá is an example-"one more", he says-of a fundamentalist discourse encouraged from the church that has moved to the streets. "It is necessary that the work of schools be taken seriously because if sexual education continues to be ignored, we will continue to see these types of scenes."
Wilson Castañeda, director of Caribe Afirmativo, talks about the situation in Medellín to put numbers on the problem. So far in 2022, 17 people have been killed because of their sexual orientation. "The events occurred mostly in the center of the city, at night, where the absence of passers-by and the taking over of illegal actors on drug trafficking routes and territorial control facilitated the events" and mentions certain factors that show a common pattern: they were activists, they were not victims of robbery, they had been threatened, their crimes occurred far from their homes, and their deaths were brutal. "In terms of security, the levels of risk have increased and the ineffectiveness of the State in protecting them has led to strengthening self-protection actions. The State has limited itself to exercising police control and sometimes it is the police themselves that foment violence," says Castañeda.
David Alonzo, District Diversity Director of Bogotá and activist, highlights the reaction to what happened in that city as a change and a sign of society's rejection of violent and discriminatory actions. But it's not enough. "If there is no national policy, all other efforts will continue to be insufficient for the transformation and cultural change that is needed." Alonzo also questions the impunity surrounding crimes against LGTBI people. "The line of government is needed to eradicate impunity. More than 93% of the cases have not been resolved and that means that it has not been possible to give a strong message of rejection of this violence, "says the activist.
subscribe here to the EL PAÍS newsletter on Colombia and receive all the informative keys of the country's current affairs.

#risk #gay #Colombia