Working from home during the corona pandemic has not turned out to be a panacea to get fathers to do more in the household and in caring for the children. Achieving this requires a broad, integrated approach from politicians and employers. And a long breath – you can use that too.
At the end of November, outgoing State Secretary Dennis Wiersma (VVD, Social Affairs) received this message from the Royal Association for Political Economy (KVS). This association of economists annually publishes a bundle of 'pre-advice'. In it, the KVS highlights about ten economic studies that it considers important for the policy of the minister or state secretary. One of those studies was about the influence of the corona pandemic on the distribution of household and care tasks among men and women.
Researcher Chantal Remery: "I was pleased that the KVS had selected our research; because in our profession emancipation is not always seen as hardcore economic research. The fact that we are now in the collection shows the importance of the subject."
Remery is assistant professor at the department of economics at Utrecht University. Together with a multidisciplinary research team, she questioned a representative panel of about a thousand people about the division of labor at home on four occasions: starting in April 2020, when the first lockdown had just come into effect, and ending in November 2020, with the second lockdown winter. attendance.
What did you expect to see the effect of the lockdown on the division of household tasks?
"We actually had two scenarios. On the one hand, our hypothesis was that men would do more at home. After all, they were suddenly working at home a lot and a solution had to be found for taking care of the children, with the closed schools and grandparents who were no longer allowed to help out. On the other hand, we know that traditional role-sharing norms are persistent. So we also saw the possibility that it would go the other way; that the women would pick up everything again."
And what turned out?
"During our first measurement, in April 2020, we clearly saw that there was a large group of men who did more in the household than before corona. This trend continued in the June measurement. That looked positive. But after that the distribution fell back to the old, traditional pattern. Before corona, 70 percent of households fell into that category; eight months later, that percentage was almost the same again."
So we haven't made any progress on emancipation?
"Well, a lot has happened in those households, of course. The fact that a household is again classified as 'traditional' does not mean that they are completely back to square one. Because even though a woman still does the most, probably some of those men continued to do more than before. That's the good news."
Isn't that a very small bright spot to be happy about?
"We have learned that emancipation takes place step by step. And this is a small step, but at least a step. In any case, the pandemic seemed to be the opportunity for change in many areas – climate, lifestyle – but apparently it is not that simple."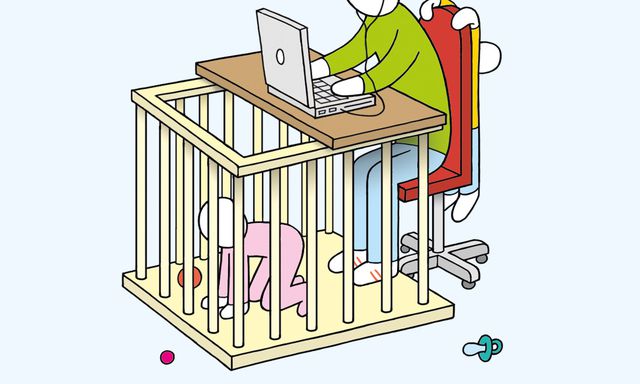 Also read this column: Working from home with your family – that's hell

Your study also looked at households with a parent with a crucial profession. What did you see there?
"A surprising gender effect. We saw that if the man has a crucial profession, he will do less in the household. But if the woman has a crucial profession, her share in the household and care responsibilities remains the same. We found that remarkable. These men are therefore apparently capable of reducing the workload, while women are not. We don't know why. That is something we want to investigate further."
Speaking of which: isn't it a shame that you were not able to perform a measurement in the second lockdown, when the situation – working from home and schools closed – was similar to that of April?
"That is a pity, indeed. I would have liked to know whether the division of tasks also became more equal then, just like in the first lockdown. What we know from other studies is that during the pandemic, men started to adhere less strictly to the work-from-home advice than women. If that also applied in the second lockdown, it wouldn't change that traditional role pattern much. But that's really speculation.
"Because funding became available, we were able to do another measurement last November, and another one in April. Then we can report whether there are any lasting changes."
At the end of your research you argue for an 'integrated policy approach' to solve inequality. What Do You Mean By That?
"By integral we mean that it is up to several parties to act. It is not only the woman who has to do more paid work, as is often said easily. In the Netherlands we have standards that push women towards caring at home, but we also have standards that push men towards paid work. Politicians must do something about this, but there is also a task for employers. By offering more and better leave facilities for fathers, for example."
Isn't the danger of such a broad approach that no one feels responsible for the problem?
"Mm, that may be true. Well, then it is the persistence who wins. I have the feeling that the subject is increasingly on the map. Look at Ruth. During the previous cabinet formation on the appointment of female ministers, he said that quality was paramount. In so doing, suggesting that there weren't enough women of quality – deadly, such a comment. Now they seem to be aiming for a fifty-fifty split. That is a nice step forward."
A version of this article also appeared in NRC on the morning of December 21, 2021
#man #works #home #briefly #emancipated