If we go to Ronald Gladden's Instagram account, the first posts are all about solar panels. He is dedicated to installing them, cleaning them, taking care of them. In the most recent photos of him, however, he appears with Ryan Reynolds, Jennifer Lawrence, Kendall Jenner or Bryan Cranston. What happened in between? Jury Duty. A reality show with a very simple idea, with its roots in very old formats, but strangely fresh in 2023. The dynamic: we put together a sitcom about a trial. The trial will have twelve people on the popular jury. Eleven of them will be actors, and for two weeks they will not stop acting, because anyone who is not an actor does not know that this is a sitcom. That's Ronald. He's from San Diego and he's a good guy.
The production of the series has chosen an innocent man to put him through a false trial while the rest of us enjoy a display of comic situations always on the verge of ridiculous but with the requirement of maintaining a minimum verisimilitude. He knows that there are parts that are being recorded, but he believes it is for a different type of documentary. What he does not know is that he is the only "cousin." He comments in several moments that this seems like a hidden camera due to the number of absurd episodes that happen, but at the same time he has to confront certain problems and dilemmas that happen that stress him out and perhaps make him overlook certain things.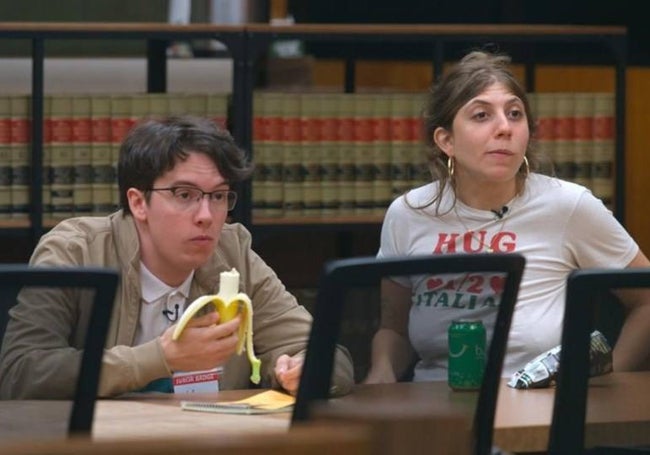 A sign warns us at the beginning of what is happening: the trial is false and only one does not know it. But then we see the sitcom, which never breaks fiction. Only the last episode is dedicated to showing us the device, the trick, while Ronald himself discovers everything after a final revelation worthy of a Greek tragedy (they called it anagnorisis, and it used to ruin the life of anyone who suddenly found out everything). There are many points to pay attention to: first, all these people are improvising non-stop for hours, which has tremendous merit, will they swallow the next nonsense? And then… how will you react to these little dilemmas? Surprisingly good. The truth is that he is surrounded by freaks, from the transhumanist robot man to the unbearable half-famous actor (James Marsden), and he ends up playing the role of father to this bunch of misfits. Quite unknown actors who end up forging a surprisingly sincere friendship with the subject under observation.
Seeing him weather the storm and persistently deciding not to be a bad person is not something so common today, not because it does not happen, but because it is not usually in the stories we consume. Any Andalusian even remotely accustomed to his regional channel would immediately think of Toñi Moreno and that hidden camera program that put people on the street in a moral bind, and when they defended the weak or helped the needy, the reporter would appear shouting "Is that you?" … maaaaaaaaaaaaaaaaaaaaaaaaaaaaaaaaaaaaaaaaaaaaaaaaaaaaaaaaaaaaaa lot of wonderful! Ronald is. That's why he is now Americans' favorite character/person and goes from set to set and podcast to podcast. We know that there are some good men—and women—but perhaps we needed to be reminded of it with this candid sociological experiment.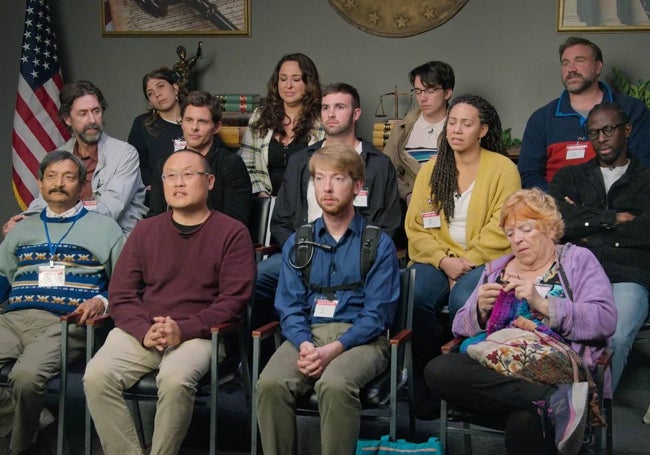 The creators of this invention have a history: a creative couple for decades, Lee Eisenberg and Gene Stupnitsky have made a handful of forgettable "thug" films like 'Bad Teacher' or 'Year One', but they also worked for a few seasons on 'The Office'. ', projecting, among other two anthological chapters, 'Dinner Party' and 'Scott's Tots', two eight-thousanders of the television discomfort of all time. These brains are the ones who decided to make a court laugh, and put a good guy from San Diego through all this, surely making sure beforehand that he was really trustworthy. Also, perhaps the editing (only four hours have been selected to tell a story that has happened non-stop for two weeks) has helped it look a little more immaculate.
Ronald now has 300,000 followers on Instagram. He will surely return to his solar panels after a very strange hero's journey. He must be the only television star who never worked for a niche, was never rejected in a casting and never went through the tangle of insecurities, betrayals and sacrifices that everyone else went through. Will the other inhabitants of the star-system be envious of him? Between 'Ted Lasso' and 'Jury Duty', it seems like being a good guy is back in style.
#Jury #Duty #verdict #wonderful