The judge investigating the 'Negreira case', Joaquín Aguirre, has seen indications that the Barcelona Football Club, as a legal entity, as well as the former presidents Sandro Rosell and Josep María Bartomeu could commit a crime of bribery for the payments "consummated" during years to José María Enríquez Negreira, former referee leader. The magistrate considers in an order known this Thursday that the bribery has occurred when the deliveries have been made, "whether or not the systemic corruption of the Spanish arbitration due to such payments is demonstrated."
Judge Aguirre's resolution also indicates that Barcelona paid through "intermediate companies" for the services of Enríquez Negreira, one of the three vice presidents of the Technical Committee of Referees (CTA) integrated into the Royal Spanish Football Federation. "A fact not denied and documented" in the investigation, he points out.
In the case of the main defendant, he is charged with a continuous crime of passive bribery as the author and his son Javier with another continuous crime of passive bribery as a necessary collaborator. Regarding the legal entity of Barcelona and the directors of the aforementioned club under investigation, a continuing crime of active bribery is attributed to them. All this without prejudice to maintaining the alternative classification of the crime of sports corruption, at least during this investigation phase.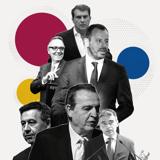 The order also includes the application of the jurisprudence on bribery applied to these preliminary proceedings. He claims that Enríquez Negreira carried out public functions as vice president of the CTA, among others those related to the qualifications of referees and the promotion and demotion of referees. And he adds that the payments from the Barça club can be considered in light of the position he held.
These deliveries lasted approximately 18 years, increasing from the initial 70,000 euros to 700,000 euros annually. The entity ceased payment as soon as Negreira ceased as vice president of the CTA. «By logical deduction, the judge details in his order, the payments made by FC Barcelona satisfied the interests of the club in view of their duration and the annual increase. From this it is also deduced that they produced the refereeing effects desired by FC Barcelona, ​​in such a way that there must have been inequality in the treatment with other teams and the consequent systemic corruption in the Spanish arbitration as a whole.
However, the investigations of the Civil Guard will only be able to confirm these extremes obtained by logical inference, warns the instructor. After being dismissed as vice president of the CTA in mid-2018, the club decided to dispense with Negreira's services and he sent an intimidating letter indicating to its then president, in essence, that if they did not continue paying him he would reveal a series of facts that could harm seriously to the club.
#judge #accuses #Barça #bribery #payments #Negreira