Eiichiro Oda and Masashi Kishimoto are recognized by the manga and anime community because they are the creators of One piece and NarutoHowever, recent events have left a large part of his fans disappointed due to the position they took on the case of Nobuhiro Watsuki, the creator of Rurouni Kenshin.
A couple of years ago, specifically in 2017, the author of Rurouni Kenshin was arrested for possession of child pornography, an event that affected his career although only in the West; in Japan apparently the story is different.
The above because recently a group of quite popular authors came together to honor this author through a mural, which can be found in one of the corridors of the tokyo subway in Japan.
Almost all of Shonen Jump signed that mural
This mural celebrates a special event related to Rurouni Kenshin, but for many the worst was just beginning, since this work had signatures from various authors recognized in the industry.
Signatures from Masashi Kishimoto (Naruto), Hideaki Sorachi (Gintama), Mitsuoshi Shimabukuro (Toriko), and Takeshi Obata (Death note), among others. As well as a message by Eiichiro Oda (One piece).
In total there are 14 authors, all of them part of Shueisha, publisher that also publishes Rurouni Kenshin.
For many fans the reputation of Watsuki was ruined with good reason, that is, the man consumed child pornography, and also there was some reports that suggested predatory behavior near elementary and middle schools.
We recommend you: Russia bans Death Note and Tokyo Ghoul for 'cruelty, death and violence'.
In the end, he did not end up in prison and only paid a fine of 200,000 yen, something like $ 1,900 US dollars.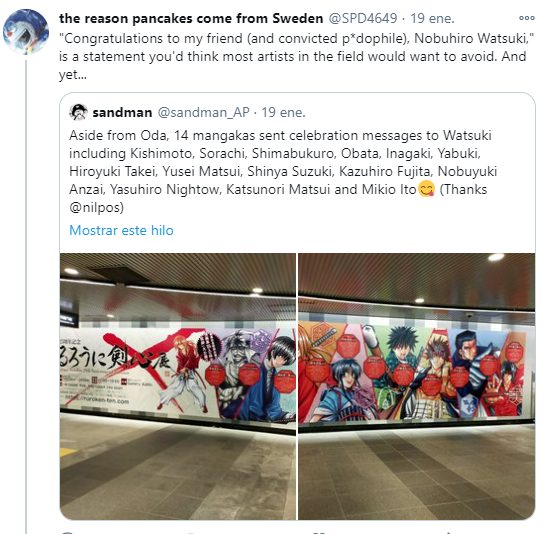 Shortly after, he resumed writing his manga with Rurouni Kenshin: The Hokkaido Arc during June 2018, which continued to be published in Shueisha.
Fans now want answers as to why a tribute of this nature was approved considering the author's track record behind the work.
What do you think of what names like Eiichiro Oda and Masashi Kishimoto are in this type of event about Rurouni Kenshin and Nobuhiro Watsuki?
.