Packs of toilet paper, cans with vegetables, spaghetti and detergent. All products that have a long shelf life and that you can keep in stock. These women scour brochures and the internet for the best promotions and then stock up. This saves them hundreds of euros on their groceries.
Su'en Verweij-Kwok (39), pedagogue from Capelle aan den IJssel, loves all those action folders from different stores. Something she got from home. ,,I am Chinese and my parents came here as guest worker. They had to work hard for little money. We didn't live in poverty, but we weren't wealthy either. My mother went through all the leaflets and tried to shop as cheaply as possible. The love for discounts and savings has been instilled in the baby from a young age."
She makes a weekly menu based on the offers. ,,I look at the long-life products and combine this with seasonal vegetables and fruit. It's cheaper and also tasty. Why would you still buy expensive and tasteless strawberries out of season?" At home she has a large pantry and in the attic a small storage for all products. "I keep my stock of toilet paper and shower products here."
Text continues under the photo
years ahead
She tries to buy those products organically, she says. "Without chemicals. Organic products are often only offered once a year. I subscribe to newsletters from stores so that I know exactly when that 1+1 free promotion is back. And then I immediately buy about 60 products and get 60 for free. With that stock I can go for years ahead."
For Verweij-Kwok it is a sport to buy stock at a discount. "I am really disappointed if I miss out on a discount and have to pay the full price. People often think that the discount is not that bad, but if you add everything up, you save hundreds of euros per year."
Cross the border
39-year-old Sabina Atkins, a representative from the Frisian Niawier, shops her stock across the border. She was tipped off by friends and decided to join them. "I walked around there in amazement. Prices are much lower due to a lower VAT rate and larger stock." According to her, a trip to Germany is the ultimate way to save on groceries. "I fill my car to the brim with groceries. Meat, drugstore items, detergent, perfume and wine. Last time I bought three XL packages of detergent for 4.50 euros each. I've been doing this for about two years. That is 50 percent cheaper than in the Netherlands."
She fills her freezer at home and has racks full of stock. "I always have something on hand and never run out." Despite the gas costs, Atkins is much cheaper out than at home. ,,I spend 300 euros per quarter in Germany. The same groceries would certainly cost double in the Netherlands. I refuse to go to the drugstore here anymore. I even get angry when I see how expensive everything is here."
Text continues under the photo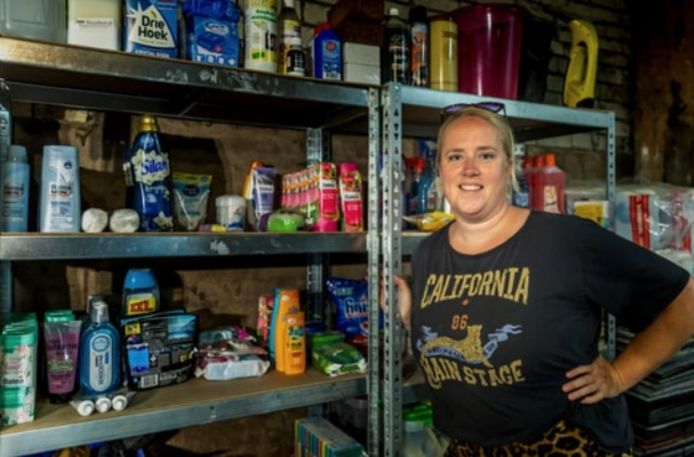 Four roll containers full
Joyce Schuil- van der Weijden (27), director from Vlaardingen, does not only buy stock for himself. With her UP foundation, she distributes food parcels to minimum wage earners who fall between two stools due to regulations. "These are people who just don't qualify for the food bank, but who really need it." She started this six years ago as a citizens' initiative. The foundation consists of volunteers who together help 120 different families with a shopping package.
All week she is busy comparing prices. "I check everything. We receive donations and write to funds to be able to buy large and cheap. That is sometimes difficult and that is why it is important that we can buy a lot for as little money as possible. That way we can help as many families as possible." And that means hitting big. ,,We buy stock per two hundred pieces at a time. No shopping cart, but four roll containers full of, for example, shower gel and world dishes."
Do you want to build up a large stock yourself? Three golden tips

Pay attention to the unit price. Always look at the unit price, per 100 grams or 1 kilogram. With this you can calculate quickly enough whether it is a good discount.
To stock up on supplies. If there is an offer, for example 1+1 free, bring as much as you can use. You keep those products in a pantry. Shampoo, laundry detergent and dish soap are good examples.
Make a weekly menu and stick to it. Look at how you can use the offers from the brochures and come up with recipes with seasonal fruit and vegetables.
Do you want to stay informed about useful tips to manage your money and get inspired how others manage their finances? Then follow us on Facebook and Twitter!
Free unlimited access to Showbytes? Which can!
Log in or create an account and never miss a thing from the stars.

Yes, I want free unlimited access