Two weeks ago the Xunta approved the return to full occupancy of the capacity of outdoor sports venues. The regulations of the Galician Government came into effect on Saturday, October 2 and Deportivo played their game against SD Logroñés on Friday, so they could not benefit from the measure. The first meeting in which this will happen will be next Saturday against Sanse (7:00 p.m.), which will allow Riazor to open its doors wide without limitations for the first time in 20 months (only use a mask).
The measure eliminates a problem that the Blue and White members, who already exceed 18,000, have had to live with with the online reservation of their entry. TO from now on, sports subscribers will be able to access Riazor with their season card without having to previously confirm the club's intention to attend the meeting. This freedom of capacity will also facilitate the attendance of fans of the rival team, which could not be done against Celta B and Badajoz, and which was limited to 40 locations against SD Logroñés.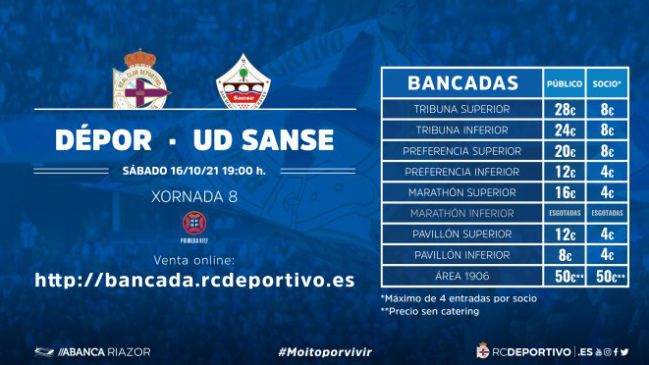 The other positive implication of the entry into force of one hundred percent of the capacity will be the possibility that Deportivo will have to sell tickets to the public. This will allow the A Coruña stadium to continue breaking attendance records in the category, while it will have an impact on a ticket office income for the club that had disappeared since the pandemic was declared. Prices will range between 8 euros for the lower Pavilion and 28 for the Upper Tribune. What's more, the club offers its members tickets at popular prices (between 4 and 8 euros) for companions. Up to four seats can be purchased per card for all the stands except the Lower Marathon.