A quarter of women who wanted an epidural during childbirth did not receive it or received it late, according to new research by One today and Parents of Nu. Presenter and experience expert Roos Moggré is not surprised.
With a much-read and acclaimed column in the Linda A few months ago, journalist Roos Moggré questioned the Dutch culture of childbirth without pain relief. She did this on the basis of her own horror birth in OLVG in Amsterdam.
"Despite numerous pleas, midwives refused to call the anesthetist," Moggré said. "I wouldn't be an emergency." She didn't get her epidural until morning. In her column she said that she found this attitude ridiculous and completely out of date.
understaffed
Back on the editorial floor of EenVandaag, she decided to draw attention to the subject. The result is a study by EenVandaag and Ouders van Nu among 10,000 women who gave birth to a baby in the past two years. The results confirm Moggré's own experiences.






56 percent of women want to be able to indicate in advance that they want an epidural

Research EenVandaag and Parents of Now.
What seems? One in four women who wanted an epidural during their hospital birth did not receive it or only received it late. They were told that the anesthesiologist was not available for the maternity ward until after hours or at all. This was due to understaffing or because women in labor, like Moggré, were not an emergency.
One in ten women who gave birth in hospital also indicated that their pain was not taken seriously there. More than half of all 10,000 women believe that they should be able to indicate in advance that they want an epidural. Even without any medical necessity.
Zeitgeist
Moggré, whose email box and Instagram exploded after her column, is not at all surprised. "Unfortunately, OLVG West is a model for how countless hospitals deal with pain relief during childbirth." She wonders to what extent the way in which women give birth fits in with the current zeitgeist.
"In the Netherlands there is still the Calvinistic idea that giving birth must hurt. However, we no longer live in the Middle Ages when countless women died in childbirth. This is the 21st century, there are all kinds of modern medication available to fight the pain. However, it is not used."
The question, of course, is how that happened. The recurring point is that women are too often not taken seriously in their pain, Moggré believes. "The prevailing culture is that pain is part of childbirth. In the information provided by hospitals, the disadvantages of pain relief are often mentioned, but not the advantages."
Didn't like sports
Women themselves also play a role. "Women who have given birth with an epidural are still regularly looked at by their girlfriends. As if giving birth is a quality, something you can or cannot do well as a woman. But it's not a sport, right? Give it up!" She emphasizes that births vary in intensity. "Only 12 percent of women give birth at home without an epidural and without any complications."






Women who opt for an epidural are still regularly looked at. As if giving birth is a quality, a sport…. Duvel on!

Rose Moggré
She points to France, where 80 percent of women give birth with an epidural. "That shows that it is a cultural issue. Because it is of course nonsense that French women have a lower pain threshold than Dutch women.
Really changing current practice takes time, she realizes. The rules themselves are not the problem, Moggré noted in a conversation with the Dutch Association for Anesthesiology (NVA).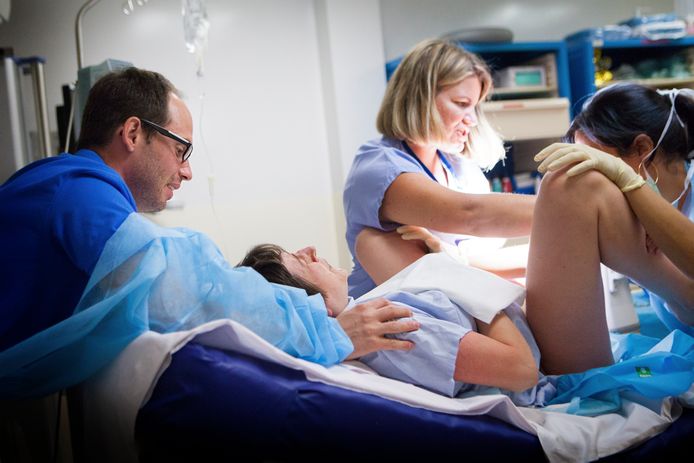 "They state that the guideline is that women should be able to get an epidural 24/7. At the same time, it can happen that an anesthetist is temporarily incarcerated, I was told. I understand that, but if that is the practice so often I wonder if there are enough anesthetists."
Black Pete
Moggré refuses to give that profession the black pete. "There is no one to blame. It is also a question of money: many hospitals schedule only one anesthetist at night or only on call."
The EenVandaag figurehead herself is now well over her birth trauma. However, if she gives birth again, she will not do so again in the OLVG West. "There seemed to be the unwritten rule that midwives should not bother anesthetists at night."
She has since received an apology from the boss of the hospital. He acknowledged that there were problems and said he is working on it. "I really hope that leads to change. In any case, I have had support from all corners of the OLVG, except from the anesthetists themselves."
Free unlimited access to Showbytes? Which can!
Log in or create an account and don't miss out on any of the stars.

Yes, I want free unlimited access