The Dutch have fully benefited from economic growth. Purchasing power has increased by nearly 60 percent since the late 1970s, the tax burden has fallen and income inequality has been stable since 1990.
These conclusions of Statistics Netherlands (CBS) and Leiden University, published on Thursday, go against the grain of social sentiment. Politicians and advisory bodies have been pointing out the growing inequality in the Netherlands for years.
Economists are deeply divided on this issue. Especially since a Rabobank economist presented dismal research results in 2018. The disposable income of households, he wrote, has been virtually silent for forty years.
CBS chief economist Peter Hein van Mulligen contrasted this with a positive image. He wrote the book last year We are still doing well: 8 gloomy myths about the Netherlands unraveled. And last spring, Van Mulligen also contradicted the Rabobank study in an official CBS publication. Incomes have largely grown along with the economy, was his conclusion.
CBS strikes back?
Van Mulligen and Statistics Netherlands were accused that their position tarnished the independent image of the statistical office. The Rabobank economists also responded. They only partially reversed their previous conclusions. The income per household they think it is stagnant: "Not since 1977, but 'only' since 2001."
Is CBS now hitting back, helped by scientists from Leiden University? No, says the initiator of the research Koen Caminada, professor of empirical analysis of social and tax regulations in Leiden. "This discussion played no part in the decision to conduct this investigation."
The scientists have been working on it for three years, says the professor. "So we had already started before the book by Peter Hein van Mulligen came out."
Also read: The Netherlands is an unequal country. No, the Netherlands is a very equal country. What's up?

Caminada, who has been researching income inequality in the Netherlands for years, especially wanted all years of income statistics to be mutually comparable, from 1977 to 2019. Until now, there were two 'breaks' in this, due to the introduction of new measurement methods. "I wanted to use consistent numbers; this is also important for policy makers. Now we have one statistic for this entire period."
In a 150-page report, the scientists describe what strikes them in those numbers. "But if you think we have overlooked something, you can now work with the figures yourself," says Caminada. "The main advantage is that you can now conduct the debate on the basis of consistent figures."
Are the Rabobank researchers now definitely wrong? Have incomes not stagnated since 2001?
"I have also made such an analysis before. Since 2001 you saw that all gross improvements were taxed away. But that was true until 2014. After that, the tax burden started to fall again. We have now included the provisional figures for 2019 for the first time. There is also a load light in it. So it really depends on the period in which you measure."
So where does the image come from that incomes are lagging behind and growing more and more skewed?
"Income inequality is rising in many countries, especially at the top, for example among the 1 percent highest incomes. This applies, for example, to Anglo-Saxon countries and also Germany. We do not see that in the Netherlands. Internationally, too, we have a relatively flat income distribution. We really are an even country.
Poverty figures have fallen, but that is mainly due to the AOW. It protects very well against poverty among the elderly.
"I think we are dealing with an imported discussion. It is not easy for people to realize that income inequality is increasing in so many countries, but not in the Netherlands. Yet it can be explained.
"In the Netherlands, the Central Planning Bureau (CPB) is very dominant in the preparation of policy. It calculates all government plans in purchasing power charts. If the income consequences threaten to become too great, politicians will repair it. That is unique to the Netherlands. With that tradition, you shouldn't be surprised if the income ratios barely change in forty years."
In recent years there has been a lot of criticism, also from politicians, that the wages of employees rose too little. Does that make sense on closer inspection?
"Well no. If you look specifically at the years after 2001, they are really characterized by less development of purchasing power. That is also what the politicians have on their minds. This is also partly due to the tax increases of the first Rutte cabinets. This has improved in recent years. This picture will therefore be adjusted again by the newer data."
The researchers do find, however, increased inequality in 'primary incomes': what people earn themselves without government intervention – ie through benefits, taxes and premiums. The government therefore has to redistribute more and more money to straighten out the relationship.
The increase in purchasing power of people on welfare has been significantly smaller than that of those in work
You could call that bad news. But according to Caminada, you ignore the causes underneath. This is not because high earners have started to earn extremely much more, or low incomes much less.
The real cause? The group of people with 'primary incomes' looks very different now than in 1977, when it mainly consisted of full-time working men. Now there are many more part-time workers, who earn relatively little. Students with a part-time job, but also women who have started working more in recent decades. Caminada: "So the question is how bad this development is. I would think it is a good thing that women's participation in the labor force has increased."
Nevertheless, all kinds of important institutes (SCP, CPB, DNB) are concerned about inequality in the Netherlands. Is that right?
"Yes, that's right. We only look at the income position. This does not exclude all kinds of inequalities, such as those between people who own their own house and those who rent. And so there are many more inequalities that can lead to huge differences. I certainly wouldn't want to trivialize that discussion."
Also read: How houses and stocks drive a wedge in society

There are also concerns about people living on welfare level.
"The increase in purchasing power of people on welfare has been significantly smaller than that of those in work. Those groups have grown apart: children in social assistance families can do less than children of working people. Nevertheless, their purchasing power has increased – not decreased – in forty years."
The percentage of poor households has halved since the 1990s, you write. Is that good news?
"Yes and no. Poverty figures have fallen, but if you look below that, you will see that this is mainly due to the AOW. It protects very well against poverty among the elderly. Only 3 percent of seniors still live below the poverty line, and these are actually all people with a migration background who have not lived in the Netherlands for fifty years. As a result, they do not have a full state pension."
"A quarter of a million children still live below the poverty line. Almost all of these are children of parents with a non-Western migration background. This is really a persistent problem. Among children without a migration background, 1 in 13 grows up in poverty, about two per school class. In this group that is one in four. If you see that… Then the development may have been good, but these are not figures to be proud of."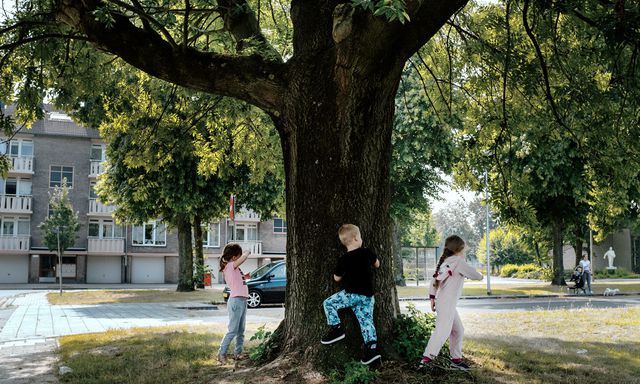 Also read: How two aldermen in Heerlen and in Rotterdam try to fight inequality