Peppa Pig: World Adventures gives players the chance to explore the globe, but perhaps its most memorable moment comes from its section set in London. There, players can meet England's late Queen, in a playful sequence which sees the monarch ride a bus around the capital before joining Peppa and friends in a spot of puddle jumping (everyone loves jumping in muddy puddles, you know).
This particular section of the game became widely-shared online soon after Word Adventures released thanks to a viral clip showing the game's unexpected In Memoriam tribute to Queen Elizabeth II, which pops up at the end of the London chapter.
Following the chapter's conclusion, the screen fades to black and the words: "HM Queen Elizabeth II, 1926-2022 In Memoriam" appear on screen, alongside an image of the late Queen, mid-puddle splash with Peppa.
"Unfortunately, the Queen passed away during development, and at that moment we had already implemented the character of the Queen and built this whole trip in London," lead producer David Moral explained to me, when asked about the decision to include an In Memorium screen.
"When the news came up, there was discussion on how we should address the issue, because obviously there were different options. We could have removed the trip, we could have removed London and the Queen from the game, which would have been an option ."
After some consideration, the Peppa Pig: World Adventures team decided to keep the London section as-is in tribute to the Queen, with its In Memorium screen added in acknowledgment of her passing.
"Now it's out I think everyone is glad we decided to keep the Queen in the game," Moral said. "Even though she's not here, it's very nice people around the world and the kids are playing [Peppa Pig: World Adventures]and they meet the Queen and learn who she is, because she was such an important figure in the UK and in the world for decades."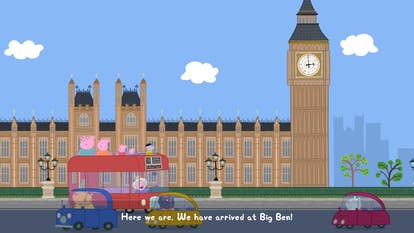 Ester Zanon from publisher Outright Games, added: "It was a very quick discussion if I remember correctly, because when Queen Elizabeth suddenly passed away, everyone [involved with the game's development] were all like 'she has existed and she's in the show'… It felt a bit unfair to cut her. She's history for all of us."
"It didn't feel right to just remove [London]," Moral agreed, as it "would mean reducing content and reducing fun from the game. At the end, if the kids love it, that's all that matters, I suppose."
You can read more from my chat with the Peppa Pig: World Adventures developer – where Moral discusses its inclusive family character creator and how he hopes it will spark "healthy discussions" for parents and children – here.

#Peppa #Pig #developer #discusses #viral #Queen #Elizabeth #tribute