Boxes of shortbread, chocolates, raffle tickets… This is the arsenal that every schoolchild uses to try to finance the study trip, that desired final excursion that represents a large financial outlay for families. That first business foray of many children to help their families can be seen as a game, to appear older and independent; that of earning money for the first time.
The story changes when it goes from being a game to becoming a necessity. Before the masks became another accessory in everyday clothing, the 6th grade students of the Joaquín Carrión School in San Javier sold Easter flowers and ballots to get a little money with which to pay for the weekend trip course. Some managed to subsidize "almost 50%," says Toni García Arias, director of this center in the Mar Menor region.
Omayma (10 years old), a 4th grade student, has not experienced all that. She got covid-19. This year they have resumed the end-of-year outings for the first time since the pandemic began. The destination has been Granada, which has finally succeeded despite the fact that many parents found it "too expensive". 20% of the students at the center, which houses 16 different nationalities, are at risk of exclusion. In order not to miss out on that experience, Omayma has started moving the machinery two years earlier. To pay for the trip, she has decided to start making bracelets in bright colors, made from braided elastic bands: "I started making them because it won't be long and I don't want to waste time," says the schoolgirl.
"When I was little, my older sister made bracelets for us, and I got the idea of ​​selling them to my friends and neighbors," she says excitedly. She wants to do it for her older sister, who was left without a trip because (again) of the covid: »I want to live the experience and then tell my sister everything». It was precisely this who taught him to make bracelets.
These trips are one of the great motivations of the students, "fundamental" for García Arias, since he considers that, on many occasions, they are "their first experience" away from home, visiting other places. "More intense bonds are created and coexistence improves," says this teacher, recognized as the Best Primary Teacher in Spain 2018 and with the 'Global Teacher Award 2021' from the AKS Education Foundation.
The little girl would like to visit Madrid "because it is the capital of Spain" and she has never been. With an alert and vivacious look, Omayma has appeared excited for the interview, dressed in a beautiful navy blue dress, golden sandals, a denim jacket and, of course, with a sample of the jewelry that she sells. She is accompanied by her parents, Abdelghani Bennouna, who has taken leave from work to attend, and Ibtissame Dahbi, who cannot hide her smile or her pride. They let her do the talking all the time, they know that today the protagonist is her daughter.
Her mother only lets her sell bracelets to her neighbors or around her building. A small niche that has already finished exploring. In order to expand her business, she asked the director if he could put up a stand in the schoolyard, but since it was not allowed, the only thing left for her was to advertise. She now intends to move her branch to the Plaza del Ayuntamiento, a meeting place with her friends, where she has found a partner who has joined in to help her create bracelets and rings.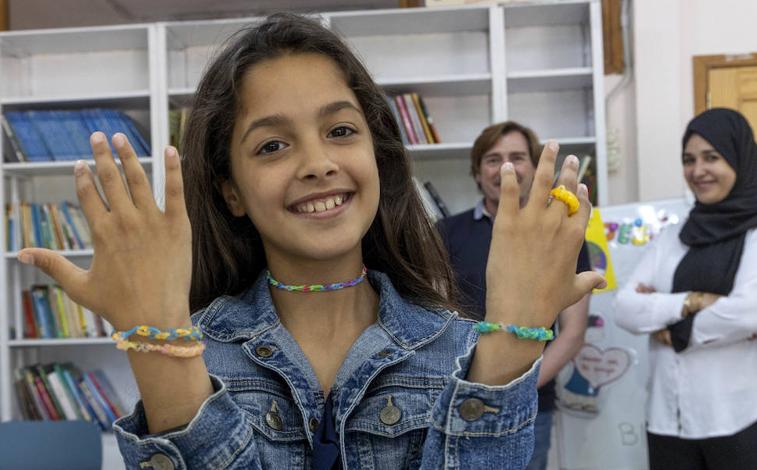 Sometimes he makes packs to suit the client, depending on whether they like bracelets, rings or necklaces more. The first sells them for one euro, the second for fifty cents, and the pack of the three pieces is two euros.
His parents could bear the cost of the trip, although not without effort, like any lower-middle-class family: «They don't have the problem of not being able to pay. They do not live in poverty", the director asserts emphatically. Omayma "knows that he has a cost and has decided on his behalf that this be the lowest possible," explains García Arias. The teacher has never taught her, but he does have a relationship with her, as with many other students. The little girl is very sociable and, every time she has an idea, she approaches Toni to tell it and talk to him.
His parents realized this entrepreneurial competence when Omayma was 8 years old. When they go for a walk, they give him money to buy something like, for example, sweets. She doesn't want to, she prefers to save it: "I love to save, to accumulate a lot of money to spend it on good things, on things that I really need," she explains.
Her teachers are fascinated with her, "she stands out in everything she does," they say. Above all, they affect her oral expression, the way she communicates, and the fact that "you can hold a conversation with her for a long time." Her favorite subjects are Mathematics and Physical Education. The first, because she says that she does all her problems "very quickly" and she understands them before the rest of her classmates, and the second, because she loves sports, like athletics.
A relaxation area and natural juices

The sale of bracelets is not the only entrepreneurial project that has forged her mind. In one of these conversations with García Arias, he proposed to turn a small space in the patio into a relaxation area for students who are unwell, a rest area while they wait for their parents to come pick them up: "in the back of the There is plenty of space in the kitchen and I said why don't we make a relaxation room", he says. He also suggested incorporating a canteen that offered natural juices, "for students who do not have lunch."
The director of the center considers that this entrepreneurial mentality benefits him "that he is aware of what things cost. I wish it didn't have to be that way, but life is hard and you have to make sacrifices. Having that mentality generates overcoming ».
Omayma is patient, he knows how to postpone the reward. A virtue that is scarce in a society domesticated by the immediacy and constant stimuli to which young people are exposed today. When she grows up, this woman from San Javier wants to be a dentist, a soldier, and a lawyer. She says it with the conviction, innocence and optimism of someone who believes that she has the world in her hands. Her parents would prefer her to become a doctor.
"My parents have made me learn that when I grow up I don't have to ask for money but rather earn it myself with my efforts," she says tenaciously. Omayma always puts the same anticipatory effort into everything. This summer she will study so that in 5th she will do well.
#Omayma #10yearold #girl #San #Javier #sells #bracelets #pay #study #trip