The new Ford Ranger has been officially presented. The new-generation pickup will have a body that takes design cues from both the smaller Maverick and the larger F-150. In the first place we are talking about the C-shaped headlights.
The front wheels of the new Ford Ranger are 5 centimeters further forward. On the one hand, this provides a larger wheelbase and therefore more room to move in the rear seat. But that tweak also sharpens the pickup's off-road capabilities, with a steeper front approach angle.
More space, more tech
There is also more space in the back of the new Ford Ranger. The track width at the rear increases by 5 centimeters, which makes the loading area larger and thus gains in loading volume. Ford has also worked on the layout of that cargo box, including by installing removable dividers that should keep your luggage in place on the road.
As with the Maverick and the F-150, Ford blesses the new Maverick with a lot of useful, even smart features. The tail lift doubles as a mobile workbench and the loading compartment also has the necessary connections.
Although the new Ford Maverick remains primarily a workhorse, the pickup comes with a completely new interior that does not shy away from modern touches. And then you can hardly look past the central multimedia display, of course. In the top version, the screen is no less than 15.5 inches, with the lower trim levels the Ford Maverick keeps it at 10.1 or 12 inches. The infotainment runs on the latest SYNC4 generation. Also note the improved finish, the nicer materials and the new gear lever.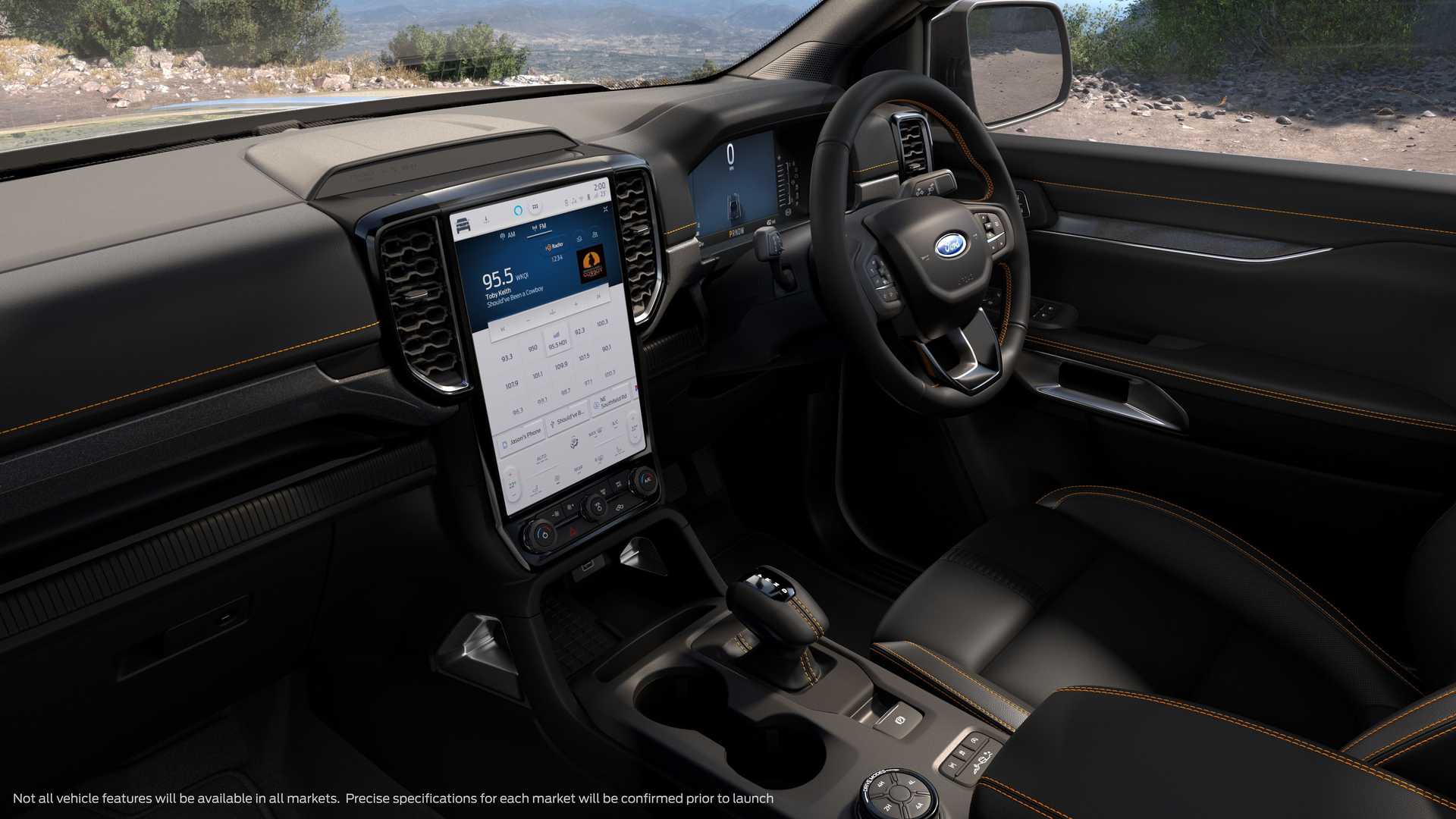 Petrol and diesel
The new Ford Ranger is presented with a diesel 3-litre V6 that replaces the 2.5-litre five-cylinder engine of the previous generation. It will be a lot more powerful, but the American manufacturer does not yet state the concrete specifications. There is also a smaller 2-litre diesel engine with single or double turbo, and the 2.3-litre petrol Ecoboost also ends up in the front of the pick-up. Electrified options are also discussed for the foreseeable future, but details are lacking. It also remains unclear which engines will come to which markets.
The Ford Ranger developed by the Australian branch of the Blue Oval comes with two different 4×4 systems. In addition to the classic module with manually selectable four-wheel drive, you can also order a permanent 4WD system that electronically controls the torque distribution on both axles. In addition to the Sport, XLT and Wildtrak versions, there will also be a rugged Ranger Raptor.
It is clear that the Ford Ranger is also coming to Europe. And also that this pick-up will get a VW version, because the next generation of the Volkswagen Amarok builds on the same foundations. That collaboration recently resulted in the new Ford Tourneo, actually a somewhat modified VW Caddy.
#Official #Ford #Ranger #Pickup #AutoWorld