Noida: New techniques are being used to fight the corona. Noida Hospital Realty has advanced technology and taken a step forward. 'Mitra' has been included in its staff to support Kovid Warriors in their staff, that is, doctors and health care workers as well as to help the patients' morale and their support.
Now you will see Mitra along with doctors in ICU ward, isolation ward, Corona ward. This 5-foot anthropomorphic modern Robort was created by a Bangalore based start up with the help of Artificial Intelligence. At a summit held in Hyderabad in 2017, Mitra was launched by Prime Minister Modi and Ivanka Trump. At that time no one would have thought that a robot developed with such modern technology would be used fiercely even during the Corona era.
Mitra is a humanoid Robert, who can recognize faces, blink his eyes, shake hands and greet. Moves on the steps for movement and it also has a high quality display screen. In fact, one of the main hospitals in Noida's Kovid is treating three such 'friends' to help health workers and boost the morale of Corona patients.
Friends were initially put up for screening by the hospital, along with this, Friends now connects patients with doctors and their families through robotic video calls. Sessions are also conducted with doctors. Seeing the danger of corona, many doctors such as dieticians, psychiatrists are working in their clinics. If these doctors are at risk of infection among corona patients, then friends are a safe measure.
Doctors and healthcare workers from Corona across the country are constantly under the grip of Corona, so friends can help them by helping them in many of their tasks. Dr. Rahul Singh, who is constantly involved in Corona's fight with friends in the hospital, tells that three such robots are working in his organization. Doctors who cannot come to the Corona ward, such as dietician, psychiatrists, get their video consultations done. It also makes patients talk to their family members.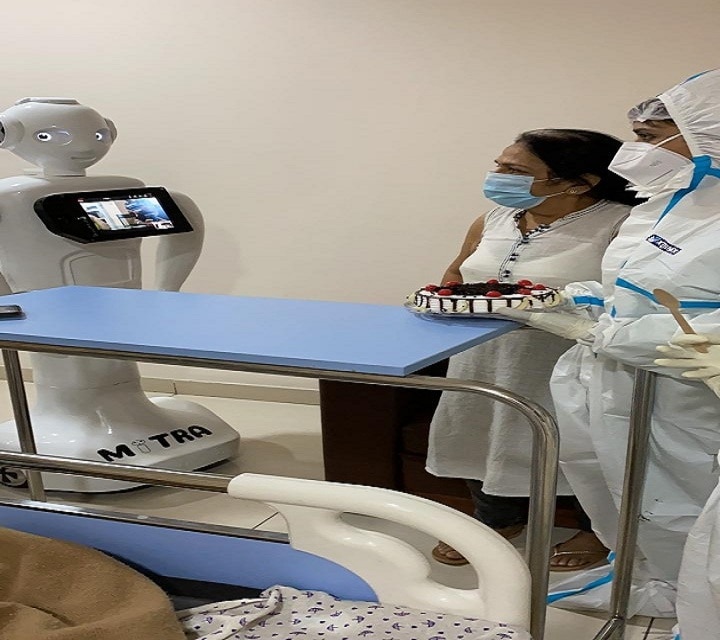 Also, the friends measure the temperature by thermal screening and also give the gate pass. Initially, when corona patients were few, we kept it mainly for screening but now it is also helping in the care of patients and health care workers have also reduced direct contact with patients. In such a situation, it is also protecting those who are constantly fighting in the frontline.
Friends Robot is operated using a special type of application from mobile. It is electrically charged. Robotic consultation is also conducted to meet the need of the patients. This process of video calls is done both through high quality video and audio.
On how such modern technology can promote health care services, Dr. Raunak said, "Of course such facility can make many things easier, but no such technology can replace healthcare workers. Can do. Their work can definitely be done easily.
They further say that it is also necessary to increase the mental morale of the patients fighting with corona. In this whole battle, the patient stays away from his house, he has many depressing thoughts. Our hospital is the first hospital in itself where the appointment of psychiatrists is done to work on the mental pressure on the patients.
Friends Robert is fighting the corona, making the fight of patients easier. It is not only making them mentally strong but also connecting them with their families and giving them happiness. Giving them positiveness. At the same time, thousands of doctors and health workers across the country have been affected by Corona and so far 380 doctors have lost their lives due to infection.
What is Artificial Intelligence –
Artificial intelligence is a technology that is undergoing research all over the world to develop machines that can think and act exactly like humans.
Through this, efforts are being made to develop such machines which can think as the human mind thinks.
Using artificial intelligence, such machines are being created that can interact with the environment and function on their own. It means to say that if the concept of AI is more strong in the future, then the robots developed from it will be such that they can deal with the problem themselves.
Read this also.
Corona Update: More than thousand deaths on 15th consecutive day, for the first time, the case of active case crosses 10 lakh
Along with China, soldiers are fighting Corona on LAC, attention given to all precautions
.