Microsoft will launch a refreshed version of both the Xbox Series X and S next year, according to leaked documentation.
The new Xbox Series X (codenamed "Brooklin") will be all-digital and sports a new cyclindrical design. It's set to launch in October next year.
Brooklin is set to offer 2TB of internal storage, faster Wi-Fi and comes with Microsoft's refreshed Xbox controller. It will also draw less power, and be offered at the current Xbox Series X price of $499.
The new Xbox Series S (codenamed "Ellewood") keeps the current Series S look and $299 price. It's set to launch slightly earlier, in August next year.
Ellewood features 1TB internal storage, and again – faster Wi-Fi, reduced power, and the new Xbox controller.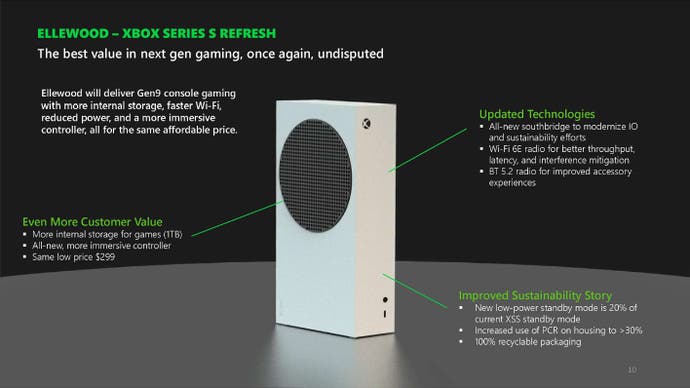 These details come from a Microsoft document originally shared with the US Federal Trade Commission, which inadvertently included a treasure trove of fully unredacted internal documents attached.
Eurogamer has contacted Microsoft for comment.
More to follow.

#Xbox #Series #consoles #detailed #enormous #Microsoft #leak