Ford unveiled the new Tourneo Connect, the multispace dedicated to families with seven places and the ability to choose between two lengths. It is perfectly suited to handle anything, such as the transport of equipment for camping and sports bikes while at the same time proving to be a practical partner for small businesses.
Let's go now to discover the characteristics of the new multispace Ford and what changes with respect to previous versions.
New Ford Tourneo Connect, space on board
The new Tourneo Connect offers habitability seven places on both L1 short wheelbase and L2 a long step. When not in use, the second and third row of seats can be folded, folded down or removed to create a spacious load compartment for work or sport equipment.
The front passenger seat folds down to allow you to safely transport inside the vehicle objects up to 3 meters long.
The great doors sliding side on each side of the vehicle they help children and the elderly to enter and exit confined spaces unlike conventional doors which are often unable to open fully. Convenience has improved by numerous Cup holder, compartments and charging sockets, while the panoramic roof glass available and control of the dual-zone climate (bi-zone) help to make the passenger compartment more airy and comfortable on long road trips. Durable, easy-to-clean rubber mats are available as an accessory for added convenience and protection.
The versions Titanium And Active they may also require ergonomic seats with extendable leg support and four-way electric lumbar adjustment certified by the independent German body Aktion Gesunder Rücken eV AGR (Campaign for Healthier Backs).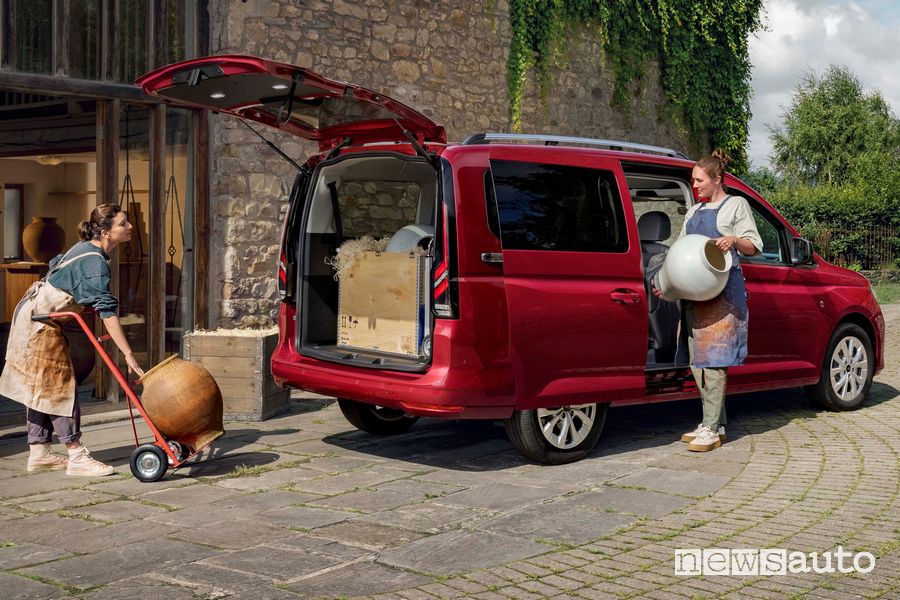 With the second and third row seats removed, Tourneo Connect offers up to 3.1 m3 cargo volume in L2 models and 2.6 m3 in L1 models. (2) The transport of longer items or bulky leisure equipment is made easier thanks to a maximum loading length of 2,265 mm behind the first row of seats, 1,452 mm behind the second and 629 mm behind the third for the L2 variants (1,913 mm, 1100 mm and 317 mm for the L1 variants).
New Ford Tourneo Connect, exterior features
The front has been redesigned with strong lines, for a sportier look. The series Active, inspired by SUVs, offers one sturdy style associated with premium details. THE 17-inch alloy wheels present a two-tone finish of dark and machined metal.
Furthermore the Active look includes a grille a Honeycomb, a metallic effect protective plate and additional body moldings around the wheel arches, sills and bumpers.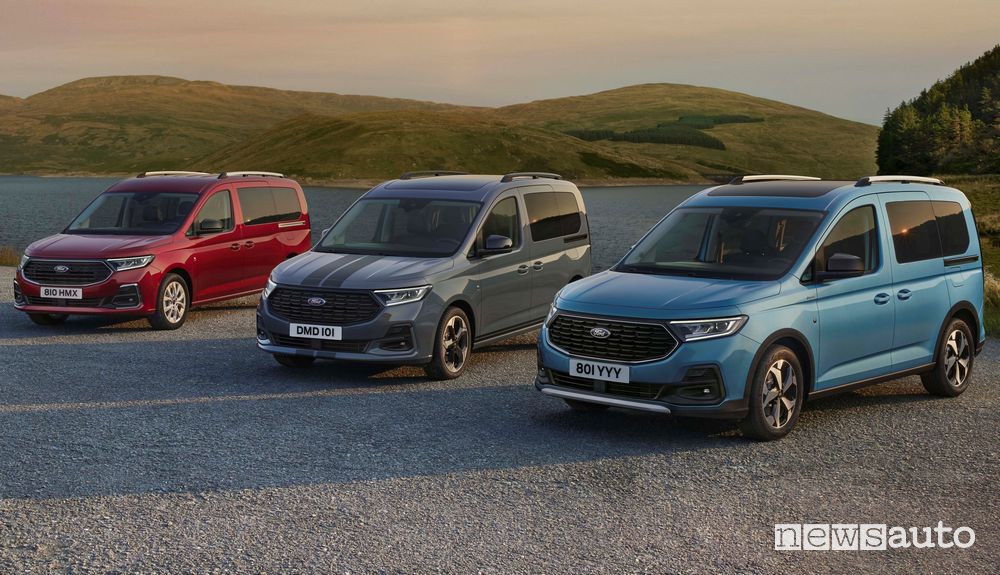 You can choose ten different brightly toned paint finishes like new Boundless Blue, the exclusive launch color for Tourneo Connect Active.
Ford Tourneo Connect cockpit, how is it inside?
All Tourneo Connect models are equipped with a large touchscreen intuitive on the dashboard that places the main vehicle systems within reach of the driver. The screen from 10 inches it is standard on the set-ups Titanium, Sport and Active.
The touchscreen provides commands for the navigation, the audio and the interior climate, while other functions like the connection to the smartphone, vehicle information and audio configuration are grouped into submenus to avoid being intrusive while driving.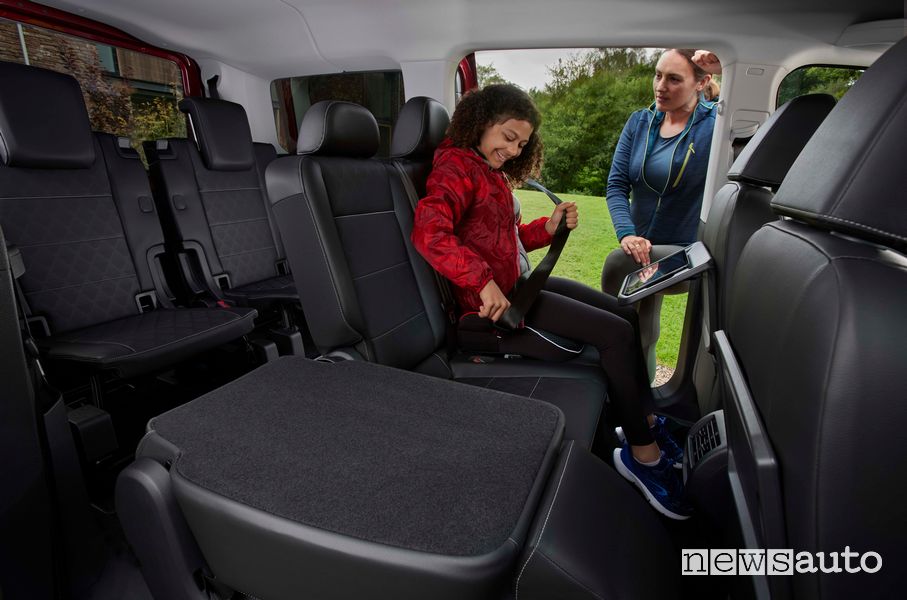 Also we find a digital display advanced instead of the traditional dial, a feature that is standard on models Sport and available on models Titanium And Active. The digital instrument cluster has one 10.25 inch screen which can work in conjunction with the central infotainment system to give drivers more information and control. The display shows the vehicle alerts, the expected speed limits and the instant travel speed at the top of the screen for easier reading, above a configurable display that shows:
Summary – for information on the current trip
Classic – for simulated traditional speedometer and tachometer
Navigation – for a map of the route and information for additional guidance
Driver Assist – for the status of the vehicle's active driving assistance systems
Ford Tourneo Connect infotainemnt and connectivity
Vehicles with a 10-inch touchscreen have a modem FordPass Connect for connectivity and infotainment.
Available Online Navigation which uses i cloud data to offer further updates in real time, including reports on the traffic and alternative routes; petrol stations nearby including prices and opening hours; online map updates and parking details including availability, distance and price.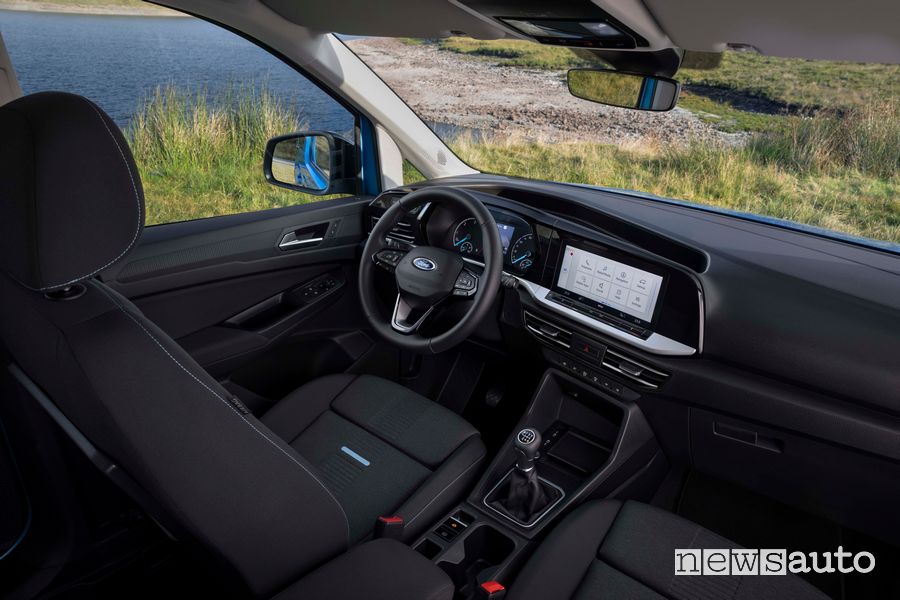 More information can be accessed remotely using the smartphone apps FordPass or FordPass Pro. Using the phone, customers can see and control: status of lights, windows and doors, vehicle locking and unlocking, vehicle position and parking position, including address and parking time, average fuel consumption and vehicle status report to aid proactive maintenance and avoid unplanned vehicle downtime.
ADAS, active safety systems on the Ford Tourneo Connect
Tourneo Connect delivers 19 technologies driving assistance. The wide range of equipment ADAS standard provides:
Pre-Collision Assist with Automatic Emergency Braking and Forward Collision Warning
Lane-Keeping System
Driver Alert
Cruise Control
Adjustable Speed ​​Limiting System
Hill Start Assist
Front and rear parking sensors
They are also available Adaptive Cruise Control, the Traffic Sign Recognition, the Blind Spot Information System and the Cross Traffic Alert. The new Tourneo Connect also introduces new driver assistance technology packages. The Parking Pack adds Active Park Assist with Park Out Assist, which can locate and maneuver in perpendicular and parallel parking spaces while the driver controls the throttle, braking and gear selection.
The Towing Assist Pack includes the new Pro Trailer Backup Assist to help prevent or mitigate the risk of "jack-knifing" when done reverse with a trailer.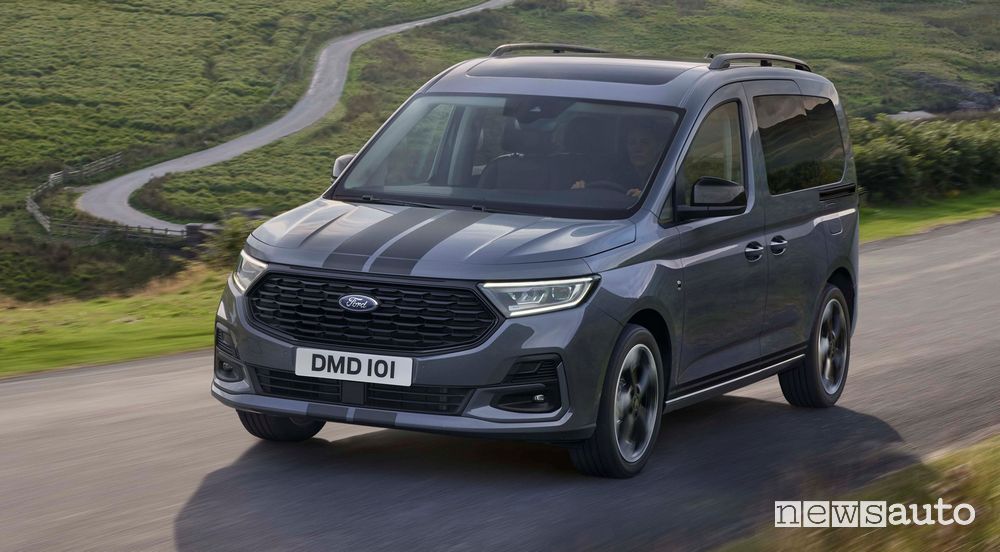 Tourneo Connect models equipped with the PowerShift automatic transmission they can also be gifted Intelligent Adaptive Cruise Control with Lane Centring (which provides assisted driving for acceleration, braking and steering functions to reduce stress on motorways or when traffic stops and starts.
To free up space in the passenger compartment and simplify the driving experience, an electric parking brake is fitted as standard on all Tourneo Connect vehicles. This function also enables Auto Hold (7) to facilitate hill starts.
In the setting up Sport is available as standard the Adaptive Front Lighting System, able to intelligently recognize driving scenarios, such as motorway, city, countryside and intersections, and to modify the beam and brightness of the headlights to optimize visibility and reduce glare. Automatic high beams are also standard, i LED headlights and rear lights.
Ford Tourneo Connect petrol and diesel engines
The engine range of the new Tourneo Connect includes a petrol and diesel, with an estimated fuel consumption of 4.9 l / 100km and CO2 emissions of 127 g / km.
The four-cylinder turbo engine range includes a petrol engine 1.5 liter EcoBoost that develops 114 hp and 220 Nm of couple and two EcoBlue diesel, respectively from 122 hp and 320 Nm of couple, or 112 hp and 280 Nm of couple.
Technology Auto Start-Stop it is standard on the whole range to optimize efficiency. Both diesel engines are equipped with an innovative system "Twin-dosing" (double-dosing) which injects AdBlue upstream of two selective catalysts to help reduce nitrogen oxides and are also compatible with the alternative fuels HVO (Hydrotreated Vegetable Oil) and GTL (Gas to Liquids).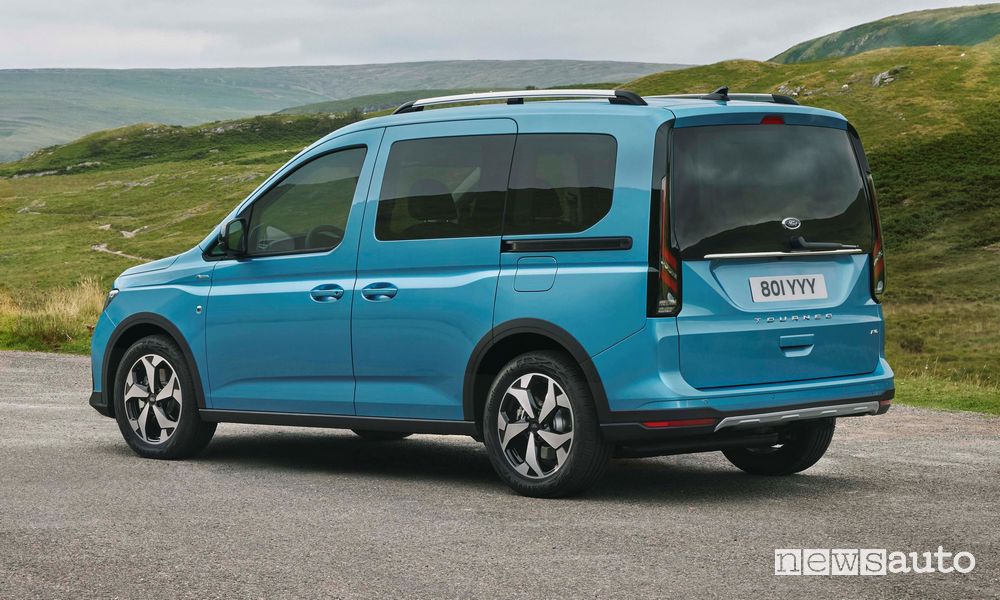 All models come standard with one six-speed manual transmission, alternatively there is the PowerShift dual-clutch automatic transmission at seven speeds, with the paddles on the steering wheel and the Sport mode.
Ford Tourneo Connect also 4 × 4
The four-wheel drive for the first time on Tourneo Connect, on models equipped with the engine 2.0-liter 122 hp EcoBlue diesel with six-speed manual gearbox.
There underbody protection engine is available from the factory to support customers who often drive on uneven surfaces.
New Ford Tourneo Connect photo
They might interest you (indeed I recommend it!)
👉 N1 truck, van, off-road vehicle and pick-up: who can drive it and when?
👉 All news on commercial vehicles VANS
👉 What are the best-selling vans in Italy? TOP TEN sales data
👉 TOURNEO CONNECT price list 👉 Ads used TOURNEO CONNECT
💥 I notify: to stay updated and receive latest news on your mail subscribe to the automatic Newsauto newsletter HERE.
👉 What do you think? Take a leap on the FORUM!