What is the ranking of the MotoGP in Japan? Who won the race on the circuit of Motegitheater of the 16to proof of MotoGP Championship 2022Ducati's fifth podium of the season has arrived Jack Miller (after the second place in France and the third in Germanyin England and in Austria).
In fact, the race in the land of the Rising Sun was won by the Australian, riding the Official Ducati of the Ducati team.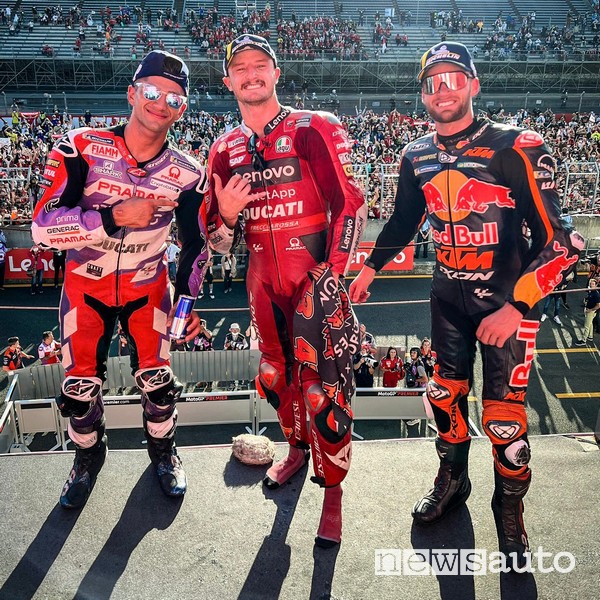 On the podium with him, the South African in second place Brad Binder (KTM)already second in Qatar; to the third, the Spanish Jorge Martin (Ducati)already second in Argentina and third in Holland – with two Ducatis in the top 5 in the standings.
MOTOGP, JAPAN race podium
This is the MotoGP podium, the best three in the sixteenth race of the 2022 season in Japan:
1) Jack Miller (Ducati)
2) Brad Binder (KTM)
3) Jorge Martin (Ducati)
| POS | # | PILOT | MOTORCYCLE | TURNS | TIME | WITHDRAW |
| --- | --- | --- | --- | --- | --- | --- |
| 1 | 43 | Jack Miller | Ducati | 25 | 42'29.174 | |
| 2 | 33 | Brad Binder | KTM | 25 | +3.409 | |
| 3 | 89 | Jorge Martin | Ducati | 25 | +4.136 | |
| 4 | 93 | Marc Marquez | Honda | 25 | +7.784 | |
| 5 | 88 | Miguel Oliveira | KTM | 25 | +8.185 | |
| 6 | 10 | Luca Marini | Ducati | 25 | +8.348 | |
| 7 | 12 | Maverick Viñales | Aprilia | 25 | +9.879 | |
| 8 | 20 | Fabio Quartararo | Yamaha | 25 | +10.193 | |
| 9 | 23 | Enea Bastianini | Ducati | 25 | +10.318 | |
| 10 | 72 | Mauro Bezzecchi | Ducati | 25 | +16.419 | |
| 11 | 5 | Johann Zarco | Ducati | 25 | +16.586 | |
| 12 | 44 | Pol Espargarò | Honda | 25 | +17.456 | |
| 13 | 73 | Alex Marquez | Honda | 25 | +18.219 | |
| 14 | 21 | Franco Morbidelli | Yamaha | 25 | +19.012 | |
| 15 | 35 | Cal Crutchlow | Yamaha | 25 | +19.201 | |
| 16 | 41 | Aleix Espargarò | Aprilia | 25 | +25.473 | |
| 17 | 63 | Fabio Di Giannantonio | Ducati | 25 | +27.006 | |
| 18 | 25 | Raul Fernandez | KTM | 25 | +29.374 | |
| 19 | 87 | Remy Gardner | KTM | 25 | +29.469 | |
| 20 | 30 | Takaaki Nakagami | Honda | 25 | +43.294 | |
| 21 | 63 | Francesco Bagnaia | Ducati | 24 | 1 Lap | Accident |
| 22 | 42 | Alex Rins | Suzuki | 15 | 10 Laps | Accident |
| 23 | 40 | Darryn Binder | Yamaha | 15 | 10 Laps | Accident |
| 24 | 85 | Takuya Tsuda | Suzuki | 12 | 13 Laps | Accident |
| 25 | 45 | Tetsuta Nagashima | Honda | 10 | 15 Laps | Accident |
Race classification, order of arrival GP in Japan MotoGP at Twin Ring Motegi
If you have read the results and rankings of the MotoGP stage in Japan 2022, I suggest you also deepen these links below …
👉 What do you think? Take a leap on the FORUM
COMMENT WITH FACEBOOK

#MotoGP #Japan #race #results #classification #order #arrival