Watching a movie, enjoying a basketball game or playing video games on your mobile is not the same as on a television. Users are increasingly demanding larger screens and want them to look better too. This is where 8K TVs come into play. The level of detail that is achieved with this technology is such that it is used by surgeons in the field of telemedicine to perform operations remotely, as highlighted by the market analysis brand Mordor Intelligence. With four times more pixels than a 4K TV, these TVs display higher quality and more realistic images.
"Before we settled for smaller televisions with lower image quality due to the lack of availability of advanced models at affordable prices," says Roberto Vieito, deputy secretary of the Professional College of Computer Engineering of Galicia (CPEIG). But the constant technological advances in consumer electronics "have allowed enormous improvements in quality and size in all types of electronic devices, as well as a reduction in their prices." In fact, seven out of 10 Spaniards would buy a larger television, according to a study conducted by Ipsos.
Samsung is one of the brands that is leading the transition to 8K with its televisions Neo QLED 8K. The resolution on these devices is four times higher than on 4K. A higher resolution means that there are more pixels that make up the screen. That is, on TVs of the same size, the pixels are more compressed within the same area, allowing the image to be more detailed and realistic. This provides an overwhelming sense of immersion when watching television.
Before, we settled for smaller televisions with lower image quality due to the lack of availability of advanced models at affordable prices.

Roberto Vieito, vice-secretary of the Professional College of Computer Engineering of Galicia
The new ones Neo QLED 8K They also incorporate Mini LED technology, which controls light more precisely in dark or bright areas and reproduces "100% of the color volume". These LEDs are 40 times smaller than traditional LEDs, allowing for a higher level of detail. In addition, the screens of these televisions are anti-glare, so you can forget about the glare of the sun while you are watching a movie, even if you are sitting near a window.
A deeper dive
All these features try to move the viewer to the center of the action and achieve the most immersive experience possible. Several studies point out that with larger screens you get a deeper immersion and more intense physiological responses. Research published this year in the magazine IEEE Communications Magazine It further indicates that the audience experiences a greater sense of reality and presence by increasing the resolution from 4K to 8K.
Although there is audiovisual content that has not been recorded in 8K, Samsung has designed its own solution: its televisions incorporate an artificial intelligence processor capable of converting various types of sources and resolutions to 8K quality thanks to the machine learningregardless of the original resolution. This image quality enhancement technology creates sharp textures and realistic edges. In addition, it reduces image noise pixel by pixel, offers deeper contrast and reveals more vivid colors.
More and more companies are betting on 8K content. The consulting firm Deloitte He estimates that this technology will generate about $ 3.3 billion in global revenue in 2021 and this amount will increase steadily over the next few years. Revenue will come primarily from 8K TV sales, which are expected to reach $ 5 billion this year.
Almost invisible frames
Television has become a fundamental element of any home so brands, beyond resolution, take maximum care of every detail. "Manufacturers not only work on improving the characteristics and pure technical capabilities of their televisions, they also seek to improve their aesthetic appearance," explains Vieito, who is also a collaborator of the General Council of Official Colleges of Computer Engineering (CCII).
Samsung bets on a sophisticated design capable of bringing a touch of elegance to the living room. Samsung Neo QLED televisions have an Infinity screen that seeks to take the user to the next level of audiovisual experience. In addition to a minimalist and remarkably slim design, the South Korean brand boasts almost invisible frames that result in a 99% screen.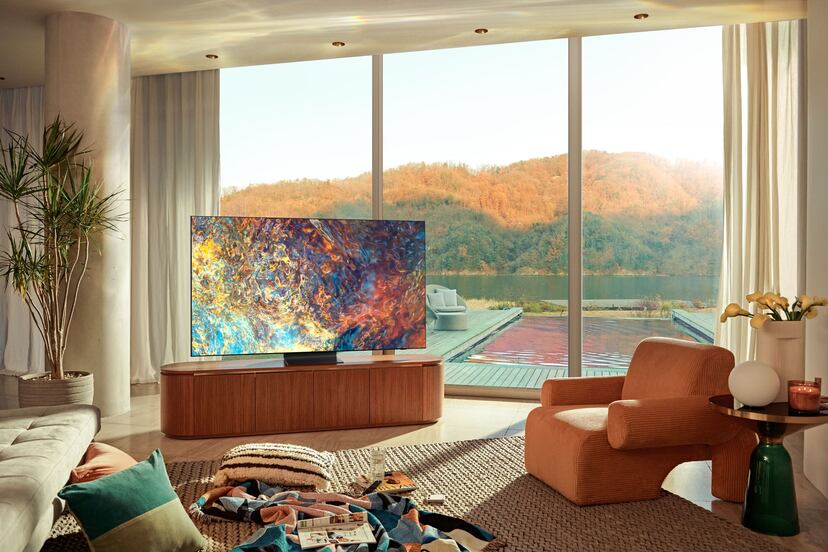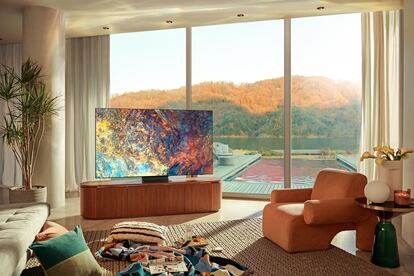 The reduction of frames has not only achieved an aesthetic improvement of these devices, but has also contributed to making them more manageable, according to Vieito: "If you add large frames to a large television like those used a few years ago, the surface and the final volume of the device would be greatly increased, which would make it difficult to transport, store and install ". In addition, it allows you to have larger inches within the same space: where before there was a 65 ″ television, now you can have a 75 ″ television.
Goodbye to cables
Among the aesthetic problems when installing a television, are the tedious cables that are usually connected and give life to these devices. Hiding them can be a real odyssey. "TVs that are hung on the wall generally require accessories integrated both in the product and in the wall on which they are hung, while televisions that go with a base, require tables or other furniture that can quickly become untidy," they say from Samsung .
To avoid these inconveniences, the South Korean brand has redesigned the One Connect, optimizing its size and thickness and modifying its appearance. This device, which can be easily integrated into the base, contains all the connections of the television and minimizes the number of cables in sight. In addition to reducing the size of the One Connect, Samsung unifies all cables into one almost invisible. In this way, all your devices, such as players or consoles, will be connected to the Slim One Connect, which you can have hidden in the furniture or integrated into your base, and from this to the TV only the almost invisible cable will come out.
One Connect is a device that contains practically all the connections of the television, minimizing the number of connection cables in sight. It is especially useful for those who are hanging on the wall
The South Korean brand wants users to forget about cables and, also, to have several controls in the living room. With the Solar Cell Remote Control, the user can control various connected devices, use the voice assistant and access any content on the TV. This remote, which has specific buttons to quickly open platforms such as Netflix or Prime Video, has a solar panel on its back that allows it to be charged both indoors and outdoors and, in addition, it is made with recycled material.
#realism #TVs