There have been many cases of sexual harassment in Bollywood. Now actress Mandana Karimi has accused the film of sexual harrassment. Mandana Karimi is shooting for her upcoming film 'Coca Cola'. Mandana alleges that on the last day of shooting a day before Diwali (a day before Diwali), producer Mahendra Dhariwal allegedly abused her on the sets of the film.
'This incident shook me'
Speaking to Bombay Times, Mandana said, 'I am still in shock as to what happened to me. We were working on the film Coca Cola for more than a year. It was a task that I was doing knowing that the team is not very professional. I had a problem with this team from the beginning. Producer Mahendra Dhariwal is old-fashioned and he was running the set with maleist thinking. Sometimes a man's ego is also worked on the set and this is not new. But what happened on 13 November shook me. '
'Producer forcibly entered vanity van'
Mandana further said in her statement, 'It was the last day of shooting and I wanted to wrap up all the work because I had to meet someone else. I had arrived early in the last two days of the shoot while the entire shoot was not only related to me. Before the shoot was over, the producer asked me to stay for an hour, which I could not do. We were shooting the song. As soon as I arrived in my vanity van to change, the producers forcibly entered and shouted at me that I would have to stay for an hour while there were no directors or assistants present on the set. '
'Choreographer helped'
Mandana says that she was changing in the vanity van when the producers forcibly entered her. The choreographer took them out. Mandana has also alleged that the producer's son allegedly stopped her car when she started leaving. Mandana said that she was then helped by the Correspondent and was able to return home from her car.

Producer said – Mandana's attitude is unprofessional
When the Bombay Times spoke to producer Mahendra Dhariwal on the issue, he said, "We were shooting Coca-Cola with Sunny Leone and Mandana Karimi before Corona arrived." After that the shooting stopped due to lockdown. We signed Mandana for Rs 7 lakh but when the shooting started again, he started making excuses. He also asked for an extra Rs 2 lakh for shooting in Delhi. He also refused to give a date after the lockdown. I had given money to Mandana in advance but on the last day of shooting, Mandana started going 2 hours before. When she started going from the shoot at 8 in the night, I went to the vanity van to stop her as there were few shots left. But Mandana started making my videos while I was knocked into the vanity van soon after. We had signed Mandana for 7 lakhs but for this she has taken Rs 17 lakhs so far. I don't mind spending money but his attitude is unprofessional. '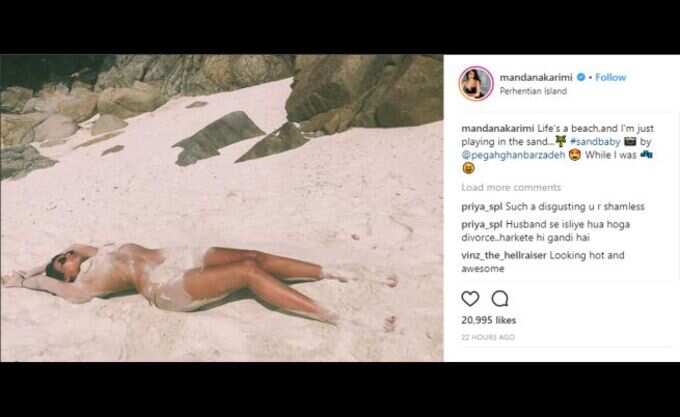 .