Magaly Medina He no longer has his father alive, but he rescues his teachings and his commitment to the family. Just a few days after saying goodbye, the ATV figure returns to his program; However, he was encouraged to reveal some plans that he has for the future. The presenter also showed her concern for her mother, who just lost her life partner, and she stated that her efforts will be focused on her parent.
Magaly Medina returns TODAY to her program
In dialogue with Infobae, Magaly Medina stressed that this Monday the 27th she returns to television after having to stop her activities five days ago after the death of Luis Medina, her father. "Today I return to my program," she said.
Magaly Medina was always very close to her father, Luis Medina. Photo: Composition EP/Latina Shot/Instagram
Magaly Medina worried about her mother
Likewise, the popular "Urraca" spoke of her mother, who is one of the people most affected by this loss. "We are determined to cover my mother. Finally, she has lost his companion of more than 60 years of life with him. So, she has to start alone this time. We're a little worried about her in that regard." added.
Subsequently, Magaly Medina revealed how she will spend her birthday this March 31: "I have always said that I do not like to celebrate my birthday. Although my husband and my friends love to celebrate it, I don't like to celebrate it. This time I asked my husband that I want to be outside, I don't want to be here. This Friday I'm going to spend my birthday with him in New York. It is a gift from my husband. I prefer to be there, calm, away from the celebrations, because I don't feel like celebrating either. So traveling and isolating myself a bit is going to do me good."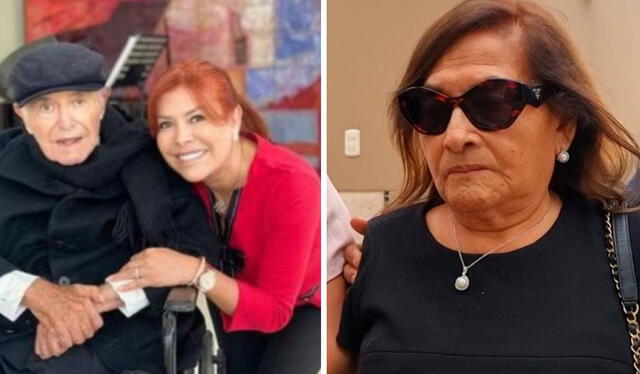 Magaly Medina and her mother arrived at Luis Medina's wake. Photo: Instagram/Panamericana capture
#Magaly #Medina #worried #mother #widow #years #life