The lung infections could be at the basis of the onset of type 1 diabetes, an autoimmune disorder that renders a person unable to produce enough insulin to keep their blood sugar in a normal range. It was stated in a research a team of scientists from the Liggins Institute of the University of Auckland, New Zealand led by Professor Justin O'Sullivan .
The study was published in the prestigious scientific journal Communications Biology.
Type 1 diabetes-related lung infections – here's what the research says
To arrive at this intuition, Scientists used machine learning to classify genetic mutations associated with type 1 diabetes based on the size of the disease's effects acting across the body's different tissues.
This led to the unexpected discovery that the greatest impacts occurred on genes in the lung. Research by Scholars New Zealand researchers are the first to uncover this link. "Everyone knows that the pancreas is fundamental in diabetes, because it is the organ that produces insulin ", says Professor O'Sullivan: "But what is really striking is that the mutations that are linked to the increased risk of developing the disease entirely affect genes in another tissue, in the lung ".
The findings support a theory that respiratory viral lung infections can trigger the onset of type 1 diabetes. If the theory turns out to be correct, drugs could be developed to target key genes and slow the onset of the disease. "It's really interesting information," O'Sullivan said: "It seems like a very important connection. Could we someday see a vaccine that protects some people from developing type 1 diabetes? Would be great".
Daniel Ho And Denis Nyaga, key researchers of the project, developed the approach of automatic learning who searched for patterns in millions of genetic data from thousands of individuals, with and without type 1 diabetes: "The Machine learning has allowed us to extract patterns from DNA along with related biological information from thousands of people, which we have not been able to detect in any other way because there is too much data for us to study"Explained Daniel Ho.
Diabetes is on the rise globally, proving to be one of the major health challenges of the 21st century. Type 1 diabetes accounts for 5 to 8% of all diabetes diagnoses in New Zealand, affecting up to 26,000 people.
Often discovered in childhood, the disease requires people to take insulin every day. There is no cure, but effective management of blood sugar levels can limit complications such as heart disease, stroke, and vision problems. Scientists already know about genetic variants that increase the chances of developing type 1 diabetes.
Researchers who sequence part of a child's DNA at birth can use 67 genetic variants to predict with greater than 90% accuracy whether the child will develop type 1 diabetes within five years. However, researchers are still trying to understand why, which variants play the most important roles and how to stop the progression of the disease.
Experts who sequence part of a baby's DNA at birth can use 67 genetic variants to predict with greater than 90% accuracy whether the baby will develop the
type 1 diabetes within five years. However, scientists are still trying to understand why, which variants play the most important roles and how to stop the progression of the disease.
The genetic data for the research comes from the Wellcome Trust Case Control Consortium in the UK, which facilitates genome-wide association studies and the UK biobank containing biomedical data from half a million people. The work was funded by a donation from Sir Colin Giltrap and the Ministry of Business, Innovation and Employment.
Type 1 diabetes occurs when the immune system, the body's system of fighting infections, attacks and destroys insulin-producing beta cells in the pancreas. Scientists think type 1 diabetes is caused by genes and environmental factors, such as viruses, which could trigger the disease, or as we have seen from lung infections.
Studies like TrialNet External are working to identify the causes of type 1 diabetes and possible ways to prevent or slow the disease.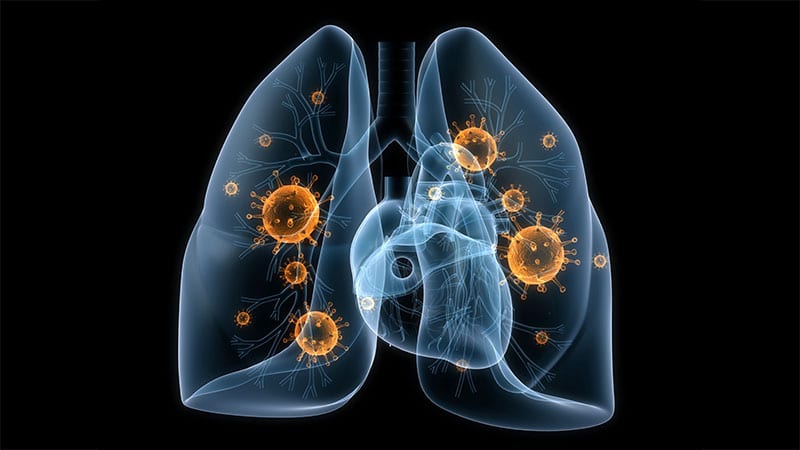 Type 2 diabetes, the most common form of diabetes, it is caused by several factors, including lifestyle factors and genes. You are more likely to develop this form of diabetes if you lead a sedentary lifestyle, if you are overweight or obese. The location of body fat also makes a difference. The extra abdominal fat is linked to insulin resistance, type 2 diabetes and diseases of the cardiovascular system.
Being insulin resistant is the first warning sign of type 2 diabetes: it is a condition in which the muscles, liver and fat cells do not use insulin properly, as a result the body needs more insulin to keep up with the new needs of the body. Over time, the pancreas fails to produce enough insulin and blood glucose levels rise. In this case, therefore, at the moment there is no evidence of pulmonary infections.
As in type 1 diabetes, certain genes can increase the likelihood of developing type 2 diabetes. The disease tends to occur in families and occurs most often in these racial / ethnic groups:
African Americans;
Alaska Natives;
American Indians;
Asian Americans;
Hispanic Latino;
Hawaiian natives;
Pacific Islanders.
Genes can also increase the risk of type 2 diabetes by increasing a person's tendency to become overweight or obese.
Not negligible is the gestational diabetes in fact, scientists believe that this type of diabetes that develops during pregnancy is caused by the hormonal changes of pregnancy along with genetic and lifestyle factors: the hormones produced by the placenta contribute to insulin resistance, which occurs in all women during late pregnancy. Most pregnant women can produce enough insulin to overcome insulin resistance, but some cannot. Gestational diabetes occurs when the pancreas fails to produce enough insulin.
As with type diabetes 2, the extra weight is linked to gestational diabetes. Overweight or obese women may already have insulin resistance when they get pregnant. Weight gain during pregnancy can also be a factor. It can therefore be asserted that, with respect to the current knowledge on the subject, lung infections are not harbingers of gestational diabetes.
Have one family history of diabetes it makes a woman more likely to develop gestational diabetes, which suggests that genes play a role. Genes may also explain why the disorder occurs more often in African Americans, Native Americans, Asians, and Hispanics / Latinos.
In addition to lung infections, there are other reasons that could trigger the onset of type 1 diabetes, such as genetic diseases and even some drug therapies.
Monogenic diabetes it is caused by mutations or changes in a single gene. These changes are usually passed on through families, but sometimes the genetic mutation occurs on its own. Most of these genetic mutations cause diabetes by making the pancreas less able to produce insulin. The most common types of monogenic diabetes are neonatal diabetes and juvenile maturity-onset diabetes (MODY). Neonatal diabetes occurs in the first 6 months of life. Doctors usually diagnose MODY during adolescence or early adulthood, but sometimes the disease is only diagnosed later in life.
There cystic fibrosis produces thick mucus which causes scarring in the pancreas. This scar can prevent the pancreas from producing enough insulin.
Hemochromatosis causes the body to store too much iron. If the disease is not treated, iron can build up and damage the pancreas and other organs.
Some hormonal diseases cause the body to produce too much of certain hormones, which sometimes cause insulin resistance and diabetes. They are:
Cushing's syndrome, occurs when the body produces too much cortisol, often called the "stress hormone".
Acromegaly occurs when the body produces too much growth hormone.
Hyperthyroidism occurs when the thyroid gland produces too much thyroid hormone.
Eating foods and living an unhealthy lifestyle, such as being a smoker, can ultimately limit the lungs' ability to breathe, and these negative effects on the lungs tend to be more common in people with diabetes. The mean breathing rate of adults at rest is between 12 and 20 breaths per minute. This is an average of about 8 million breaths per year, and each is needed to keep us alive.
#Lung #infections #trigger #diabetes