The mimicker, or the changeling, is a character that exists in the mythology of many cultures of the world. In Irish it refers to a creature that has the ability to change its face. This superhuman transmutation capacity, found at the origins of totemism and witchcraft, serves different purposes. Among them, reaching goals and avoiding the inevitable dangers that threaten the road ahead. It is part of the haunting and rich universe of Liza Ambrossio (Mexico, 1992), an imaginary that presents us as if it were a shamanic ritual, populated by strange creatures that inhabit an environment as magical as it is ruthless. A work defined by a strong symbolic and dreamlike charge, which exalts the tradition of the rite, and a sensory jolt that does not leave indifferent. Same as him mimicker, the artist is aware that "to live a life one needs a thousand faces". "Change faces many times. Adapt, rebuild, become another being in order to move forward and accept what one is at any price ", he says.
Lucid nightmares: a selection of images by Liza Ambrossio in PhotoEspaña
"It all starts with a mental image: an orange that bleeds. Influenced by the aesthetics of the Japanese counterculture and the Aztec rituals of human sacrifice as a form of poetics, and where cannibalism is presented as a symbol to show contempt in the face of exasperation, I mix performance, space intervention, videos, installations, psychological manipulation practices, science fiction, ero-guro and witchcraft ", Ambrossio writes in the book that brings together his latest work, Blood orange. Published by the prestigious German publisher Kehrer, will go on sale this month, coinciding with the exhibition of the same title that opens this Friday at the Casa de América in Madrid, curated by Fabienne Aguado, within the programming of the official section of the new edition of PhotoEspaña.
The project is the continuation of a first episode, The wrath of devotion, for which the artist was awarded in 2018 with the Voies Off festival of the Arles Encounters. Winner of the photography award granted by the Musée du Quai Branly, she will also present a third of this work next year at that Parisian museum. A cathartic exercise, charged with passion and madness, which the author refers to as "a representation of what happens after the world is destroyed".
"We are all strangers in this world. We are beings who feel anger and hatred and, at times, we have indecent thoughts of destruction "
Although the first part alluded to the "disengagement and destruction of a first culture, of knowledge, of understanding oneself within a society as an adult character, coming from a violent culture and a dark past", as the author expresses by video call , on Blood orange there is a less dramatic reading. It emerges from violence, but coexists with a sense of humor. A more trained eye is noticed when looking for the associations that are weaving together the narrative of the project, which runs propped up in polarities. "It is a hymn to freedom, a kind of mental and real route through spaces that I felt very far from the cultures I know, such as the Nordic countries and China," says Ambrossio. "This generated an exoticism of the European archetype. My intention is to let you know and feel that we are all strangers in this world. Beings in search of freedom, desire, and love, we feel anger and hatred, and sometimes we have indecent thoughts of destruction ".
"I have more nightmares than dreams," says the artist. "It is something very fundamental in my life." Dreams that he uses to shape a series of ideas and enhance his autobiographical relationship with his artistic endeavor. "The ability to fantasize, which is the richest thing we have as human beings, as artists. The possibility of building castles in the air fascinates me ".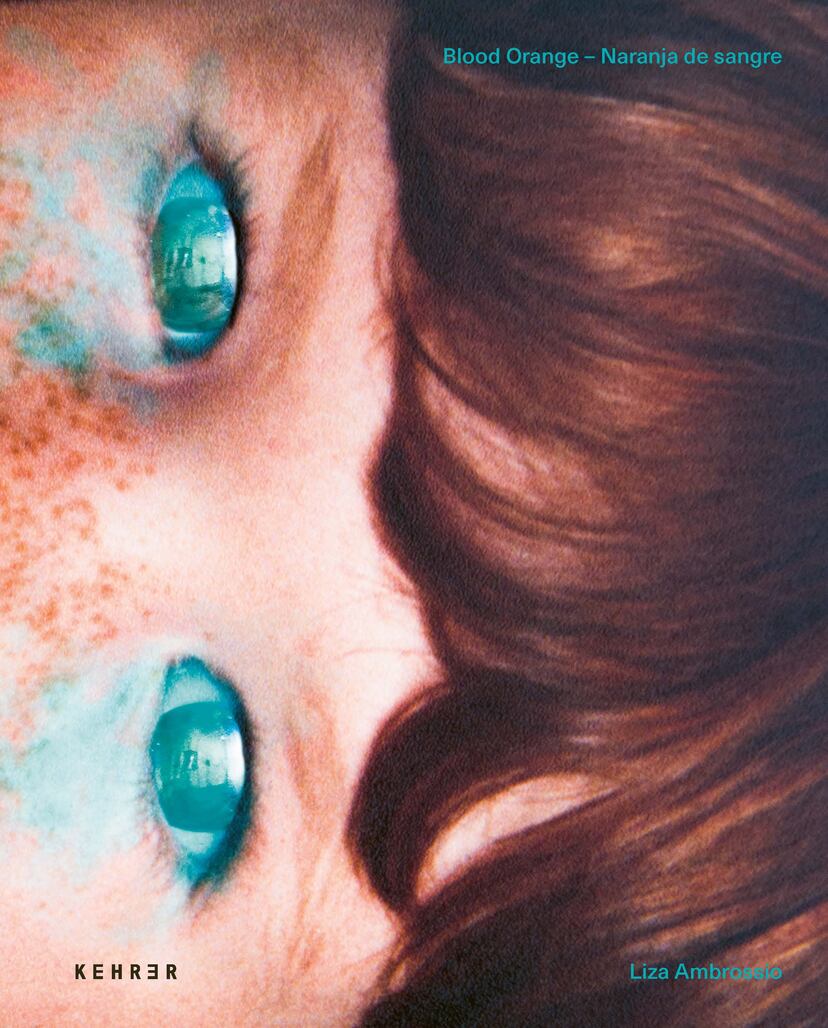 The Freudian metaphor of killing the father as a formula for total liberation underlies the work: "In my particular case, my father dies while I am a child, and my mother dies the moment she disappears from my existence, during my adolescence." Thus, it plays with the aesthetics of the grotesque that alludes to the Japanese current of ero-guro, in order to destabilize canons and seduce with foundations that are not usual, provoke and disconcert the viewer, and that he ends up not knowing what is happening, is part of this rite. Hence, the exhibition was structured in several aluminum photosculptures that generate different readings of the image while questioning it.
"The pieces have many corners and triangles, shapes that according to the theory of Gestalt they are associated with conflict and movement, respectively ", explains the author. "When moving around, the visitor comes across a second or third image. I am attracted to the idea of ​​vertigo, of the fear that occurs with the approach, and the impact of meeting the reflected image ". In the same way, duplicity, a resource that he frequently makes use of, is also associated with this idea of ​​reflection. "The fascination, and also the contempt, that someone arouses, can be associated with the perception of an affinity. In my work there is a desire to connect with the viewer, but also a desire to travel to another universe through mirrors. Reflections and bent images are associated with ideas of good and evil ".
From the mountain to the sea
The painted face of the character extends through the furrows of a mountain, while the mountain continues until it reaches the sea. "It contains a symbolism about human beings as gods and monsters; on land and water ", Ambrossio explains, while referring to our connection with nature, as well as our most primal instincts. The protagonists of his images are beings that show their most emotional and irrational side and express their desire to take their feet off the ground, at the same time that they enunciate their need to find a cure for their pain. Implicit is "the desire to liberate oneself, to rebuild a world after having destroyed it," adds the artist. "Psychoanalysis and psychology help us to identify not only what harms but also what nurtures and fascinates."
"To photograph you have to live. Live intensely. Binge on life and then reflect "
Other characters that are usually important and are included in his previous work are children. "They represent freedom, but they are also associated with hell, since the demonic is presented as a symbol of liberation; an act of brutal honesty with oneself. To accept what one can harbor internally without being morally correct. Something that is not culturally accepted and that connects with the wildest side ". In the same way, the witch is represented through the shadows and the fish represent the symbol of resistance towards freedom: "They are so strong as to be able to survive in water, a medium so vital but at the same time so violent."
The book concludes with a self-portrait. "My work has been a form of self-knowledge. Many times we find it difficult to recognize ourselves in front of our reflection. Building ourselves, understanding ourselves and knowing who we are can be the work of a lifetime ", he adds. "To photograph you have to live", concludes Ambrossio. "Live intensely. Binge on life and then reflect. What is that you are eating? What are you getting fed up with? What is hurting you? What makes you shiver and vomit in life? Photographing is for me the action of living.
'Blood Oranges'. Liza Ambrossio. PhotoEspaña. House of America, Madrid. Until July 26.
'Blood Orange'. Liza Ambrossio. Kehrer Verlag, 2021. 124 pages. 38 euros.
You can follow BABELIA in Facebook Y Twitter, or sign up here to receive our weekly newsletter.