the marriage of Mauricio Diez Canseco and Lisandra Lizama surprised the Peruvian show business, but just as quickly they joined, they quickly separated. This romance was riddled with criticism and viewers pointed out that age and cultural differences were decisive for them to decide to get married, in addition, they placed great emphasis on money and the companies that the pizza maker owns. She had a huge rise in her music career and, a short time later, she announced her separation from her.
What does Lisandra Lizama think about Mauricio Diez Canseco and the criticism towards them?
During an interview with Ojo, Lisandra Lizama revealed details of their relationship. Above all, she referred to the criticism that she has been receiving since she announced her romance with Mauricio Diez Canseco. The Cuban model denies that these are important to her, since it is not the first time that she has fallen in love with a man with the qualities of a pizza chef.
"It does not bother me that they say that my wedding was out of interest or things like that. Mauricio is not the first businessman, the first millionaire, with whom I had a strong relationship, I have always said it, I have never had a relationship with men of twenty-five years like me, because I don't identify myself. I'm used to being told about the age difference," she said.
Lisandra Lizama and Mauricio Diez Canseco married in 2022. Photo: GLR
Lisandra Lizama was unaware of the popularity of Mauricio Diez Canseco in Peru
In addition, the singer said that she saw Mauricio Diez Canseco as one more businessman, who was not aware of how involved his partner was in show business. Lisandra Lizama says that it was he who showed her the news about him that was on the internet.
"I was not given to googling. First of all, he seemed like a normal businessman, there are many who go to Cuba to invest their money, and they are not millionaires, they go looking for artists. It is normal. I did not know the magnitude of things, nor did I know who Mauricio Diez Canseco was in Peru, and I was learning that little by little and more here, "he said.
"When the announcement came out that we were going to get married, it is he who begins to send me all the links from all the Peruvian press, that the pizza man, and there I say, oh they call him the pizza man. They published that they were with a young woman Cuban. And at that moment, I say, but this man is in show business, but strong," he concluded.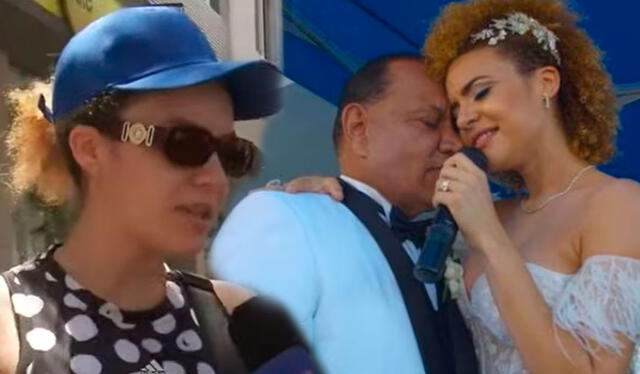 #Lisandra #Lizama #denies #marriage #interest #Mauricio #millionaire