Saturday, May 6, 2023, 08:15

Light gives life. And it can also heal her. Photodynamic therapies have been applied for some time to treat cancer, for example, which is the second cause of death in the world, after coronary diseases, and may become the first this century. A group of researchers, headed by José Ruiz López, professor of Inorganic Chemistry at the University of Murcia (UMU), is developing metal-based phototherapies to better treat the disease, without drawbacks such as the lack of oxygen, which is curiously another essential element. to live.
In essence, summarizes Ruiz, "the main objective is to overcome the Achilles heel of photodynamic therapy in hypoxic conditions, where the oxygen concentration is less than 2%." In other words, his team, made up of half a dozen professors from the UMU, a researcher with the help of Juan de la Cierva, and another half dozen doctoral students (two graduates in Biochemistry and four in Chemistry), is opening a path to overcome the oxygen deficit that hinders the use of light to fight cancer.
The light.
Photodynamic therapy has notable advantages in fighting cancer.

The Oxigen.
The absence of this element is an obstacle for these treatments.

The metals.
The solution studied in this project is based on luminescent cyclometalated iridium, ruthenium and platinum complexes with antitumor properties.
Basically, in a therapy of this type, three elements are required: visible light (or close to infrared); a photosensitizer, which in short is a molecule capable of producing a chemical change in another molecule, and oxygen, which is the most complicated point, since its presence in this environment is very low, although essential to achieve "high oxidative stress, which ultimately induces the selective destruction of cancer cells. These treatments, in general, are ambulatory, which constitutes "a huge advantage", in the words of the specialist, and they are compatible with surgery and other conventional therapies.
If the expected results are achieved, Ruiz trusts, "a valuable contribution to society will have been achieved, since by eradicating all the tumor cells, tumor relapses would be drastically reduced."
The challenge is to get "new compounds" to act selectively on cancer cells, so that side effects caused by other drugs can be minimized and resistance to certain drugs reduced. Photodynamic therapy, the researcher adds, allows "a whole series of advantages over conventional radiotherapy and chemotherapy, since it is minimally invasive and is endowed with high precision, in such a way that it facilitates a considerable reduction in possible side effects." ».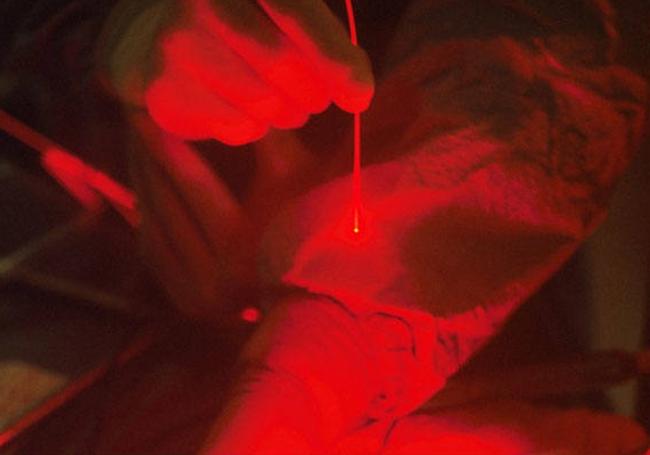 More in detail, what is being sought is a "rational design of a new generation of luminescent iridium, ruthenium and platinum cyclometalated complexes with antitumor properties, for their potential application in non-invasive treatments such as photodynamic therapy". In the project, continues the scientist, "it will be a question of deepening and improving the investigation of potential photosensitizers, preferably in hypoxic conditions", that is, with a lack of oxygen. For this, state-of-the-art experimental and theoretical methods are combined. In this way they hope to understand the chemistry behind these strategies and their effect on biological systems, he adds. "The successful outcome of the project may lead to innovative therapeutic solutions for metal-based chemotherapy."
Ruiz's team is made up of professionals from different fields, since the project "involves a well-developed combination of chemistry, photochemistry and biology" with the mission of "paving the way in obtaining a new metal complex toolbox for photopharmaceutical applications in a more sustainable and economical way, compared to the current state of the art". In this way, they trust, "progress towards a better understanding of cancer and the application and consolidation of new therapeutic strategies will be guaranteed."
This group, which now includes three doctoral students funded by the Seneca Foundation, obtained the first results on metal-based phototherapy a little over five years ago (they were published in 2017).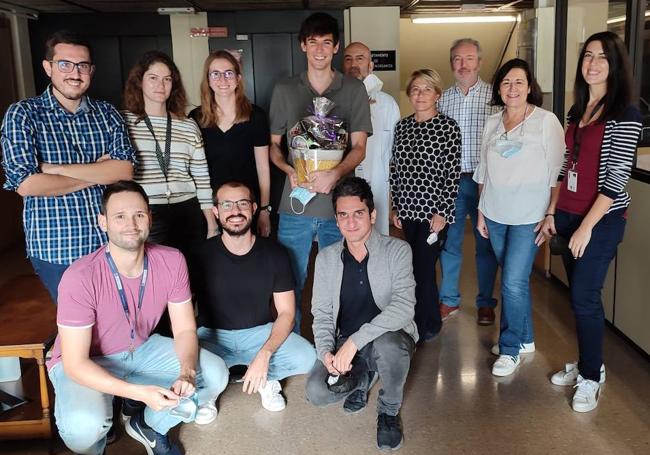 The development of new photosensitizing agents "based on complexes of precious metals with polypyridine-type ligands", which they pursue, is inspired "by the remarkable success of such a ruthenium compound known as TLD-1433 developed by Dr. Sherri A. McFarland , which is currently in phase II clinical trials for the treatment of non-muscle invasive bladder cancer in the United States and Canada", acknowledges the project coordinator.
The dozen or so researchers who have set out to advance in this field from the Region belong to the state network of excellence Multifunctional Metallopharmaceuticals for Diagnosis and Therapy and the Murcian Institute for Biosanitary Research (IMIB). It is in your hands to give, not only light, but, in this case, also oxygen to the fight against cancer.
photons to heal
Science has been giving birth to new healing techniques for millennia. Literally. The ancient Egyptians already used sunlight and plant extracts to treat skin diseases such as vitiligo, explains José Ruiz, professor of Inorganic Chemistry at the University of Murcia. Modern phototherapy, in any case, began with the Danish doctor Niels Finsen, winner of the Nobel Prize in Medicine in 1903 precisely for his use of "concentrated light" radiation for the treatment of the so-called 'lupus vulgaris', which is a form of cutaneous tuberculosis. More recently, in 1974, the use of the combination of psoralen, a light-sensitive plant substance, with ultraviolet A light began, "which made phototherapy a standard treatment for skin diseases," says Ruiz. In 1993, for the first time, specifically in Canada, a photoactive drug was approved, initially used for the treatment of bladder cancer: Photofrin. The specialist explains that the active principle of this medicant, porfimer sodium, "is a photosensitizing agent capable of capturing the energy of visible light, modifying its physical, chemical and biological properties." With him, he concludes, "the era of photodynamic therapy" was born.
#Light #Murcia #cancer