new Delhi
In Delhi, the politics of Delhi has begun to heat up with the report submitted by the Minorities Commission regarding the riots in protest against the citizenship law in February this year. The report is being touted against a community. On Saturday, BJP leader Kapil Mishra launched a direct attack on Delhi's Minorities Commission chairman Zafarul Islam in view of the report. On the other hand, after the tweet by Kapil Mishra, the discussion on social media has also become heated.
He has tweeted and said that the Delhi riot report of Zafarul Islam is like the bin Laden making report of 9/11. He has openly supported Shaheen Bagh's anti-Hindu campaign. It is clear that he supports Zakir Naik and is sharing the stage with Tahir, Khalid, Safura. Attacking the Kejriwal government, he has said that the Delhi riot report is not a report of Zafarul Islam but of Kejrul Islam.
Mishra said that in the Jihadi report of Zafarul Islam, instead of the family of Ankit Sharma and Constable Ratanlal, the statement of the counsel of terrorist Tahir Hussain has been declared innocent by Tahir Hussain. Kapil Mishra on Twitter against Zafarul Islam #ZafarIslamKiJhootiReport Is running a campaign. Shortly after his tweet, Zafarul Islam started trending on Facebook. A supporter of Kapil wrote that Zafarul Islam has a case of treason. Zafarul Salam himself was distributing biryani in Shaheen Bagh, Zafarul Naik, who describes terrorists like Zakir Naik as great, is spreading lies on the Delhi riots, Zafarul Naik symbolizes that the enemies are sitting inside the country. Many such people responded to Kapil Mishra's tweet.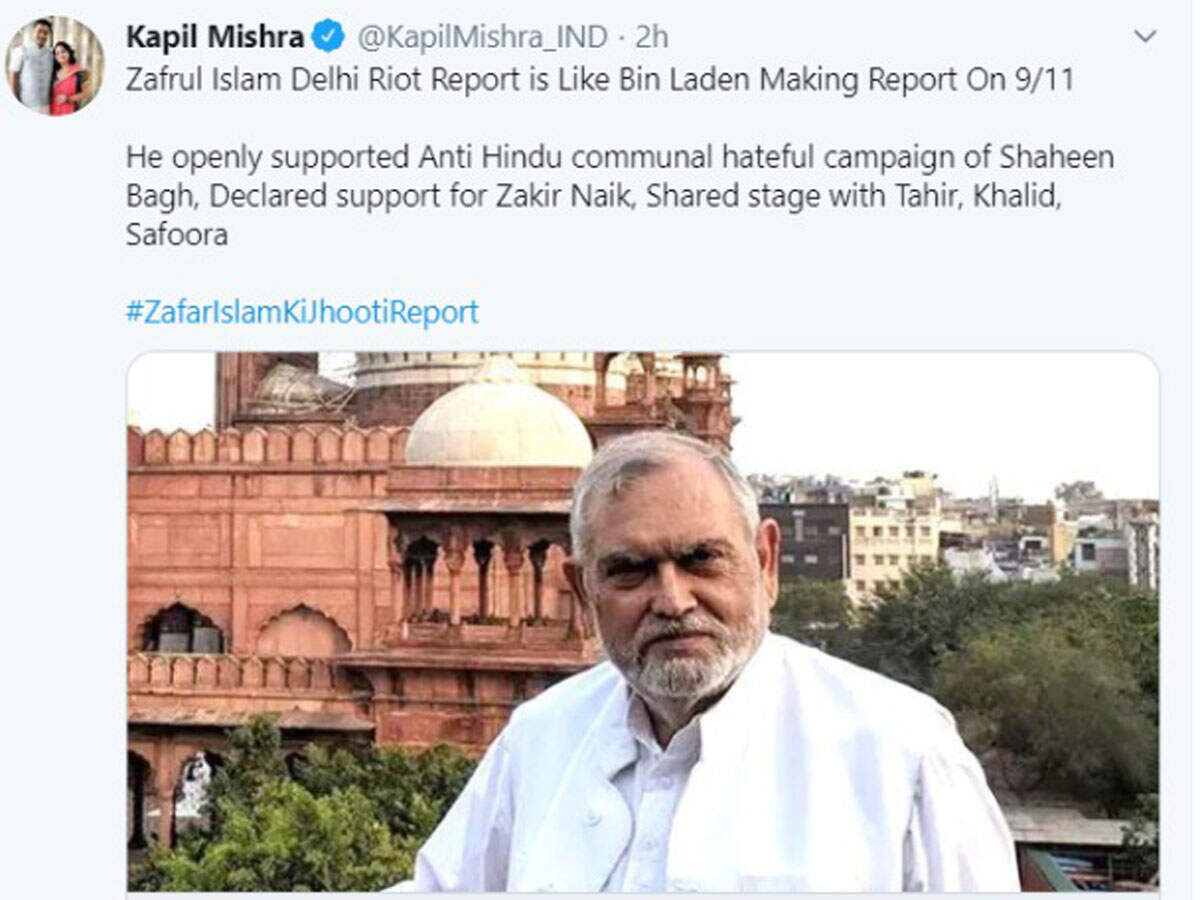 This part of the report of Zafarul Islam created a ruckus
Zafarul Islam in his report only spoke to Tahir Hussain's lawyer on issues like the ruthless killing of Ankit Sharma. Did not talk to Ankit Sharma and Constable Ratanlal's family.
In his report, Zafarul Islam has declared Aam Aadmi Party councilor Tahir Hussain innocent. Bomb stones and acid bottles were heavily recovered by the police from Tahir Hussain's house. There is no mention of this in the report.
Report prepared on the model of Jihad
Kapil Mishra said that the report of Delhi Minorities Commission is following exactly the same model of Jihad where one group will kill non-Muslims and the other group will create fake facts to protect them. Lies and only lies have been told by the Delhi Minorities Commission and the report is a clear and shameless attempt to save the terrorists and hide the truth.
.