Can Europe do without mouth caps, the one and a half meters away and working from home? Over the summer, country after country abolished them. Long live the vaccines, away with the most restrictive measures. But winter hasn't started yet and doubts are already setting in.
Optimism was still high a month ago, when Ursula von der Leyen, president of the European Commission, spoke highly of the high vaccination rate in Europe. After a start in fits and starts, she declared the vaccination campaign a great success. More than 70 percent of all adult Europeans had been vaccinated, some countries had the highest vaccination rates in the world. "We are the only region in the world that has achieved this," von der Leyen exulted.
A month later, countries across Europe are struggling with a new wave of contamination. No more corona deaths have been registered in Romania than in recent days, Latvia announced a new lockdown last week, planes from the United Kingdom, Germany and the Netherlands are banned by Morocco due to the corona situation.
heavy winter
The problems of the countries differ. In Romania, vaccination coverage is low: about a third of adults are vaccinated. Latvia has a higher vaccination rate, about 60 percent, but the willingness to vaccinate is lower, especially among the Russian minority in the country. In Western Europe, the vaccination rate is among the highest in the world, but there are often too many unprotected people to keep the pressure on health care limited. British Prime Minister Boris Johnson warned last week for a "hard winter". The Belgian minister Frank Vandenbroucke of Health called on the population on TV to to "scratch oneself" for a new wave. In Germany, doctors warn that this winter the ICUs can run into problems due to a shortage of healthcare staff.
These are messages that seem to come from the autumn of 2020, when there was no working vaccine yet. Something has changed, especially in countries with a high vaccination rate: the mortality there is usually still high compared to the situation before corona, but incomparable with previous waves. In those countries, no one is counting on as many hospital admissions as in the previous winter. The pressure on hospitals is nevertheless high, due to overworked staff and delayed operations that have to be made up. There are also far fewer measures than a year ago, although this is often combined with a corona pass.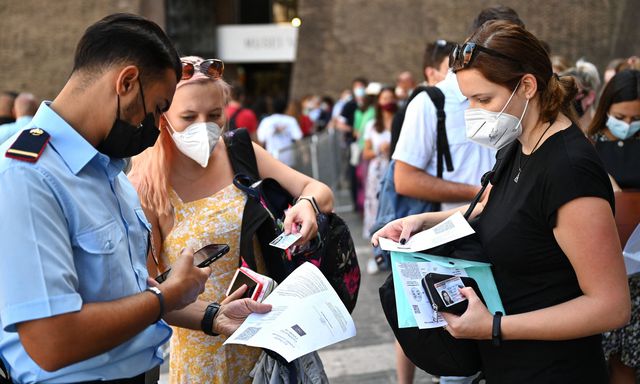 Also read: European differences in corona pass: more often mandatory in Italy, less in Denmark

Those regained freedoms are more difficult to relinquish than last year; the lockdown in Latvia, including curfew from 8 p.m., is an exception. In Romania, where the coronavirus has never struck as hard as it is now, from Monday introduced a corona pass and mouth cap obligation. But closing schools or introducing a curfew, like last winter, is not an issue in Romania.
Very sharp increase in Belgium
In Belgium, Minister Vandenbroucke said he expects "a very sharp increase" in infections and hospital admissions in the coming weeks – but that is not yet a reason to take measures. He calls on people to "use their common sense" and be "vigilant", for example by wearing face masks in public indoor areas. In Flanders, the mouth cap obligation has been abolished, an obligation will not be introduced again for the time being. In Germany, Health Minister Jens Spahn wants to end the state of emergency in early November, making it more difficult to take national measures. A 'plan B' is ready in the UK in which the mask obligation and the advice to work from home will be reintroduced. That plan is ready in case the health care system gets into trouble. Warn doctors that this is already threatening in the UK, but according to Prime Minister Johnson there is no sign of it yet.
In the Netherlands, the focus has so far been on easing. A previously presented plan states that action will be taken if the weekly average of the number of hospital admissions exceeds one hundred per day. Then, for example, the one and a half meters can be entered again. The average is 75, but has been rising rapidly in recent days. On Friday, more than 100 people were admitted for the first time since May. The cabinet will make a decision in the first week of November, but if the number of admissions increases too quickly, action can be taken earlier, says a spokesperson.
A version of this article also appeared in NRC Handelsblad of 23 October 2021
A version of this article also appeared in NRC in the morning of October 23, 2021
#Europe #autumn #wave #coming