Extinction Rebellion Activists Remove Signs Giving Unlimited Sections From German Autobahns – by VINCENZO BORGOMEO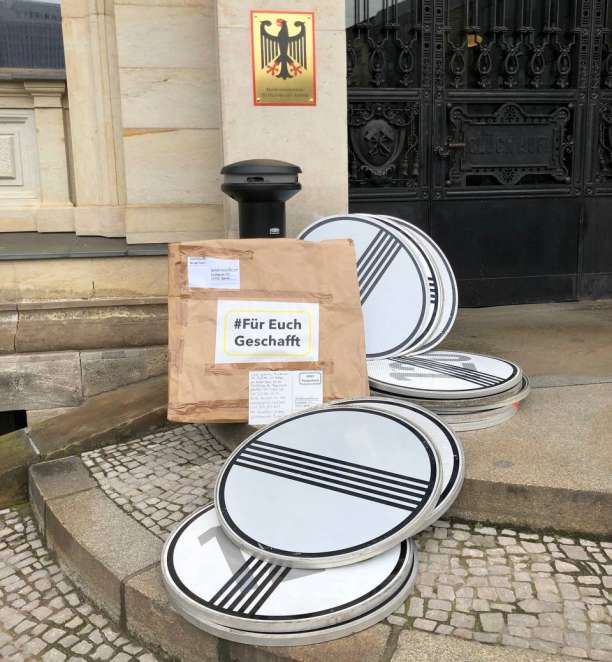 The battle has begun: the group's activists Extinction Rebellion they are dismantling all the road signs on German autobahns which indicate (indeed they indicated since they are now in sacks) the end of a maximum speed limit. Basically the "green light to travel flat out". To date they have struck on the Autobahn near Berlin, Brandenburg, Schleswig-Holstein, Lower Saxony, Hesse, Baden-Württemberg and in the Ruhr areataking down something like 300 signs.
Reason? "We no longer expect anything – they explained to Extinction Rebellion – from transport ministers who favor the car lobby". But what is striking about their action is that they do all this not to save lives but to reduce emissions. Yet, it has been proven by all kinds of studies that increasing the average speed by 10% on the motorway would lead to +40% more accidents (in Italy according to Asaps bringing the limit to 150 times there would be 400 more deaths a year) but at Extinction Rebellion they think only of CO2 (which by the way is technically not a pollutant but a climate-altering one). Of course, one can enter into the endless debate that emissions also cause deaths, but one would never get out of it. Also because we are talking about an increase in poisons to be studied on a car traveling at 130 or 170 (if the engine is overpowering – as most of the supercars whizzing by in Germany are now – there would be no difference).
Thus, with their legs stretched out as usual, the activists now come into play on the age-old German debate on whether to introduce limits even in the last stretches where people travel at full throttle. And some of the removed road signs were packaged and sent to the German Ministry of Transport in Berlin, precisely on the occasion of the two-day meeting in Aachen of the Transport Ministers of the 16 German Lands. And the demand – in line with their harshness – is strong: they ask to lower the limit to 120 times everywhere. You'll see that the Germans who want to race on the motorway will be forced to come to Italy where they could sensationally be raised to 150 if Minister Salvini succeeds in his intent.
#emissions #matter #road #deaths #FormulaPassion.it