Ibrahimovic, the time has come to say goodbye to football
"The time has come to say 'hello' to football." Thus Zlatan Ibrahimovic, in tears and visibly movedgreeted his fans in the center of the field immediately after AC Milan's 3-1 victory over Verona. Final catwalk, complete with a red carpet towards the center of the field, for the Swede surrounded by the management staff and two wings of players.
Ibra was donated the number 11 shirt and some images of his games for the Rossoneri were broadcast on the big screens at San Siro.
"I can't breathe, but that's okay. Many memories and emotions have passed through this stadium – said Ibra, accompanied by the incessant chants of the fans -. The first time I arrived at Milan you gave me happiness, the second time love. I want to thank my family and everyone close to me for their patience. I also thank the players, who have been my second family. I thank the coach and the staff for the responsibility they have given me. I thank the executives for the opportunity. I want to say thank you from the bottom of my heart to you fans. You welcomed me with open arms, making me feel at home. I will be a Milan fan for life. It's time to say 'hello' to football, but not to you. Come on Milan, goodbye."
Ibrahimovic greets AC Milan fans on the night of his farewell to football (photo Lapresse)

IBRAHIMOVIC THE PRESS CONFERENCE
Ibrahimovic: when I woke up it was raining and I said 'God is sad too'
"Today when I woke up it was raining and I said 'Even God is sad' (laughs, ed). Even my family didn't know, I didn't tell anyone. I wanted them all to know at once. It's too strong an emotion. I looked like a zombie today. I wasn't talking to anyone. If it had happened three months ago I would have panicked. Today I accept and I'm ready. I'm sad, of course, because I've been doing this all my life. Football made me become a man, meet people I would never have met and see the whole world. When I arrived at Milan, the first time it gave me happiness, the second love. I felt at home right away. Especially with what happened on and off the field. When I arrived the second time I made a promise. This team has become like a second family. It was like having 25 other children. It was a situation in which I had great responsibility. These guys can still grow and this club can achieve many more successes. Everyone was crying when I had to speak at the San Siro tonight. There were too many emotions. I'm Superman, but Superman also has a big heart and anyone who knows me knows it".
Ibrahimovic: I will miss training, eating with the team, being in the locker room
"Footballers are all programmed for many years. You panic when you wake up and you don't know what you have to do. I will no longer have programs to follow. I will miss training, eating with the team, being in the locker room. Emotions and things are shared private, all in the locker room. Now it will be another world. But now I'm ready and I accept the situation"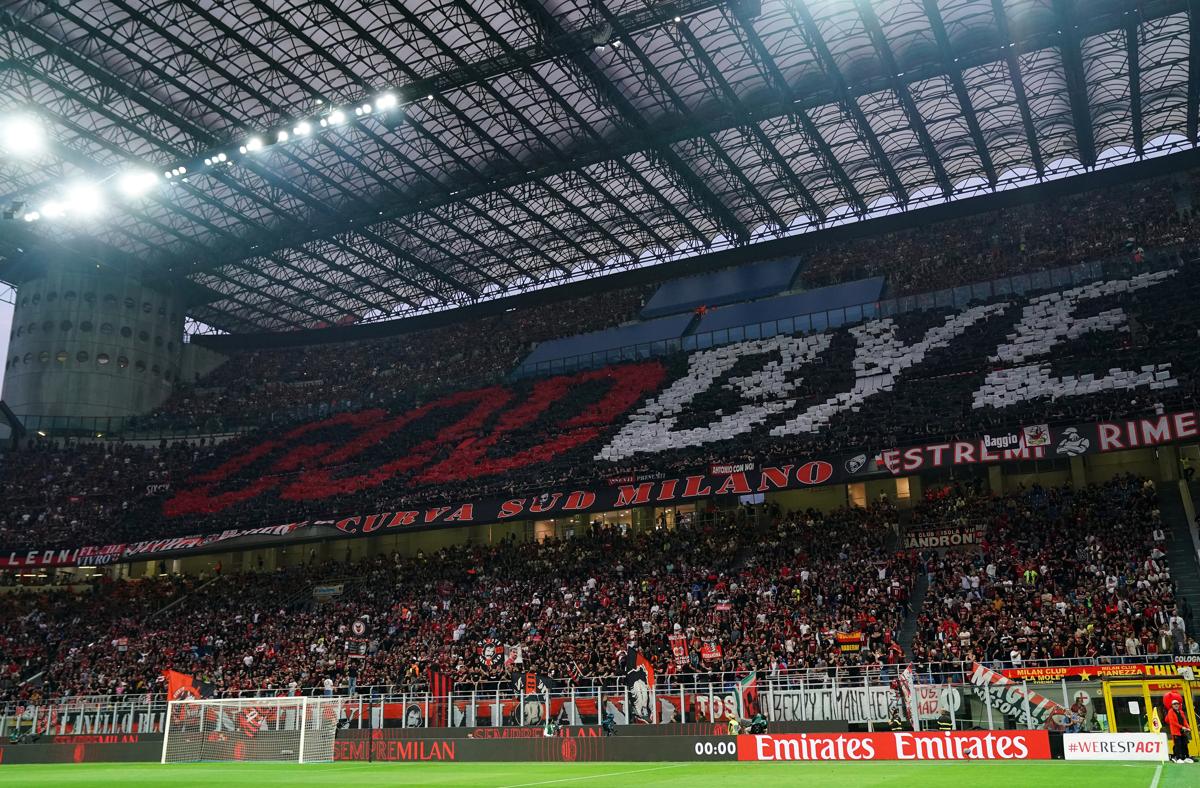 The Curva Sud banner for Zlatan Ibrahimovic (photo Lapresse)

Ibrahimovic and his farewell to football: "I think I've decided in the last ten days"
"I think I made up my mind in the last ten days. I said enough, you have to be proud, accept and finish well. Unfortunately I couldn't be on the pitch tonight. Every footballer dreams of ending his career on the pitch. But I couldn't do it. Today however it was too beautiful, a strong emotion. To go to Milanello the car goes by itself. Now I put start and stay still, I have to find other destinations. The last adventure was different. I arrived as a rider to lead this team and I liked it a lot. When I was in the US I didn't think of going back to Europe, but Mino convinced me. I only had to play one game and I went on for three years because I have a lot of passion for football and I have a mentality that always asks me to improve."
Ibrahimovic and the future in the world of football
"Now I take my time and I want to enjoy what I've done. It's not right to make decisions so quickly. There are too many emotions today. I'll think about it this summer. I will take my time to reflect and then when the situation is calmer I will evaluate. However, being a coach or director is a great responsibility. As a footballer you can be yourself, as a coach you are more limited. However I don't think I will leave the world of football, but I think that when you start something you always have to start from the bottom and grow"
Ibrahimovic, a footballer who can be compared to Ibra?
"Impossible: there is one of Zlatan. Not because of my ego, but because we are all different. As a child they compared me to Van Basten, but he is him and I am me. There may be similar things, but it's not fair to compare like this. Another Zlatan for my ego I don't think."
Ibrahimovic bids farewell to football at the end of Milan-Verona (photo Lapresse)

Ibrahimovic and the choice to say goodbye to football without Raiola
"When the tragedy happened with Mino it was all strange. I had always done everything with him, then I was alone and I had no one by my side. I'm the reserved type, but with Mino I shared everything. Raiola would still have wanted me to continue to get the commission. Sorry Mino, but it's the truth (laughs ed)…"
Ibrahimovic and Milan, a moment in his heart
"Today. I couldn't even dream like this: from day one I felt at home with Milanwith the old and with the new. Everything was good. When I leave this I will miss it so much. Today they brought out the real Ibrahimovic."
Ibrahimovic, the fear of saying enough with football and possible offers
"Fear passes when you accept the situation. But it's a feeling that had to come from me, not from others. When it happened, I knew it was time. The offers were there, but they weren't interesting. If one decides not to continue, the offers are no longer of interest to him". Have you ever thought about going to Monza? "No"

#Ibrahimovic #goodbye #football #Ill #stop #family #didnt #future..