500 days later, the first thing Beatriz saw was a television camera. Beatriz came out with a huge smile, as if she had just given birth. A birth that began with 48 and ends with 50 years, from November 21, 2021 to today, April 14, 2023. "Who has paid for the beers on Friday?" She joked, as soon as she left. The tears, sunk deep into her eye sockets, flowed little by little behind some very dark sunglasses, like two broken wells, with a long and unhurried embrace, devoid of harnesses and ropes. A free hug.
The cave, 70 meters deep, is on a private estate in Los Gualchos, a small municipality on the coast of Granada. The expectation, at nine o'clock, was absolute. The team of the production company that will turn the story into a documentary, family and friends, journalists. Everyone fidgeted in a strange silence that was broken precisely by his voice. Beatriz's voice, in the distance, climbing through the entrance -the exit- of the cave. The elite athlete chatted animatedly with the members of the Motril Speleological Activities Group, as if something very funny had just happened to her. At 9:08 a.m., Beatriz came back to life. She had just broken the isolation record.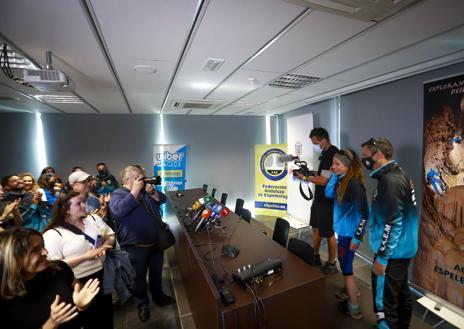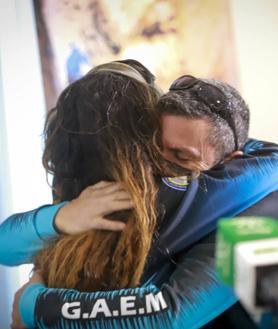 After a quick medical examination, Flamini went to the conference room of the Motril Tourism Development Center. "Life live", joked a journalist – the room was packed -, quoting the film 'The Truman Show'. At 11:17 a.m., Beatriz entered the room surrounded by a cloud of cameras and emotional applause. "She comes from fulfilling an important challenge and, to protect her, she asks us to put on a mask," warns Paco Hoyos, President of the Andalusian Federation of Speleology. She, from the lectern, joins her palms in a prayerful position and slowly crosses her gaze with those present. After all, it had been a long time since she had been looked at like that. Well, they didn't look at her.
Before taking the floor, David Reyes, the speleologist from Motril who has been her invisible contact throughout this time, her guardian angel, talks about the challenge: «She has been alone, without contact, without natural light, without time references , 70 meters underground. She is a unique person, with an overflowing passion. The world should know her." She, looking at the camera, accepts the challenge of making herself known. She takes a deep breath. "I didn't expect so many people…", Beatriz begins. "She was hoping to get out of the cave and go into the shower," she continues. "She was waiting …". The athlete remains silent, speechless, nodding without saying anything, about to burst into tears but without losing her smile. The room lifts her up with another applause.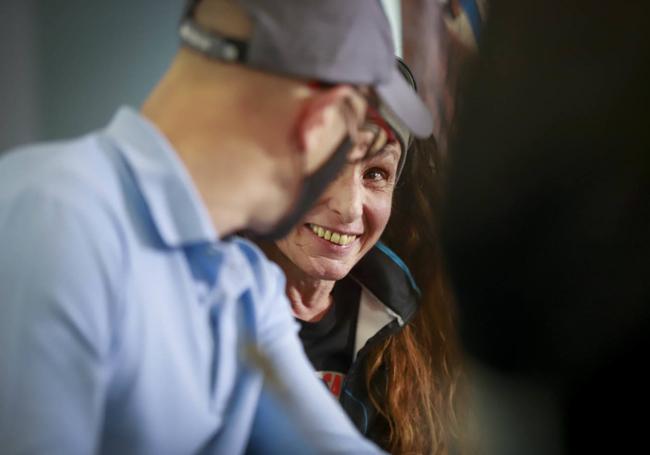 What is it like to live 500 days in a cave? they ask. "I don't know," he replies. I'm still anchored on November 21, 2021. Seeing you with a mask, for me it's still covid. I stopped counting days, I lost temporal perception. The key to face a challenge, says Flamini, is consistency. «Coherence so that what you think, feel and say are united. There have been difficult moments. But also very pretty. As beautiful as this -waves his hands around the room-. Like this moment." But how do you measure time when you live in a dark cave with no references? How did you know when it was time to take out the waste and approach the meeting point? "Every five poops, I trade," he laughs. There was no other way to measure time. If I'm thirsty, I drink. If I'm hungry, I eat. If I'm sleepy, I sleep. If I can't sleep, I read."
«It is true that you need a hug, a contact, some fried eggs with potatoes! But you focus on living in the moment."
Still somewhat confused, Beatriz told how bad she had had an invasion of flies, for example, and how she has taken the opportunity to "write, read, draw, be and enjoy." "Because I am where I want to be," she told herself over and over again. Although she lost track of time, in 500 days she has missed "everyone," she says, "including myself." «It is true that you need a hug, a contact, some fried eggs with potatoes! she -she laughs- But you concentrate on living in the moment ».
In these 500 days, Beatriz has tried not to speak out loud, except when recording videos for the future documentary. «I have respected the silence of the cave. Although every once in a while I would yell, when I dropped something and lost it forever. Nooo!" she exclaims, theatrically. In any case, she never pushed the panic button. "I didn't think about quitting, in fact I didn't want to leave," she says, causing a stir in the room. «Nothing of what they say could happen has happened to me, except auditory hallucinations. This has been training for what is to come."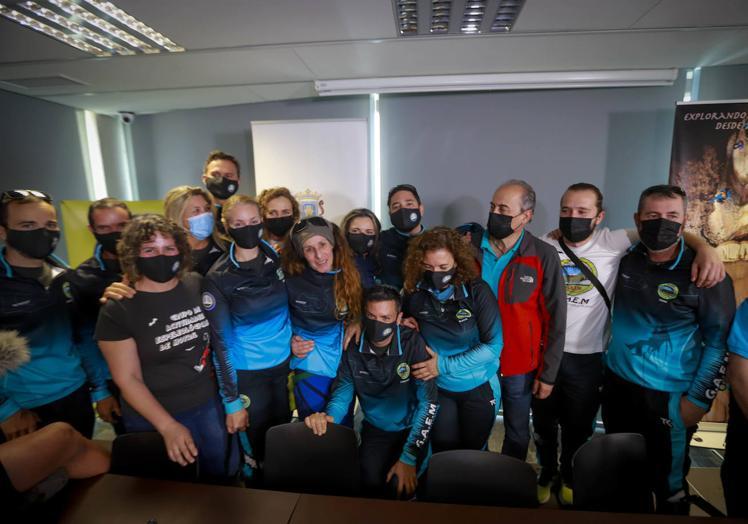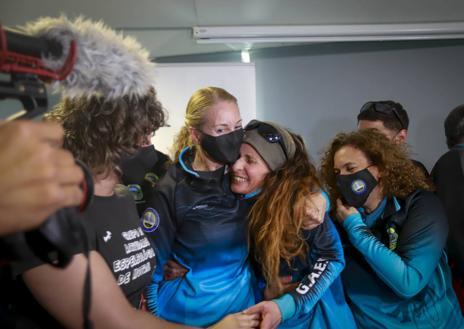 When this Friday, the 500th day, the team of speleologists arrived at her side, inside the cave, Beatriz was asleep. David Reyes woke her up and told her that now, that she had achieved it. When she left, when she saw the light of day, Beatriz did not feel anything special. Nothing weird. «I have not felt anything because for me it has been a while since I entered. I don't have the feeling of missing anything. Nothing at all". In fact, she jokes -or not- with the idea that she would be able to do it again.
Flamini says goodbye with sincere praise for the group of speleologists from Motril and admits that they, what they have done from outside, are "the great lesson" that he takes away. "I couldn't have landed in a better place," he finished. An hour later, doubts and questions continue to arise in the press room. There is a feeling in the air that he has not told everything, that we are missing something, that this whole adventure is difficult to understand. The book that he has written in there and the documentary that has been recorded probably fill that deep and still incomprehensible gap.
#anchored #November