Even the agricultural sector will have to deal with the energy transition using electrification technologies on agricultural vehicles with the aim of reducing consumption and CO2 emissions of the means to be used on the fields. THE hybrid engines in fact they could soon be a valid alternative to those exclusively running on diesel. In this regard, the brand of Argo Tractors has been carrying out the project since 2018 Full Hybrid on Landini tractors of the series REX4, ideal for farms.
Let's see the characteristics of the Landini hybrid tractor, how the Full Hybrid engine, the battery and the charging system works.
Landini hybrid tractor, characteristics
The Landini REX4 Electra hybrid tractor is equipped with technology Full Hybrid 110 hpcapable of delivering a total power of 80 kW (110 HP).
The hybrid powertrain is characterized by the combination of an endothermic Diesel engine from 55 kW (75 HP) with a Booster electric motor with permanent magnets, with power up to 50 kW (68 HP).
Landini hybrid tractor how the Full Hybrid engine works
The engine operation of the REX4 Full Hybrid develops with i 75 hp of the endothermic engine combined with 35 HP of electrical derivation, while in Full Electric operation a nominal power of 58 HP is reached (with a peak of 68 HP).
The Landini hybrid tractor engine is associated with a semi-automatic gearbox which provides a joystick instead of the traditional mechanical lever (drive by wire). The joystick sends its inputs to the electronic control unit (ECU) which operates the actuators that move the transmission control. The estimated fuel economy of the hybrid engine is 10%.
Landini hybrid tractor, battery and charging system
The Landini hybrid tractor is equipped with a battery large capacity, both like energy reserve for hybrid operation, and to ensure the necessary autonomy in electric-only mode. The endothermic engine, in moments of low mechanical load, provides for recharging battery according to a proprietary algorithm that constantly weighs the energy contributions and implements the most convenient strategy at that moment.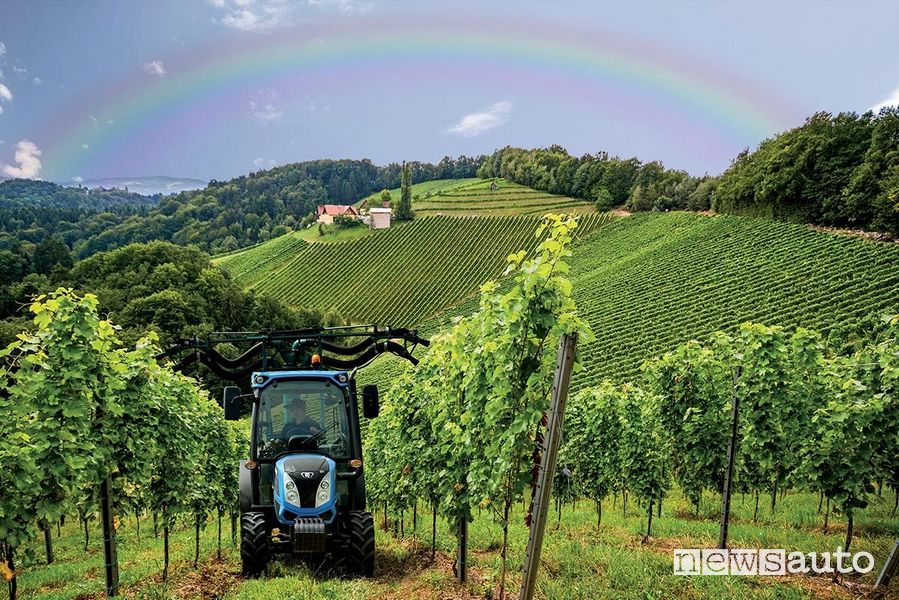 The whole system is managed by a control, PMS (Power Management System), which supervises the electrical devices, the power flows and the optimal management of the 2 propulsion systems, as well as the energy recovery (transformed into electrical energy) during the deceleration and braking phases.
Landini 4 Series tractors with hybrid engines are especially ideal for those farms that have a photovoltaic system.
You might also be interested in these contents
👉 Hybrid car stamp
👉 All hybrid cars 2022
👉 Hybrid car classification
👉 How the full hybrid works
👉 How plug-in hybrid works
👉 How mild hybrid works
See now also the evidence of hybrid cars try our driving impressions in cars with full, mild hybrid and even plug-in technology.
👉 EV Driving all about electric and hybrid cars
👉 What do you think? Take a leap on the FORUM And Google News all the news of the car
COMMENT WITH FACEBOOK

#Hybrid #tractor #characteristics #Landini